University of Michigan School of Information
Virtual reality technology aims to increase empathy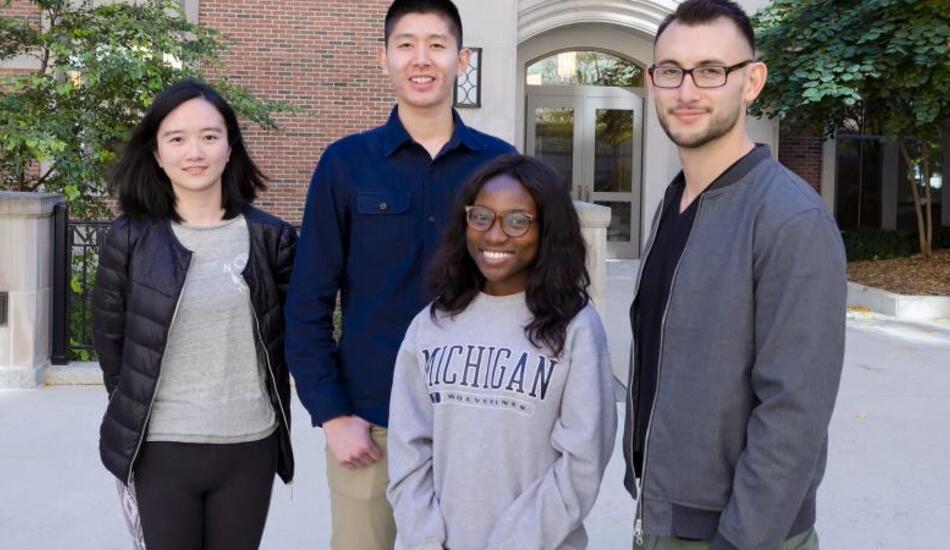 Tuesday, 10/18/2016
The U-M student team behind "Through My Eyes" is exploring how virtual reality (VR) technology can change diversity training in the 21st century. The work follows in the footsteps of prominent social psychologists who study how technology can increase levels of empathy. Specifically, the students envision how technology could improve diversity training in higher education.  In light of the recent news stories on police killings and the discrimination some students have encountered, the team felt is was a prescient time for their Through My Eyes project. 

With the VR app, a user would become part of an immersive computer-generated world that they navigate as someone of a different race. The idea is to identify the user's subconscious bias, thereby increasing empathy toward people who are different from them.

The project was developed for Innovation Trek, the annual four-day excursion to New York City sponsored by the School of Information's Entrepreneurship program. Innovation Trek is an opportunity for student groups to pitch their innovation projects to local innovators, entrepreneurs and U-M alumni in New York. This year, group projects include video game incubators, special glasses for doctors and an app that looks at food calories in a new way. 

In the weeks leading up to Innovation Trek, the students participated in the standard customer discovery phase. They met with staff affiliated with residence halls, the university's Diversity, Equity and Inclusion (DEI) initiative, the Trotter Multicultural Center and others to understand what's already been done and what isn't working with current diversity trainings. One of the obstacles they discovered with current programs is that they are usually one-time, short-lived events that can be inconvenient to attend. After the session, there's little to no follow up to ensure that progress is being made.

With the use of an avatar in a VR world, Through My Eyes would create a case-based scenario to discuss these topics as opposed to the traditional method of talking about diversity in a broad, general sense. If this technology were implemented at universities, the team would like to see follow-ups with the training. There's a saying that "you can't improve what you can't measure"; therefore, they'd like a way to gauge people's reactions to the simulated environments and then measure their changing attitudes over time. If the program were truly successful in being launched, the team would love to see it become a course requirement. 

Over the fall study break weekend (October 15-18) the team behind Through My Eyes pitched its concept to venture capitalists and entrepreneurs. After all, that's what Innovation Trek is all about. "If you've never been exposed to entrepreneurship, this exposes you to the first steps, to the business side of growing an idea," said Kenji Kaneko, Through My Eyes team member, and dual master's degree student (MSI/MBA). "We all have ideas, but it helps to go through this process to know which ideas you should give up on and which you should build momentum for." 

Yin Xie, MSI student, is new to this experience and excited about the valuable experience it provides. "I've never done anything like this. I'm hoping we'll walk away with really useful feedback from experts, from people I wouldn't have otherwise had the opportunity to meet."

Other Through My Eyes team members are George Lu (BSI) and Olubisi Ajetunmobi (MHI).  

Members of Innovation Trek and their mentors traveled to New York over fall break, Saturday, October 15 through Tuesday, October 18. Among the hosts for this year's event were Big Sound/Pandora, Startup Health, AngelList.co and Metropolis Magazine.
- UMSI News Service