University of Michigan School of Information
How do I apply?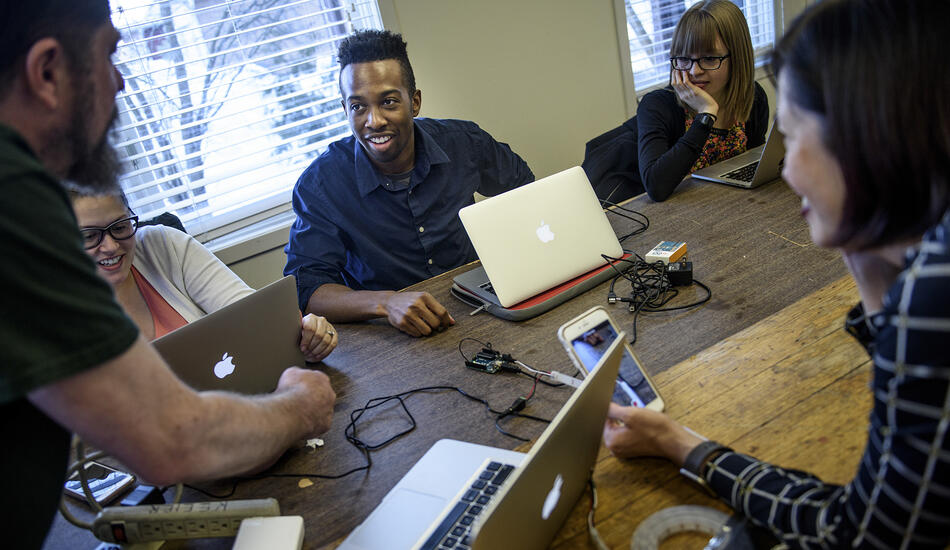 Application deadlines
Priority deadline for admission and scholarship consideration: January 15
Final application deadline: May 1
Applicants from any academic or professional background are welcome and encouraged to apply to the Master of Health Informatics program. While there are no prerequisites for the master's degree program, we recommend that applicants acquire or refresh their knowledge of a relevant analytic discipline, such as basic statistics or computer programming, prior to enrollment. Applicants are not discriminated against on any basis, including age, race, ethnicity, disability or sexual orientation.
All undocumented individuals are eligible for admission to any degree program at the University of Michigan and consideration for merit based awards whether or not they have been granted Deferred Action for Childhood Arrival (DACA). For help navigating the application process, please contact the Health Informatics program at hi.admissions@umich.edu.
Application requirements overview
All applicants:
Online application and $75 application fee, payable by credit card or electronic check. Learn more about application fee waiver eligibility.
Official transcripts sent by the college/university attended to hi.admissions@umich.edu
Three letters of recommendation submitted via the online application system
Three short answer essays and a personal statement
Resume
Minimum requirements for admission:
Completion of a bachelor's degree or an international degree that is equivalent to a U.S. bachelor's degree from a college or university recognized and approved by the higher education authority in the country where the degree is earned. Note: if you have completed a three-year bachelor's degree, please email hi.admissions@umich.edu to inquire if this would be recognized as an equivalent degree.
A grade point average of at least 3.0 on a 4.0 scale is preferred. We do periodically admit applicants with undergraduate GPAs less than 3.0, based on the strength of their overall application.
International applicants:
All the above, plus official TOEFL scores submitted by the testing agency to U-M code 1839
More information on these requirements is below.
Transcripts
As part of the online application, applicants will submit scanned or electronic versions of transcripts for all previously completed or in-progress undergraduate and graduate coursework.
In addition, one official transcript from each undergraduate and graduate program attended must be mailed or submitted electronically directly to the Health Informatics program by each college or university attended. Applicants who have not yet completed a bachelor's degree may submit a current transcript at the time of application and a final transcript upon conferral of the bachelor's degree.
Electronic versions should be emailed to hi.admissions@umich.edu (preferred).
Mail transcripts to:
MHI Admissions
School of Information 
333 Maynard, Suite 500
Ann Arbor, MI 48104
Please note that we are not accepting physical transcripts at this time since our staff is working remotely due to office closures for COVID-19. Please send all transcripts electronically to hi.admissions@umich.edu. 
TOEFL requirement
TOEFL scores are required if English is not your first language. See exceptions to this policy and more details on the international applicants page.
Scores from the TOEFL exam (taken within the past two years) of 600 or higher on the paper-based test or 100 or higher on the internet-based test (iBT) are required. Official scores must be submitted electronically directly to the University of Michigan by the testing organization. The institution code for the University of Michigan-Ann Arbor is 1839. The Health Informatics program does not have a specific department code; you may list "99."
Applicants may choose to take the International English Language Testing System (IELTS) proficiency exam instead of the TOEFL (minimum score of 7.0 required). 
In addition to the in-person TOEFL and IELTS options, we also accept the TOEFL iBT Special Home Edition, which is an online alternative that is identical in content, format and on-screen experience to the in-person TOEFL.
Letters of recommendation
Three letters of recommendation are required. Recommendations should come from faculty members or supervisors who can provide substantive letters, who know your academic abilities, classroom work, personal qualities and professional demeanor, and who have taught or supervised you and can speak to your potential for successful graduate study.  
If you are a current or recent student, faculty members are appropriate recommenders. For current or recently graduated students, we strongly encourage a minimum of one letter of recommendation from a faculty member.
Other possible recommenders include employers and leaders in organizations where you have volunteered. It is important that they are able to speak to your intellectual abilities and potential for leadership in the field of health informatics. Personal friends and family members are not appropriate recommenders.
Please note that we do not accept emailed letters of recommendation and we do not accept letters through the University of Michigan Reference Letter Service. Letter writers must upload their letters of recommendation to the online application portal themselves.
You will register your recommenders through the online application. Once registered, recommenders can submit their letters online. 
Resume
All applicants must upload a current resume or curriculum vitae as part of the online application.
Personal statement
Your essay should be one to two pages double-spaced with one-inch margins on all pages. Do not include a cover sheet.
Personal statement: How have your background and life experiences, including cultural, geographical, financial, educational or other opportunities or challenges, motivated your decision to pursue a graduate degree at the University of Michigan? Also discuss or explain any unusual patterns or anomalies in your academic or professional record (for example, gaps in work or education or a poor semester performance).
The personal statement should be one to two pages double-spaced with one-inch margins on all pages. Do not include a cover sheet.
Head all pages of your essays with this information:
The document title "Personal Statement"
Your full name as it appears on the application
Your eight-digit U-M ID number (if known)
Short answer essays
Within the online application, you will be asked to respond to the following questions based on your own reflection on your academic abilities, experiences, and personal qualities. Each question should be answered in 250 words or less. At the University of Michigan School of Information, we highly value academic integrity. Please be sure that any essay content that is not your own original thoughts is properly attributed.
Tip for manually entered text: You are encouraged to compose your essay in a Word document and then copy-and-paste it into the essay field.
What are the critical issues in the field of health informatics? Which of these are of greatest interest to you?
Describe your short-term and long-term career goals. Based on your understanding, how would the University of Michigan Master of Health Informatics program help you achieve these goals?
What specific personal, professional and/or educational experience would you bring to the program and to the field?
Scholarships
The application for admission automatically provides scholarship consideration; there is no separate scholarship application. Please review the requirements and instructions before beginning the application process.
Interested in learning more? Join us for one of our virtual information sessions.