University of Michigan School of Information
Cliff Lampe and Dhruv Jain earn SIGCHI Awards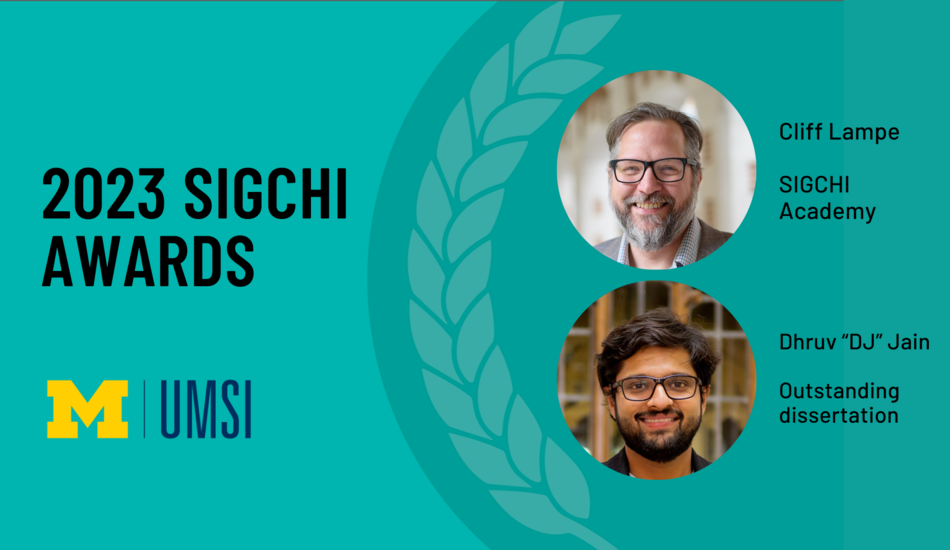 Thursday, 02/16/2023
University of Michigan School of Information professor and associate dean for academic affairs Cliff Lampe has been inducted into the Association for Computing Machinery special interest group on computer-human interaction (SIGCHI).  
The award recognizes leaders in the computer-human interaction community who have demonstrated exemplary research and service. 
"It's hard to even think about SIGCHI without thinking about Cliff Lampe, and he richly deserves his induction into the SIGCHI Academy," says the award announcement.
Lampe is an expert on social media and online communities. His work is at the intersection of the technical interfaces of systems and the social benefits and harms that interact with them. His work on social computing has been influential in the CHI community in thinking about how computer mediation affects social outcomes. He is an ACM distinguished member, recently was general chair of CHI2022 and is chair of the CHI Steering Committee.
"SIGCHI is essential in my research because it is still the place that best grasps the intersection of technical and social systems," Lampe says. "We've seen remarkable changes over the past decade in how sociotechnical systems are used and the effects they have. I'm proud to be recognized for the work I've done in helping us understand this important area."
SIGCHI also recognized Dhruv "DJ" Jain with an outstanding dissertation award. Jain is an assistant professor of information at UMSI professor and assistant professor in computer science in engineering. 
"I am grateful to my advisors, Jon Froehlich and Leah Findlater at the University of Washington as well as my committee members Richard Ladner, Jennifer Mankoff, Jacob Wobbrock and Jeffrey Bigham who helped guide the work," Jain says. "Many thanks also to the SIGCHI award committee for your exemplary service. I look forward to continuing my work in collaboration with the amazing faculty and staff members at UMSI."
Related
Learn more about Cliff Lampe's research and contribution to the field of computer human interaction by visiting his faculty profile and personal website. 
Read about Dhruv "DJ" Jain, his dissertation and research interests by visiting his website.
People featured in this story
Professor of Information and Associate Dean for Academic Affairs, School of Information
Assistant Professor of Electrical Engineering and Computer Science, College of Engineering and Assistant Professor of Information, School of Information