University of Michigan School of Information
Dismantling barriers for transfer students at UMSI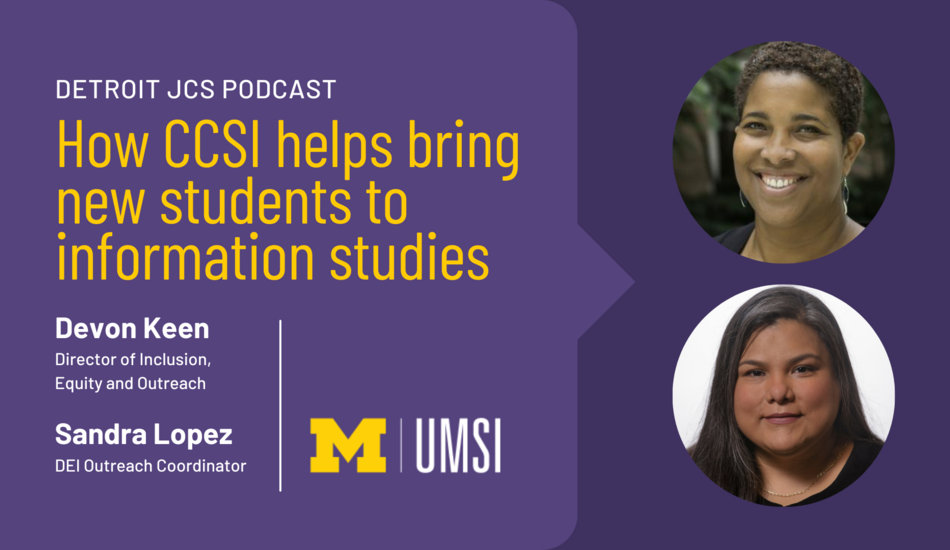 Friday, 03/17/2023
When community college students consider transferring to a four-year institution like the University of Michigan, they may encounter barriers. 
That's why the U-M School of Information offers the Community College Summer Institute (CCSI), which was designed to help students find an easier path to an information degree at the University of Michigan.
Devon Keen, UMSI's director of inclusion, equity and outreach, and Sandra Lopez, UMSI's DEI outreach coordinator, were invited on the DetroitJCS podcast to discuss why offering programs like CCSI is important with host and UMSI alumna Alina Johnson of Johnson Consulting Services LLC.   
Keen and Lopez talked about how CCSI is designed to give community college students a feel for culture and academics at UMSI, and to prepare them with the experience and support to make confident decisions about their next steps. 
"Lots of barriers that folks feel when they hear 'University of Michigan' can be very intimidating," said Keen. "We just really wanted to lower the temperature. Our goal is to have people feel welcome, seen, understood." 
Keen and Lopez discussed many ways that staff behind CCSI endeavor to dismantle those barriers. For example, not only is the three-day institute completely free, but participants are also offered a stipend, lodging in the Couzens residence hall and meals in the dining hall next door. 
The program is also focused on demystifying information science for those who are curious about the field of study. 
"We invite faculty members who are working on a lot of innovative stuff, a lot of new research, to come and present to our students. They get to listen to our professors not just tailor a presentation to them, but a session that is real and gathered from the classroom so they know what that's like," Lopez said.
Get more information about CCSI from the full DetroitJCS podcast episode, "Community College Summer Institute at the University of Michigan."  
Important CCSI dates: 
Friday, March 17: Virtual CCSI Information Session 
Friday, March 24: Priority application deadline at 11 a.m. EDT 
Friday, April 7: Final application deadline
People featured in this story
Director of Inclusion, Equity and Outreach