University of Michigan School of Information
Karandeep Singh to deliver keynote remarks at R/Medicine Virtual Conference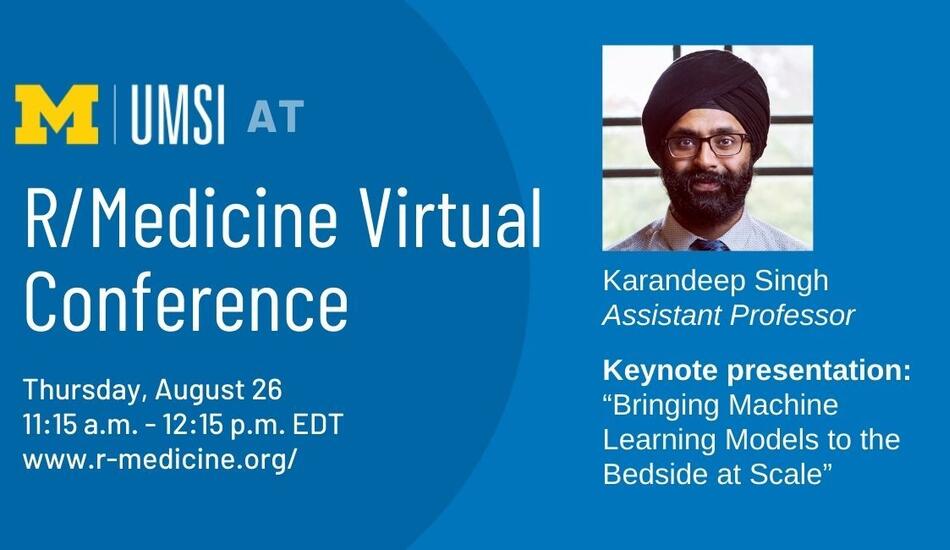 Friday, 08/20/2021
Karandeep Singh, an assistant professor of learning health sciences, internal medicine, urology and information at the University of Michigan, will deliver a keynote presentation at the R/Medicine virtual conference on August 26. 
Singh, director of U-M's Machine Learning for Learning Health Systems lab which focuses on using machine learning and biomedical informatics methods to understand and improve health at scale, will deliver remarks on "Bringing Machine Learning Models to the Bedside at Scale."
R is an open-source programming language for reproducible statistical computing, data visualization, and application development. R/Medicine is an annual conference focused on the use of R in medical applications. The 2021 R/Medicine Conference will be held virtually as a single-track webinar, hosted in Philadelphia August 24-27.
Learn more about the 2021 R/Medicine Virtual Conference.
People featured in this story
Assistant Professor of Learning Health Sciences, Assistant Professor of Internal Medicine, Assistant Professor of Urology, Associate Chief Medical Information Officer of Artificial Intelligence, Medical School and Assistant Professor of Information, School of Information