University of Michigan School of Information
Lampe: Parler's future is looking "uncertain" with new owners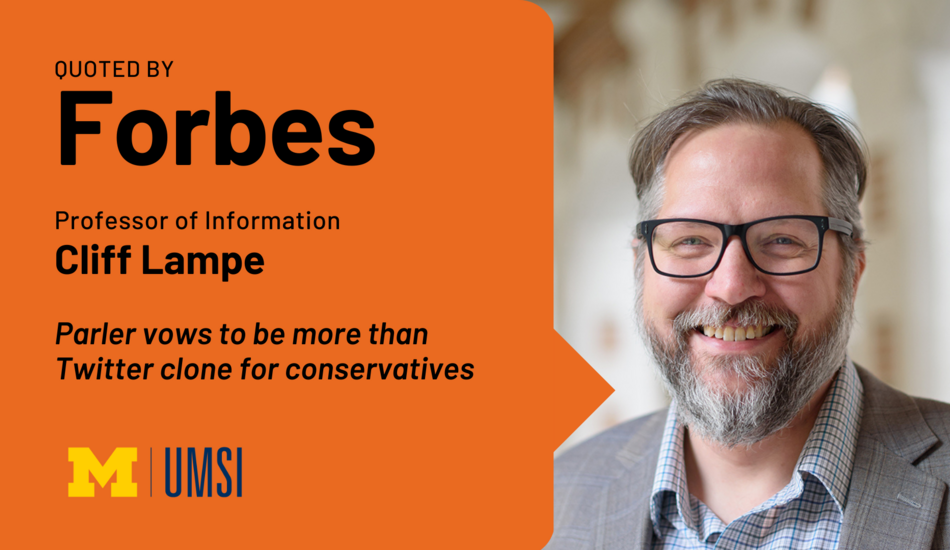 Tuesday, 04/18/2023
At the beginning of this month, digital media conglomerate Starboard acquired Parler, a popular social media platform among conservatives. 
Following the acquisition, Starboard announced it would temporarily shut down Parler. University of Michigan School of Information professor Cliff Lampe says Parler's prospects are unclear given the social media market and Parler's association with the January 6 insurrection. 
"It's fairly uncertain what the new owners have in mind," Lampe says in an interview with Forbes. 
​​"It's unclear what Parler's competitive advantage would be over sites like Reddit, Gab, Signal, Telegram, 4chan, or the dozens of other online spaces where people can gather with varying levels of anonymity and encryption," he added. "Also given its association with the January 6 attacks, it seems like the brand would attract only right-aligned marginalized groups."
Related
Read "Parler Vows To Be More Than Twitter Clone for Conservatives" on Forbes. 
Learn more about Cliff Lampe's research on social media, technology and privacy through his UMSI faculty profile.
People featured in this story
Professor of Information and Associate Dean for Academic Affairs, School of Information