University of Michigan School of Information
Mark Newman to give keynote address at UX@UM conference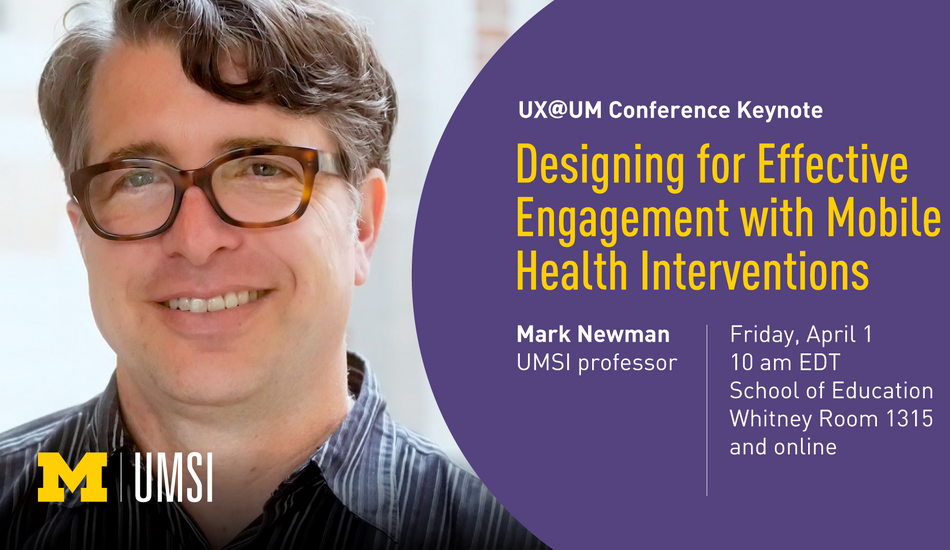 Wednesday, 03/30/2022
On April 1-2, University of Michigan will host the UX@UM conference. The event is run by graduate students and will connect UX researchers, innovators and industry experts. 
Mark Newman, professor in the U-M School of Information and College of Engineering, will be a keynote speaker for the event. Newman's research interests include human-computer interaction (HCI), health informatics, and ubiquitous computing. 
His keynote, "Designing for Effective Engagement with Mobile Health Interventions," will be given on Friday, April 1 at 10 am EDT.
"I'm very excited to be part of the first UX@UM conference," says Newman. "Michigan has been a leader in the field of user experience since before the term UX became widely known, and I've been delighted to see interest in UX grow and flourish across campus. This conference signals how important UX has become across many areas of academia and throughout contemporary life in general."
During the two-day conference, researchers and industry representatives will discuss a wealth of UX topics, including education, ethics, accessibility, design and engagement. The organizers, 20 graduate students from education, information, and public health, wanted to create a conference where experts could discuss ideas, research questions, methodology, evaluation tools, and other issues in UX.
—Sarah Derouin, UMSI public relations specialist
Learn more about the UX@UM conference. 
Learn more about professor Mark Newman. 
People featured in this story
Professor of Information, School of Information and Professor of Electrical Engineering and Computer Science, College of Engineering