University of Michigan School of Information
Michael Nebeling discusses Extended Reality For Everybody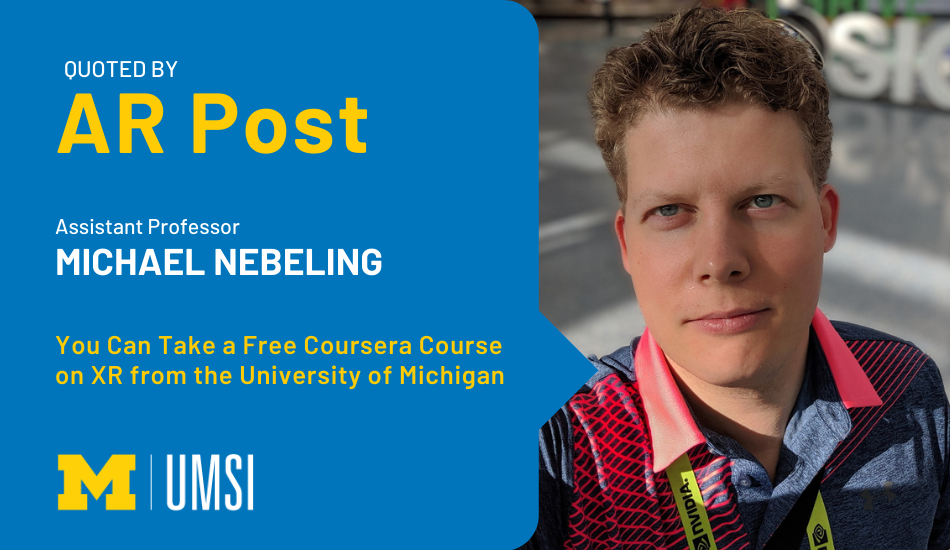 Wednesday, 02/24/2021
Michael Nebeling, assistant professor at the University of Michigan School of Information, spoke recently with AR Post about the free Coursera Extended Reality For Everybody specialization he created with a team at the U-M Center for Academic Innovation, where he serves as XR Faculty Innovator-in-Residence.
The three-part specialization was designed with a broad audience in mind: students, instructors, designers and developers, researchers, librarians, managers and entrepreneurs. It gives learners the chance to enroll in one course to learn the basics about the technology or take a deeper dive and earn certification for successful completion of all three. 
This level of dedication to extended reality is uncommon in education, Nebeling said:
Education is one of those promising use cases, but if you look into who's doing the research… it's usually tech enthusiasts. It's not supported at most universities. We shouldn't be unique, but we still seem relatively unique.
Read the full article here.
Learn more about Extended Reality for Everybody.
People featured in this story
Associate Professor of Information, School of Information and Associate Professor of Electrical Engineering and Computer Science, College of Engineering