University of Michigan School of Information
MSI grad Uche Eke heads to Cairo for Olympic gymnastics qualifier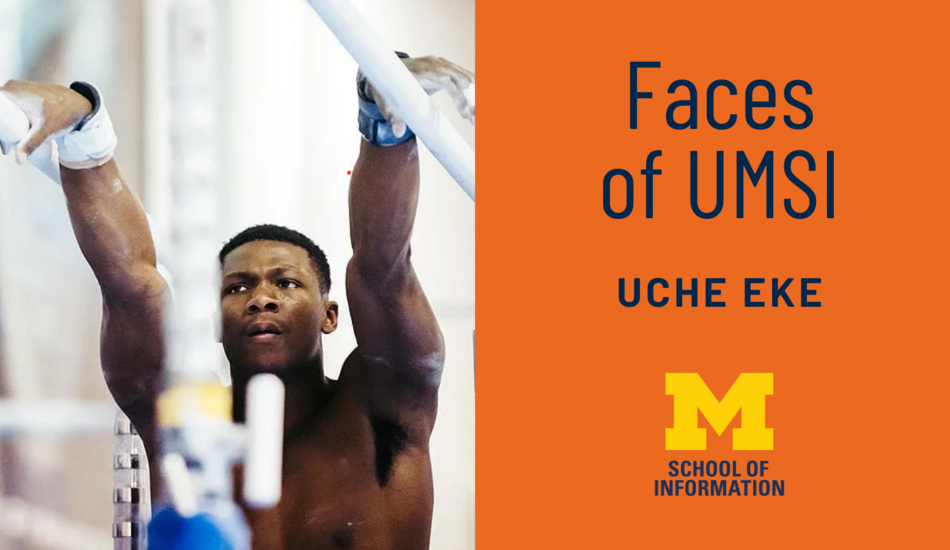 Wednesday, 05/26/2021
Uche Eke (MSI '21), Nigeria's only decorated male gymnast, will compete in the African Championships in Cairo, Egypt Thursday, May 27, 2021 for a chance to become the first Nigerian gymnast to participate in the Olympic Games.  
The 2021 Margaret Mann awardee, who graduated from UMSI with a 4.0 GPA May 2021, has been competing and training with Michigan Gymnastics since he first came to U-M as a freshman in 2016. Uche aims to represent Nigeria at the 2020 Summer Olympics in Tokyo, postponed to July 2021 due to the COVID-19 pandemic. 
Since joining the Master's of Science in Information (MSI) program, Uche said he found the support and stimulation he needed at UMSI to flourish academically, serve his peers as a graduate student instructor (GSI) and maintain his rigorous training regimen. 
Within his first two weeks at UMSI, the master of balance earned Nigeria's first-ever gold medal in gymnastics at the 2019 All-African Games ⁠— and he's not stopping there. 
"I'm striving to be Nigeria's first Olympic gymnast," Uche said in an interview with BBC News Africa. "When I won at All-African Games and got to hold up the green and white flag, that was my first time holding it up in first place, and everyone, like Nigeria, the whole crowd, was just chanting my name, it was an amazing feeling. It just made me feel even closer with Nigeria and just makes me want to do more." 
Read Uche Eke's full Faces of UMSI profile here.