University of Michigan School of Information
UMSI grads honored for achievements at 2021 commencement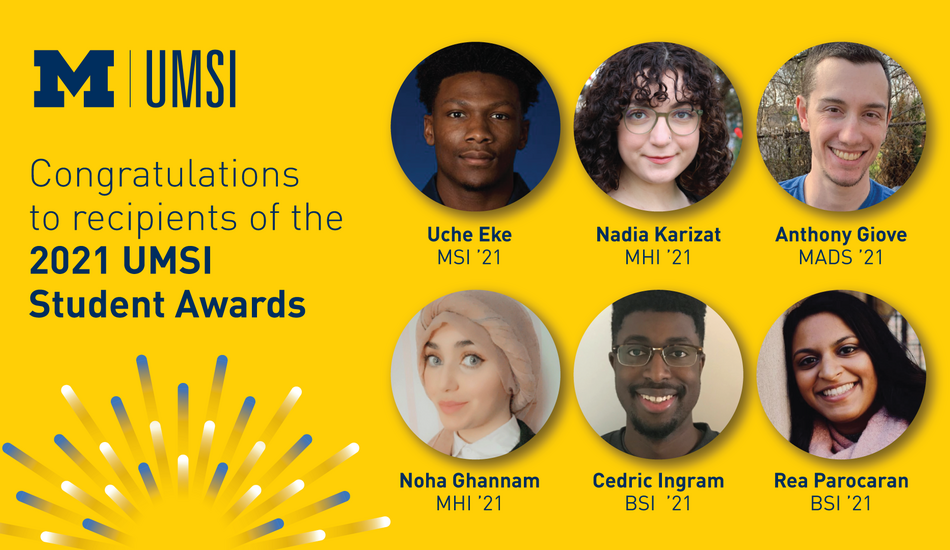 Friday, 04/30/2021
During an unorthodox year, students at the University of Michigan School of Information continued to bring intellectual curiosity, drive and care for the community to all their endeavors.
At the 2021 graduation ceremonies, the school bestowed special honors on six graduates across the graduate and undergraduate programs whose work, passion and integrity exemplify UMSI's mission to create and share knowledge so that people will use information — with technology — to build a better world.
---
Graduate awards
---
Margaret Mann award
The Margaret Mann award is the first and oldest student award at the School of Information. It was established in 1938 to honor Associate Professor Margaret Mann upon her retirement. Professor Mann was the first external faculty member hired into the department of library science when it was created in 1926.
Each year, this award goes to one or more students who demonstrate exceptional academic ability and professional promise. The Margaret Mann Award, recognizes the heritage of UMSI and the deep roots of professional education in the information field at the University of Michigan. The Margaret Mann Award recognizes future promise through evidence of accomplishment at UMSI. 
This year three students received this honor from each of our master's degree programs which are the Master of Science in Information, Master of Health Informatics and Master of Applied Data Science.
MSI honoree: Uche Eke
Eke excels in both academics and sport. While studying UX Research and Design, he has maintained a perfect 4.0 thus receiving recognition as Academic All-Big Ten (2020) and Big Ten Distinguished Scholar (2020). As a student, he also contributed to UMSI as a Graduate Student Instructor in SI 206 and 339. In sports, he competes in gymnastics at the highest level; currently training for the 2021 Summer Olympics.
MHI honoree: Nadia Karizat
Karizat earned a double degree in health informatics and urban planning in great academic standing. She worked as a graduate student instructor and has already co-authored a journal article for CSCW, which she hopes to present at their fall conference. She worked over the summer of 2020 as a fellow in the Research Experience for Masters Students program and showed a passion for research that led to her paper. She is writing a master's thesis for her degree, which may lead to an additional publication. Karizat plans to continue her education as a doctoral student.
MADS honoree: Anthony Giove
Giove is from the first MADS cohort and is now one of the first graduates of the program. In addition to being an excellent student, he has mentored many fellow students and served as a paid instructional assistant in several MADS classes. He also worked as a research assistant, helping to develop content for UMSI's sports analytics online course. He's described as knowledgeable, courteous, resourceful, and independent. He responds to even the harshest of student challenges well, and always goes the extra mile. Giove is the first recipient of the Margaret Mann award in the MADS program.
---
The Edmon Low award
The Class of 1972 established The Edmon Low award to honor Professor Edmon Low on his retirement. Nominations are solicited from the master's students, and the award recipient is chosen by the executive officers of the School of Information Master's Association. Awardees embody the qualities valued by Professor Low: dedication to service, empathy for others, confidence building, industry, interpersonal acuity, responsibility, and humor.
Honoree: Noha Ghannam
In the MHI program, Ghannam has made a noticeable impact in improving coursework by building meaningful relationships with instructors. She has also been a driving force in improving student life through her dedication to her work with the Health Informatics Student Organization. Within the profession, Ghannam was part of a team which published work on classifying prescription drug abuse for the SMM4H challenge. She pursued this work further with professor Vinod Vydiswaran over the summer and through an independent study. Most importantly, Ghannam has been an uplifting presence for all her friends and has played a key role in bringing light to the issues faced by minority women in professional environments.
---
Undergraduate awards
---
John L. King award 
To honor the professor who devoted many years to the development of the bachelor of science in information program, UMSI created the John L. King award in 2015. The award recognizes an outstanding student in our undergraduate program. 
Honoree: Cedric Ingram
Ingram has made a lasting impact with his work in the transfer student space, through his contributions to the Community College Summer Institute and his work with admissions. He has represented UMSI in formal and informal outreach opportunities and was an active voice in town halls and other avenues of student advocacy. He has reliably lent support to fellow students seeking community. Finally, he was also a pivotal resource in building the iSuccess program for incoming transfer students -- sharing his experience and advocating for policies and programming that would most benefit students.
---
Nikki Roda award
The only award at UMSI named for a student was inspired by an exceptional student, Nikki Candelore Roda.
Nikki had a significant impact on the school while she was here, showing leadership and initiative, and inspiring her fellow students. Ultimately, Nikki made UMSI a better place to be a student.
The Nikki Candelore Roda Student Impact Award celebrates a student who has shown initiative and dedication to service, influenced the culture and climate of the school in positive ways, been an insightful leader and good ambassador, and will leave a lasting legacy. 
Honoree: Rea Parocaran 
Parocaran is a quiet leader who demonstrated strong engagement from her start as a UMSI student. As a junior, she  not only volunteered for Service Week, she joined  its leadership team. She emailed volunteers, set up the kickoff and celebration events, and connected with partnering organizations. 
After joining A2DataDive, Parocaran served on the leadership committee for two years -- including serving as president in her senior year. In 2021, she led one of the most successful A2D2 events we've had in years - and did it all remotely. Parocaran has led other BSIs towards service, inspiring more of her fellow undergraduates to participate in engaged learning programs. She brought them along, engaged them, and involved them. 
Parocaran is impressive in her dedication to service, leadership, and her ethical and responsible approach to community engagement work. She is thoughtful, innovative, and kind. She is the type of student who stands out not for what she says but for what she does, and the school has benefited greatly from her contributions.   
---
To watch the graduation ceremony and download a souvenir program, visit the school's 2021 graduation archive.
- Kate Cammell, Writer UMSI