University of Michigan School of Information
Paul Resnick named ACM Fellow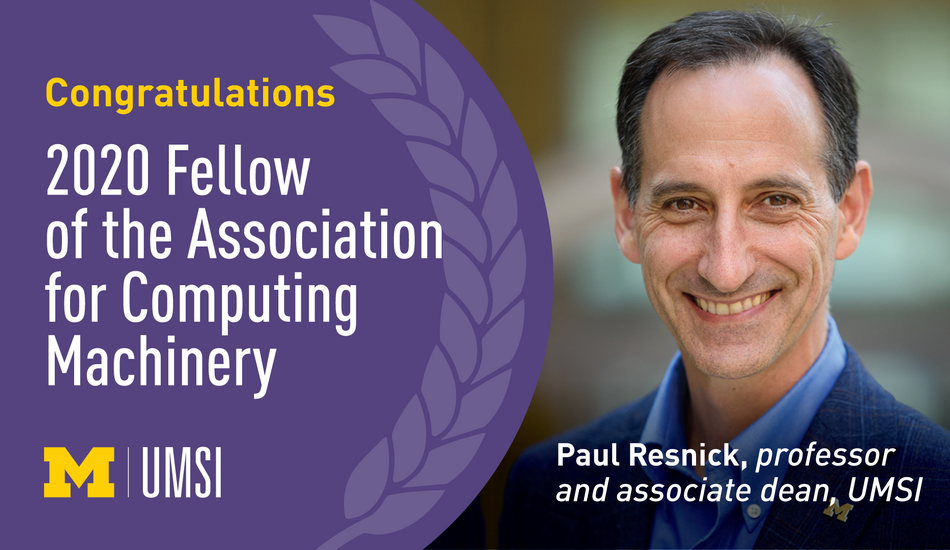 Thursday, 01/14/2021
ACM, the Association for Computing Machinery, has named University of Michigan School of Information Professor and Associate Dean Paul Resnick a 2020 ACM Fellow, recognizing his contributions to recommender systems, economics and computation, and online communities.
The ACM Fellows program recognizes the top one percent of ACM Members for their outstanding accomplishments in computing and information technology and/or outstanding service to ACM and the larger computing community.
"It is a great honor to be recognized in this way," says Resnick. "I appreciate the intellectual home I've had for the past 25 years at the University of Michigan School of Information, where I was never put in a box or told what not to work on. Eventually, a unifying theme emerged: people, together, producing information that benefits other people. I'd like to thank all the people who I've had the pleasure of collaborating with over the years who helped to make that theme emerge."
Fellows are nominated by their peers, with nominations reviewed by a distinguished selection committee. This year's selection committee had a particularly challenging job, says ACM President Gabriele Kotsis, as the organization received a record number of nominations from around the world.
"The 2020 ACM Fellows have demonstrated excellence across many disciplines of computing," says Kotsis. "These men and women have made pivotal contributions to technologies that are transforming whole industries, as well as our personal lives. We fully expect that these new ACM Fellows will continue in the vanguard in their respective fields."
Paul Resnick is the Michael D Cohen Collegiate Professor of Information, Associate Dean for Research and Faculty Affairs and Professor of Information at the School of Information and Director of the Center for Social Media Responsibility.
Related: CSCW "recommends" early Paul Resnick research
- Jessica Webster, UMSI PR Specialist
People featured in this story
Michael D Cohen Collegiate Professor of Information, Associate Dean for Research and Faculty Affairs and Professor of Information, School of Information