University of Michigan School of Information
Report: UMSI graduates' job satisfaction, salaries above national average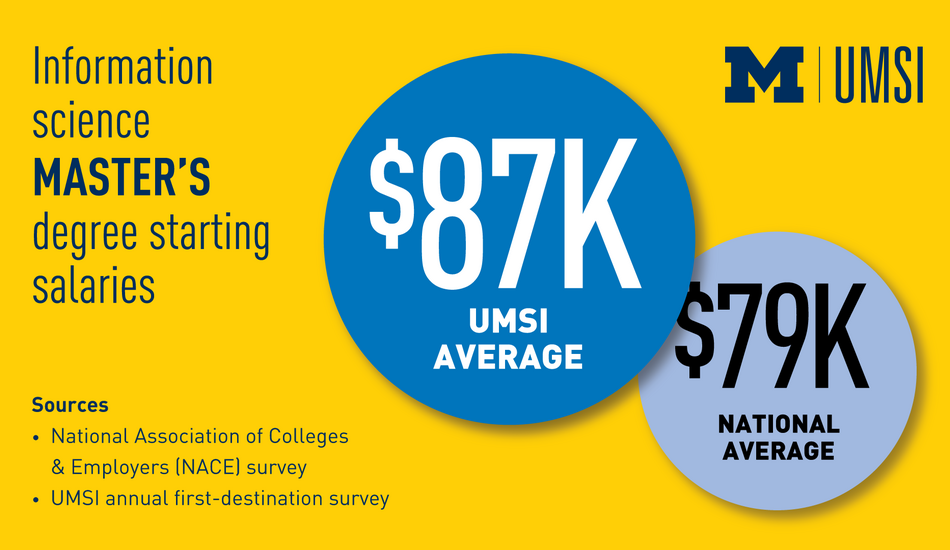 Monday, 04/04/2022
Despite pandemic impacts on the job market, University of Michigan School of Information (UMSI) graduates continue to land great jobs with competitive salaries, with 95% of graduates working in their field of choice. A report from the National Association of Colleges and Employers also shows that UMSI graduates earn salaries above the national average for graduates with similar degrees.  
"While many grads report that COVID-19 had some impact on their job search, including a longer job search and fewer opportunities, they were still successful in obtaining jobs in their field of choice," says Joanna Kroll, director of the UMSI Career Development Office. 
UMSI graduates entering the private sector are earning an average of $86,000 upon graduation, and public sector employees are earning more than $69,000, which is often $10,000 more than the national average for graduates with similar degrees, according to the NACE report.    
The UMSI data comes from the school's annual survey of recent graduates and reflects first-destination salaries of students who graduated in 2020. The survey included graduates who earned Bachelor of Science in Information (BSI), Master of Science in Information (MSI), Master of Health Informatics (MHI) or PhD in Information degrees.
Internships, capstone projects and career courses have a significant role in career readiness for graduates. UMSI provides students with a one-stop shop of resources, helping them get prepared for successful career outcomes. 
In 2020, UMSI graduates landed jobs in organizations including innovative tech startups, global healthcare organizations, nonprofits, libraries and Fortune 100 companies. Recruited by employers across industries, students are transitioning into entry- and senior-level positions at companies like Amazon, Google, Ford and JP Morgan. 
Among industries UMSI graduates are entering: technology, consulting and financial services, and banking. Outside of these sectors, Bachelor of Science in Information students are entering industries like entertainment, gaming and sports, and Master of Health Informatics students are moving into health care, startups and entrepreneurial sectors.  
Whether pursuing a BSI, MSI or MHI or continuing their education, UMSI students are ready to put their skills to the test. More than 90% of students report working in the field of their choice and earning competitive salaries. 
People featured in this story
Director of Career Development and Adjunct Lecturer in Information, School of Information