University of Michigan School of Information
UMSI alumna Cindy Lin receives Distinguished Dissertation Award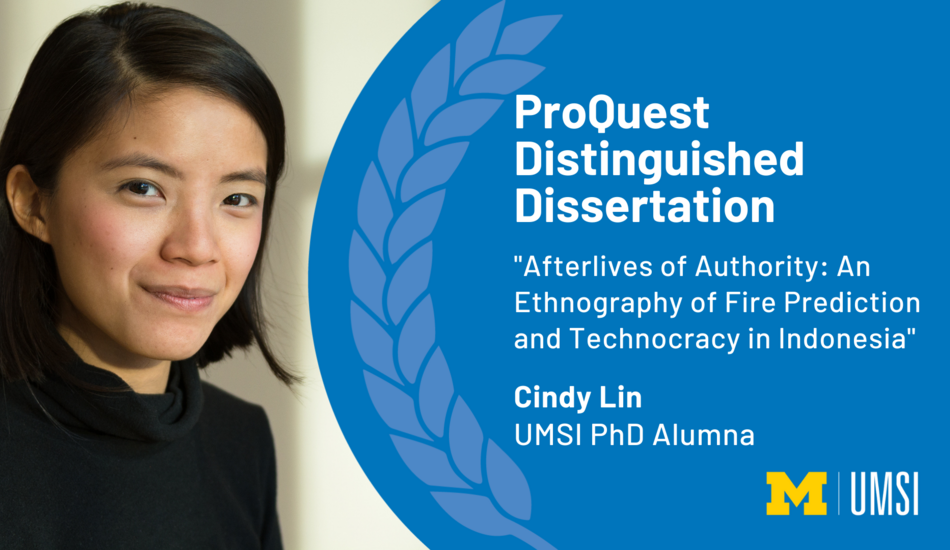 Wednesday, 03/30/2022
Cindy Lin, doctoral graduate of University of Michigan School of Information, was awarded the 2021 ProQuest Distinguished Dissertation Award. The award recognizes highly accomplished graduate students who have produced exceptional dissertations of outstanding scholarly quality in any field of study.
Out of more than 800 applicants, Lin was one of ten awardees. She and the other scholars will receive a $1,000 prize during the award ceremony on April 5th.
Her dissertation, "Afterlives of Authority: An Ethnography of Fire Prediction and Technocracy in Indonesia," focused on how detecting vast, invisible, subterranean peatland fires in Indonesia has led to a situation where data analytics and agile software have become fundamental tools for fire control and environmental governance. 
"Over the years, state-enabled, corporate palm oil plantation and resource extraction and extreme weather, among other factors, had dried out peatlands and made them susceptible to fire," says Lin, adding that peat fires constitute one of the largest natural emitters of carbon globally. 
"Technocrats in Indonesia worked with major tech firms to build fire prediction models based on a variety of social and biophysical factors, including the type of plantation near or on peatlands as well as the groundwater level of peat."
Lin says that during her research, government agencies applied new agile software in an attempt to transform the perception of these organizations from sluggish to modern and productive. 
"Drawing from archival research and long-term ethnographic fieldwork with state computer scientists and environmental scientists as well as private sector actors in Indonesia, my dissertation examined how the use of data science and agile software methods have transformed technocratic practices and understandings of evidence and efficiency in the management of fires and scientific research." 
Students are nominated by departmental or program chairs. A faculty committee reviews each nomination, sending a group of finalists to the Michigan Society of Fellows. Members of the Society of Fellows make the final selection, including those designated for honorable mention.
"For me, winning this award is extremely meaningful," says Lin. "I am grateful to receive the award because it is a testament to the importance of ethnographic work in information science and critical studies of computing. I also want to emphasize that this project is impossible without the generous time and contribution of my colleagues and interlocutors in Indonesia as well as my ever-supportive peers, readers, and my wonderful dissertation committee."
Lin is now a postdoctoral fellow at the Cornell Atkinson Center for Sustainability and is also a Digital Life Initiative Visiting Fellow at Cornell Tech. While at Cornell, she has been conducting ethnographic research on how open-source machine learning data infrastructure and training data are designed and built for agriculture and climate analysis in the global South.
—Sarah Derouin
Learn more about the ProQuest Distinguished Dissertation Award. 
Learn more about postdoctoral fellow Cindy Lin.