University of Michigan School of Information
UMSI announces 2018 DEI award recipients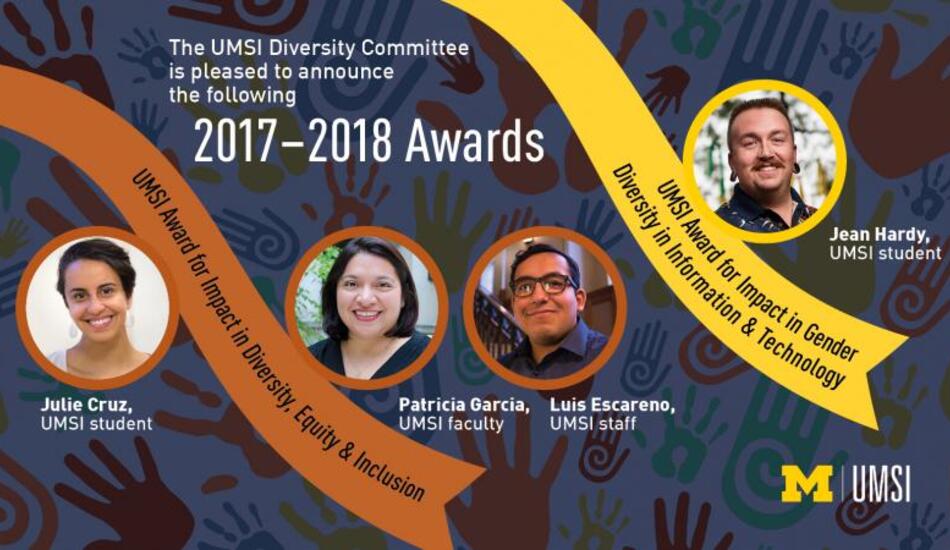 Tuesday, 05/01/2018
A UMSI alumna, member of the staff and an assistant professor are recipients of the second annual Diversity, Equity and Inclusion Awards. The 2017-2018 DEI awards go to Julie Cruz, Luis Escareño and Patricia Garcia. Jean Hardy received the UMSI Award for Gender and Diversity in Information and Technology. 

Julie Cruz, a graduate of the MSI program, served as vice president of the SI Master's Association as well as co-director of the Multicultural Information Exchange. As a student leader, she shared ideas with administration and participated in UMSI's first DE&I retreat in 2017, invoking change in future DE&I activities. 

In his alumni relations role at UMSI, Luis Escareño strives to maintain a diverse UMSI Alumni Society Board reflective of various career paths and a balance of gender, sexual orientation and racial composition. As the School's Development and Alumni Relations Officer, Luis works to bring volunteers and alumni together, engaging them around topics key to diversity, such as organizing the BSI community college external transfer presentation and discussion at UMSI's fall volunteer board meeting. 
 
Dr. Patricia Garcia is an assistant professor at the School of Information, conducting sociocultural research on race, gender and technology with an interest in how culturally responsive computing practices can increase girls' participation in STEM. Patricia is also experimenting with a low-resource model for teaching computational thinking skills in informal learning environments such as public libraries. Patricia is a faculty representative on the UMSI Diversity, Equity & Inclusion Committee. 

Jean Hardy is a doctoral student and a strong advocate of gender equality and for LGBTQ students, staff and faculty. Jean has supported the U-M Spectrum Center as Graduate Coordinator for nearly two years, working on evaluation, assessment, education and training. Jean's research addresses information and gender identity in rural settings, specifically the use of social technologies by LGBT people in rural Michigan. He has been a GSI and involved with the GEO, attending to issues of inclusion in policies and the classroom. 

Nominations came from students, staff and faculty. The recipients will receive a cash award, recognition on the UMSI flat screens and their names on a plaque displayed in the UMSI hallways.

- Brooke White, UMSI Editorial Assistant
People featured in this story
Assistant Professor of Information, School of Information and Assistant Professor of Digital Studies Institute, College of Literature, Science, and the Arts