University of Michigan School of Information
UMSI community reads "Viral Justice"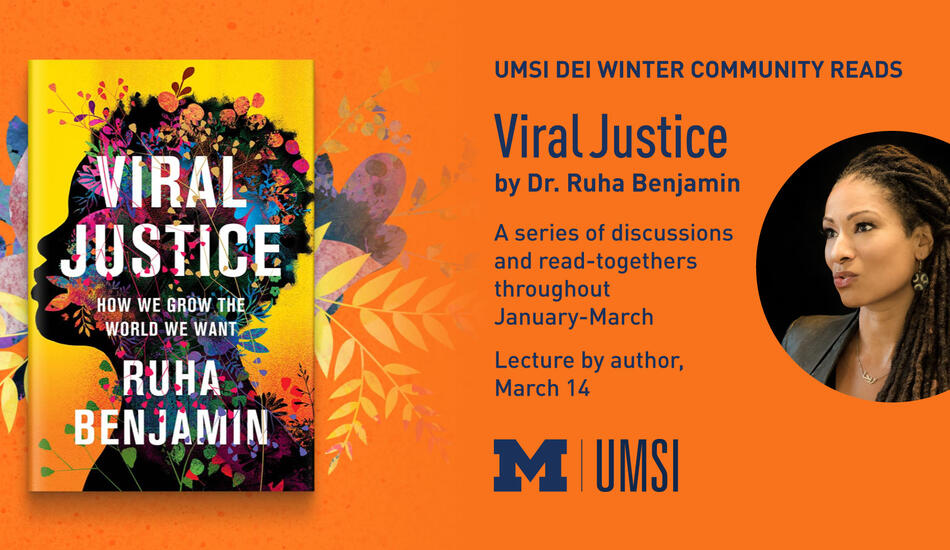 Friday, 02/03/2023
The University of Michigan School of Information Diversity, Equity and Inclusion Office is leading a school-wide community read of Ruha Benjamin's book "Viral Justice." The book discusses ways that small changes can add up to large ones, transforming relationships and communities and helping build a more just and joyful world.
Students, faculty and staff are invited to join UMSI community discussions of the book. Devon Keen, director of inclusion, equity and outreach, says people interested in participating shouldn't worry if they don't have time to read assigned chapters prior to the meetings. All discussions will include recaps or read-togethers. 
"The fundamental importance is how we come together," Keen says. "It's an opportunity to connect at a deeper level while thinking about how we can enact meaningful change."
Everyone comes to UMSI with varying levels of knowledge about antiracism, Keen says. Stories are an accessible way to engage discussions and learn more.
Alex Liu has seen that phenomenon firsthand. He co-organizes UMSI's Race & Tech Reading Group with fellow PhD students Aparna Ananthasubramaniam, Chang Ge and Linda Huber. As he helps lead discussions of "Viral Justice," Liu appreciates that everyone from undergraduate students to faculty members speaks up. 
"It's interesting to hear all their different perspectives on this work," Liu says. "One recurring theme is immediate actions people can take in the here and now to advance racial justice. I think a lot of people are excited to learn about how we can play a part."  
How to join "Viral Justice" discussions 
The UMSI DEI Office is giving away a limited number of hard copy books, plus e-books and audiobooks, first come, first served. All UMSI faculty, staff, students and postdocs are eligible to sign up and request a book. The e-book is also available through U-M's library.
View the schedule of read-togethers and discussions. Weekly chapter discussions take place from 2-3 p.m. Mondays in North Quad Space 2435 and online, and from 6-7 p.m. Mondays online. Monthly book discussions take place from noon-1 p.m. on Feb. 16 and March 9 online. 
The schedule culminates in a public lecture by Ruha Benjamin on March 14.
Sign up for the Race & Tech Reading Group email list on MCommunity. 
"Viral Justice" books for the UMSI DEI winter community reads program and UMSI's co-sponsorship of Dr. Ruha Benjamin's visit were funded by the UMSI Diversity, Equity, and Inclusion Fund and the UMSI Annual Fund.

— Martha Spall, UMSI writer
People featured in this story
Director of Inclusion, Equity and Outreach