University of Michigan School of Information
Yan Chen to deliver plenary talk at Society for the Advancement of Behavioral Economics conference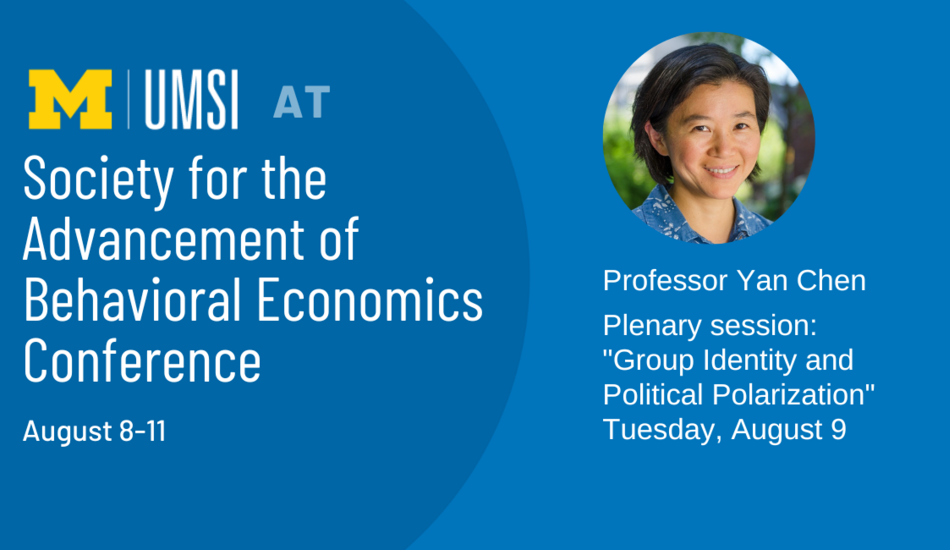 Tuesday, 08/09/2022
Professor Yan Chen will deliver the Plenary Session Herbert Simon Lecture at the "Sharing Behavioral Economics in Person" Society for the Advancement of Behavioral Economics Conference (SABE) in South Tahoe, Nevada on August 9. 
Her talk, "Group Identity and Political Polarization" will focus on how partisan group identity impacts the process of forming political opinions. Chen will highlight an experiment she and her colleagues undertook the week before the 2020 U.S. presidential election.
Chen is the Daniel Kahneman Collegiate Professor in the School of Information at the University of Michigan. She specializes in behavioral and experimental economics, market and mechanism design, information economics, and public economics. She serves as a department editor of Management Science, an advisory editor of Games and Economic Behavior, and an associate editor of Experimental Economics.
U-M @ SABE 2022
August 9 
Plenary Session Herbert Simon Lecture 
8:45-10 a.m. PDT, Evergreen A/B
"Group Identity and Political Polarization" 
Yan Chen, UMSI
Session A1: The Roots and Branches of Behavioral Economics
10:20-noon PDT, Aspen A/B
"The Neglected Mental Faculty"
Richard Curtin, U-M Institute for Social Research
Session B1: Information and Communication
1:20-3 p.m. PDT, Aspen A/B
|"Headline Curiosity"
Jingyi Qiu, UMSI
August 11 
Session H1: Examining Trust
1:20-3 p.m. PDT, Aspen A/B
"Start with Trust or End with It"
Natalia Z. Czap and Hans J. Czap, University of Michigan-Dearborn
Session I3: Education
3:20-5 p.m. PDT, Aspen D
"Working Hard, Teaching Well: Learners Attain Better Outcomes from 'Strivers' than from 'Naturals'"
Nuria Tolsá Caballero, U-M Ross School of Business
Session I1: Examining the Environment
3:20-5 p.m. PDT, Aspen A/B
"Conserve the Planet, NOT Empathy! Revising the Empathy Conservation Framework"
Hans J. Czap and Natalia Z. Czap, University of Michigan-Dearborn
Topics
People featured in this story
Daniel Kahneman Collegiate Professor of Information, Professor of Information, School of Information and Research Professor, Research Center for Group Dynamics, Institute for Social Research