University of Michigan School of Information
Alumni Snapshots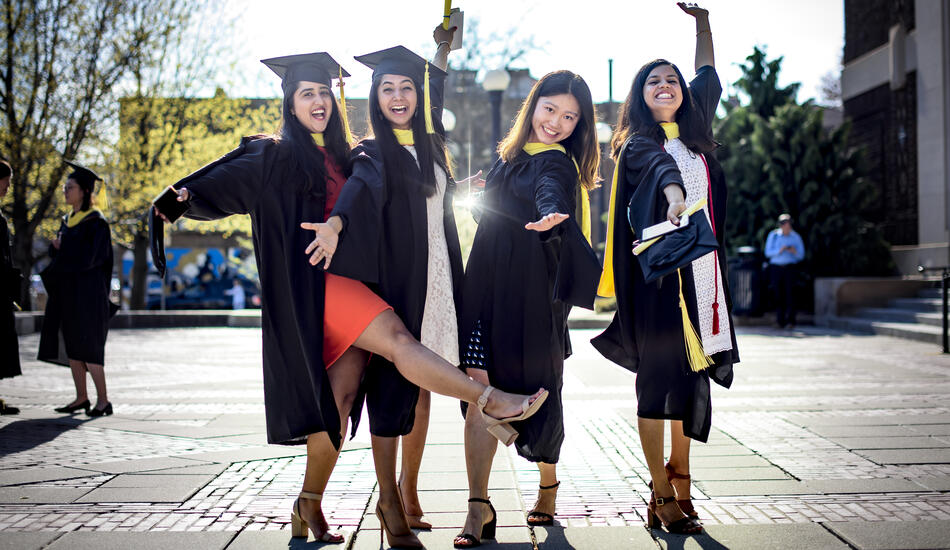 Insights and updates from UMSI alumni.
Nisreen Salka (MSI '18) was a full-time student with a full-time job at UMSI, always on the go "learning and applying" skills.
Now a leader for Rocket Central's UX research, she wants to empower her team with the same voice UMSI gave her during her graduate career.
---
Loretta Parham (AMLS '77) has applied her expertise in library administration around the nation, serving Chicago Public Library, Pittsburgh's Carnegie Library and the Atlanta University Center Robert W. Woodruff Library.
---
Emily Gottschalk (BSI '16) says "the SI program believed in me and the endless possibilities I saw with this degree, and I am forever grateful for the opportunities that have arisen from it." 
Discover how Emily is applying problem-solving skills learned at UMSI as a self-described "editor of the technology world," blending expertise in English and user experience at Qualtrics. 
---
Julie Darling (MSI '05) is inspiring the next generation of innovators by bringing her makerspace expertise to A2 STEAM School. 
Learn how Julie's UMSI training taught her strategies at the "heart" of being an effective media specialist. 
---
Novia Wong (MSI '19) channels her passions for information and health care into helping communities access mental health resources as a PhD candidate at the University of California Irvine. 
"In the end, what really matters is your experience working with other people," she advises students.
---
Diane Hummel (MILS '92) spent decades applying UMSI skills at Spectrum Health to create a central library collection that would benefit both nurses and patients. 
Her advice for students looking for information service jobs: "Just keep at it! Don't get discouraged, and look in unique places." 
---
Avalon Hu (MSI '11) has fused her creativity and her passion for user experience into a career spanning companies at the forefront of innovation. 
---
Zahra Langford (MSI '05) is creating approachable designs for complex healthcare applications. 
---
Krishna Vadrevu (MSI '14) is using UMSI human-computer interaction training designing cloud platforms for global customers. 
---
Suzanne Wones (MSI '00) is bringing discovery and access to researchers at Harvard Library.
---
Maria Gosur (MSI '17) is inspiring new directions for marketing with her user experience services. 
---
Omid Farivar (MSI '12) is building Discord's new user experience research team.
---
Derek Cooper (MSI '07) is helping health technology clients leverage new imaging data. 
---
Alexis Antracoli (MSI '11) is connecting people with information and themselves via Special Collections. 
---
Shaelyn Albrecht (BSI '20) is empowering students with user-centered edtech features. 
---
Olubisi Ajetunmobi (MSI '18) is at the leading edge of data analysis in scientific healthcare research. 
---
Abril Vela (BSI '18) is expanding access to computer science education.
---
Tawny Czilok (MHI '17) is responsible for supporting Michigan Hospital Medicine Safety (HMS) Consortium's goal of improving quality of care for hospitalized patients. 
---
Eve Neiger (MSI '14) is using her degree to build a new archives department within Boston Public Library's special collections department.
Photo by Meredith Miller, Yale University
---
Jatin Gupta (MSI '18) uses the human-computer interaction skills he learned at UMSI to improve product usability at T-mobile.
---
Deepak Krishnan (MSI '18) is using his degree to craft better experiences for salespeople at SAP Sales Cloud.
---
Arielle Metaxas (BSI '19) is a product analyst for

Cond

é

Nast who is utilizing her UMSI degree to analyze consumer behaviors.

 
---
Emily Bowman (MSI '12) is leading a team of UX designers as director of customer experience design at General Motors. 
---
Lisa McLaughlin (MSI '08) is the CEO and co-founder of Workit Health, a digital addiction care clinic reaching 34 million people.