University of Michigan School of Information
Alumni Snapshot: Suzanne Wones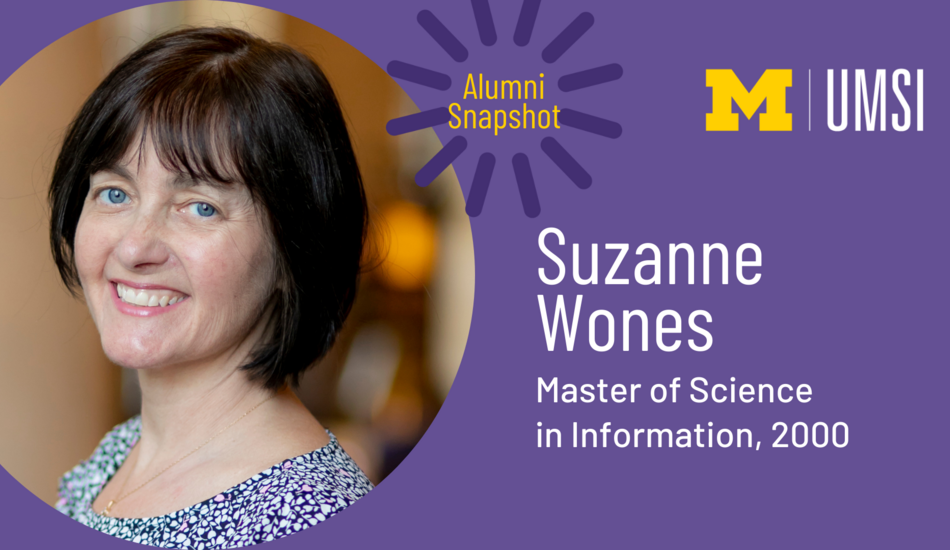 Suzanne Wones 
MSI '00 (Library Information and Sciences)
Associate university librarian for discovery and access at Harvard Library
Since Jan. 2021, I have been the associate university librarian for discovery and access for the Harvard Library. Before this position, I was the associate librarian for digital strategies and innovation and worked on shifting the library's focus to digital scholarship and teaching. The current position I am in is about creating a unified portfolio of information and technical services with an embedded understanding of user experience. The hope of this project is to bring all of these ongoing services together and provide a more accessible service for all of our users.
UMSI skills at work
UMSI has really informed my work in a lot of ways. For me, the core classes we took in terms of computer interactions and usability have been critical throughout my career. One of those classes I remember is the Economics of Information course. I was surprised to learn it was a required course for all UMSI students, but I am really thankful it was because I use it a lot in my management and leadership role in the library. Additionally, the project work has been really useful since that is pretty much how all work gets done in libraries all over the world. 
Motivation for pursuing information
I was getting my master's degree in history and got a part-time job at the library. That turned into a full-time job where I met other librarians and information professionals. I found the work they were doing really appealing. I enjoyed being a part of research that wasn't just my research but the research of others as well.
Most valuable UMSI experience
The internship I did at the Shapiro Library was one of the most rewarding and impactful experiences that I had at UMSI. I really appreciated having the opportunity to work with the undergraduate students at the University of Michigan. I was also a residence hall librarian when that opportunity was still available for library science students and that was really great. Through that experience I was introduced to how to run a complete library, interact with our users, and even the process of cataloging. 
Favorite UMSI memory
As a residence hall librarian, there was an orientation where we created a video that was a spoof of the Blair Witch Project and that was really fun!
Advice for UMSI students
For incoming students, take time to explore all the opportunities on campus. Even though it feels like there is a ton to do with classes, take time to explore the extracurricular activities available to make connections.
For current students, take whatever classes you can around data: use of data, data visualization, data analysis or research data management. It is so important to have a fundamental understanding of how data is used, collected and organized in the field of information even though you may not want to specialize in it.
— Oct. 21, 2021 
Learn more about UMSI's Master of Science in Information program and how to apply.
Send UMSI an update and share your own Alumni Snapshot with the world.