University of Michigan School of Information
Barbara Ericson receives prestigious NSF CAREER award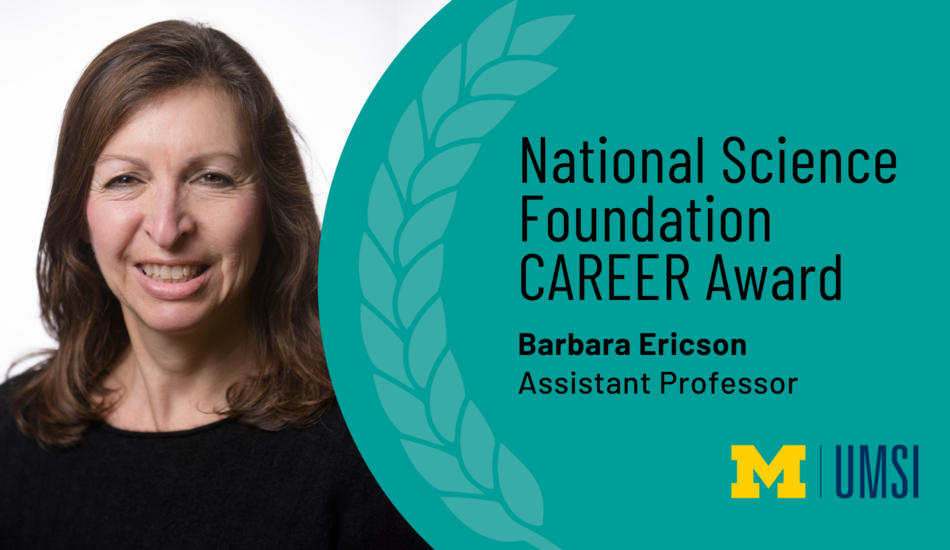 Thursday, 05/05/2022
University of Michigan School of Information assistant professor Barbara Ericson was awarded a prestigious grant from the National Science Foundation, the NSF CAREER award. Ericson will receive nearly $800,000 over five years to fund her research.
Ericson's research, "Improving Undergraduate Computing Education by Scaffolding Write Code Problems with Automatically Generated, Personalized, and Adaptive Parsons Problems," aims to serve the national interest by creating and testing tools to improve student success in introductory programming courses.
"Programming courses usually require students to practice by writing complete programs from scratch," says Ericson, adding that this process can be difficult for students who are new to programming. "The goal of my research is to improve success in programming courses by using mixed-up code (Parsons) problems to help students who are struggling while writing code."
Ericson notes that students from underrepresented groups are even more at risk of leaving computer science, since many have less prior programming experience. Parsons problems eliminate writing fresh code, and instead break already-written lines of code into blocks, allowing students to drag-and-drop chunks of code to create a programming solution. She's hoping her research on the Parsons Problems approach can help improve student success in introductory programming courses.
"This five-year grant will lay a foundation for my long term goal to create flipped and interactive ebooks with adaptive and personalized practice problems that are automatically generated from student work and that evolve over time," says Ericson. 
She explains that her efforts will include creating tools to automatically generate Parsons problems from the most common student solution as well as a personalized Parsons problem where the solution is closest to the student's incorrect code. Ultimately, her research will test the two Parsons problems to better understand student perceptions, learning gains, efficiency, problem completion rates, self-efficacy, and retention in courses that use Python and Java.
The National Science Foundation CAREER awards are given in support of early-career faculty who have the potential to serve as academic role models in research and education and to lead advances in the mission of their department or organization. 
—Sarah Derouin, UMSI public relations specialist
RELATED:
Learn more about assistant professor Barbara Ericson.
Barbara Ericson receives SIGCSE award for outstanding contribution to computer science education. 
People featured in this story
Assistant Professor of Information, School of Information and Assistant Professor of Electrical Engineering and Computer Science, College of Engineering