University of Michigan School of Information
Barbara Ericson receives SIGCSE award for outstanding contribution to computer science education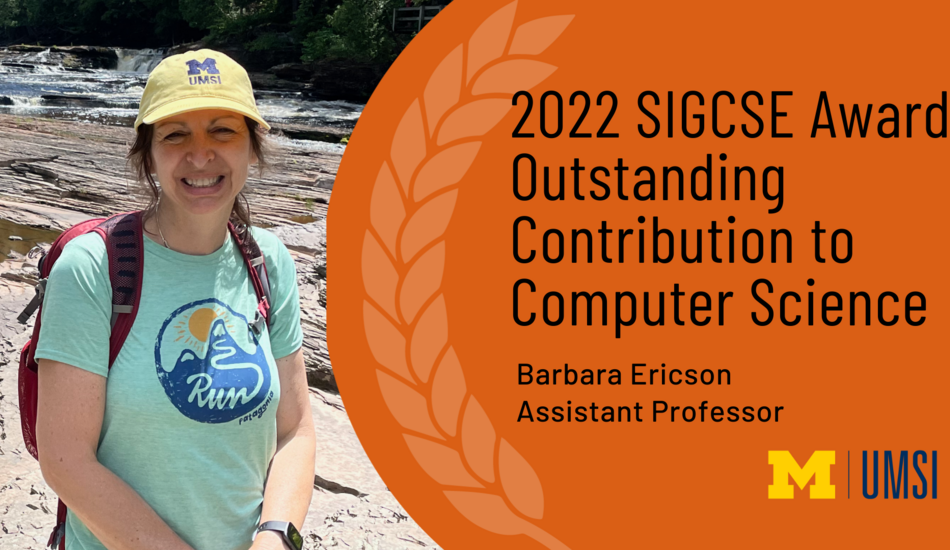 Thursday, 12/16/2021
Ericson recognized for efforts to improve computing education and increase diversity in computer science
University of Michigan School of Information's Barbara Ericson has been honored with the 2022 Outstanding Contribution to Computer Science Education award from the Special Interest Group on Computer Science Education (SIGCSE). Ericson is an assistant professor in the School of Information and the College of Engineering. 
She was recognized for her extensive efforts in improving exposure, diversity and accessibility of computer science education to students throughout the U.S. SIGCSE is a global organization of computer science educators, with more than 2,700 members in more than 60 countries.
"Dr. Ericson was one of the early CSforALL pioneers, with her leadership in Georgia with 'Georgia Computes!,'" says Dan Garcia, SIGCSE Vice Chair. "She helped with teacher certification efforts, pushed for policies that allowed advanced placement computer science A class (AP CS A) to fulfill a high school requirement, and personally taught 500 teachers, possibly more than anyone else in the US at the time." 
Garcia adds that Ericson also developed a mentoring model that matched university students with historically underrepresented high school computer science students who were in advanced placement classes. Her model was replicated all over the country.
"If that weren't enough, she also helped grow and diversify advanced placement computer science through her work as a co-author for a popular "Media Computation" book, service on the AP CS A development committee, and authorship of a fun Picture Lab that was used in the course."
Computer science is for everyone
Before coming to U-M, Ericson was a research scientist at Georgia Tech. "That's when I started doing computing education research," she says. Ericson developed curriculum in continuing education classes, and that morphed into a research position running educator professional development and student summer camps. 
"I used to get people to pay me to experiment on their children," she quips. "I was experimenting on what kinds of things attract kids to computing; what kind of things will sustain their interest, especially for kids from underrepresented groups?"
From 2006 to 2012, Ericson worked on an NSF-funded project to broaden participation in computing, especially engaging more students from underrepresented groups (including women, Black, and Hispanic students). 
"I taught about 500 teachers during that time," says Ericson. "I invented a summer camp model that was financially sustainable and improved kids' interest in computing." 
Ericson was also a co-PI on the Expanding Computing Education Pathways (ECEP) Alliance, which helped 16 other states and Puerto Rico make systemic changes to computing education.
In 2010, Ericson and Guzdial won the Karl V. Karlstrom Outstanding Educator Award for their work on educational textbooks. They worked on something called media computation. 
"The idea is rather than teach introductory programming with things that are boring, like numbers, we have people manipulate the pixels of a picture, samples in a sound, or the frames of a movie," she explains. "[They're] writing code that manipulates media, which is much more interesting than just numbers."
As part of the media computation work, Ericson created a textbook explicitly for the AP Computer Science A course. Around that same time, she became curious about the percentage of women and students of color who pass the AP CS exams. She created a spreadsheet of computer science students by state to see the gender and racial makeup of students taking the test and how many passed. 
"That blew up," she says, adding that journalists from The Wall Street Journal, BBC and CNN were calling her for interviews. Because she was in Georgia and much of her work was focused on increasing CS in the state, she looked carefully at the state's numbers. "We had a good number of Black students taking AP computer science in Georgia, but the pass rate was abysmal — as bad as 3% one year," she says. 
She says a combination of historical racism, underfunded schools and lack of teachers covering the material led to the low pass rates. 
"I started Project Rise Up, originally targeting Black students to help them succeed in AP computer science," says Ericson. "Every year that I ran it, we had a record number of Black students passing the exams. We went from 21 Black students passing in 2013 to 69 in 2018." The success of that program led her to start "Sisters Rise Up" to solve the similar problem of women passing AP CS exams. 
Her work with the Rise Up Groups has continued since she came to Michigan in 2018.
Rewriting the code
Ericson says the way CS education was taught in the past was the very thing that discouraged a diverse audience. "Computer science education has been boring," she says. "All the things that often drive women away from it: It's boring, too much math, antisocial, not creative…" But the very idea that CS was boring flummoxed Ericson. "I think computer science is super fun and creative. But we didn't teach that way — we sucked all the fun out of it."
She is bucking the boredom by rewriting stale CS education approaches. "I am trying to make classes more fun, interesting, social, creative — addressing all the misconceptions or the stereotypes about computer science." 
Part of that revitalization included creating educational tools for educators at all levels. "I've been working with teachers for many, many years, and one of the things I learned was that teachers can't buy books except for like, once every seven years, which is ridiculous in computer science," she says. To combat the outdated books, she and her husband started writing free and interactive eBooks. 
"My PhD is actually in human-centered computing, which is computer science plus psychology and sociology," she explains, adding that she was interested in the best way to get people to learn CS. "People learn best if they're active rather than passive, and they have to have feedback." 
During her doctoral research, she investigated using Parsons Problems to help students learn to write code. "Typically, when we make people learn to code, we make them write a lot of programs from scratch, which is kind of overwhelming," Ericson explains. "Instead, in a Parsons Problem, we break the code into blocks and we mix it up like refrigerator magnets." Students then drag the code blocks into the correct order and get feedback if their answer is wrong. Ericson explains that the process teaches the student to think about the order of coding and the big picture, rather than getting bogged down on the details. 
Ericson isn't stopping her quest to improve CS education, and she continues to leverage principles from educational psychology to improve learning. She notes that peer instruction — where a hard question is displayed and students vote on it individually and then discuss their answer with a peer and then vote again — has improved student learning and engagement. Similar cultural experiences and being closer in age means that a classmate can sometimes explain a concept in a more relatable way than an instructor can, says Ericson. Peer instruction has been very helpful in her own classroom, so she's been adding more support for this method into her eBooks. 
Being recognized for her litany of educational efforts has been a great honor, Ericson says. It's also a full-circle moment. "The first research conference I went to was SIGCSE," she notes. "That's really the home that nurtured me; it's where my first papers got published." 
"If you go back and look at who's won this award, it's like a who's who of computing," she says, listing Admiral Grace Hopper, Jan Cuny, Sally Fincher, Alan Kay, Elliot Soloway, among others as past winners. "These are people I looked up to. I feel very honored to be in that company."
— Sarah Derouin, UMSI public relations specialist
People featured in this story
Assistant Professor of Information, School of Information and Assistant Professor of Electrical Engineering and Computer Science, College of Engineering