University of Michigan School of Information
Ceren Budak earns Stanford University Fellowship from the Center for Advanced Study in the Behavioral Sciences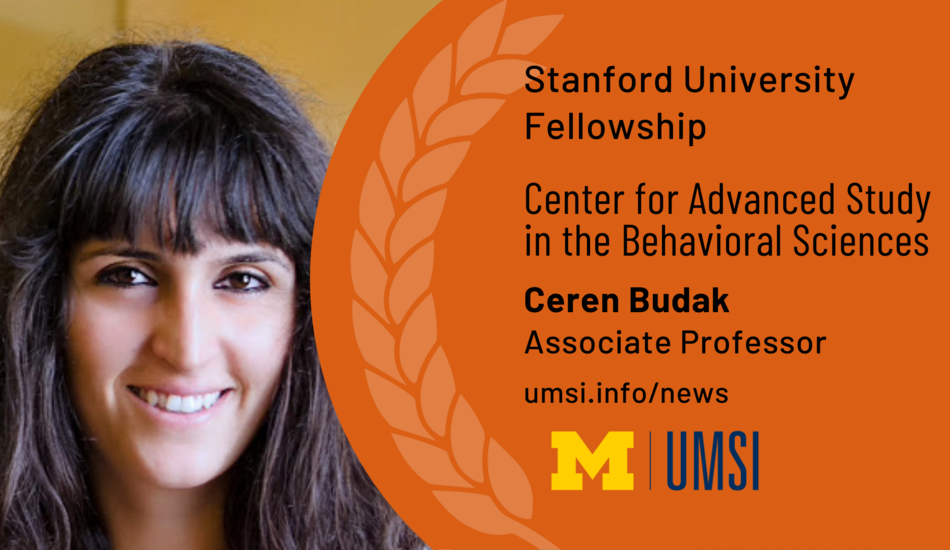 Friday, 08/25/2023
University of Michigan School of Information associate professor Ceren Budak has earned a Stanford University Fellowship from the Center for Advanced Study in the Behavioral Sciences (CASBS).  
The prestigious fellowship is awarded to scholars who "advance understanding of the full range of human beliefs, behaviors, interactions and institutions." Budak joins 35 other scholars for the 2023-24 academic year. 
"The role that markets play in the disinformation ecosystem, despite being large, is commonly ignored in academia," CASBS says in their press release. "Budak's past work has quantified the degree to which different retailers and ad firms support misinformation producers through ad placements. 
"During her fellowship, she plans to expand these quantification efforts by tracking other forms of advertisements across multiple channels/platforms and utilize these audit studies to develop effective solutions for curbing disinformation through demonetization." 
Budak began her U-M career in 2015. She holds a joint appointment with UMSI and the College of Engineering. She is an interdisciplinary scholar who focuses on computational social science, and more specifically, in political communication. In 2021, Budak earned a prestigious CAREER grant from NSF for her research on the role community norms, platform architectures and markets play in regulating disinformation and cross-partisan animosity online. Before coming to U-M, Budak earned her PhD from University of California Santa Barbara, and she completed a postdoctoral position at Microsoft Research in 2015.
Budak's research also explores health disinformation and equity. She, along with UMSI associate professors Eric Gilbert and Sarita Schoenebeck, were awarded a Mercury Project grant in 2021 to target health disinformation that spreads on social media networks. 
Budak's recent publications involve the spread of COVID-19 misinformation on Reddit and the role of cable and broadcast news networks during the pandemic.
RELATED
Learn more about the Center for Advanced Study in the Behavioral Sciences's fellowship program. 
Read Caren Budak's research and learn more about her by visiting her UMSI faculty profile. 
People featured in this story
Associate Professor of Information, School of Information, Associate Professor of Electrical Engineering and Computer Science, College of Engineering and Faculty Associate, Center for Political Studies, Institute for Social Research