University of Michigan School of Information
David Jurgens receives prestigious NSF CAREER award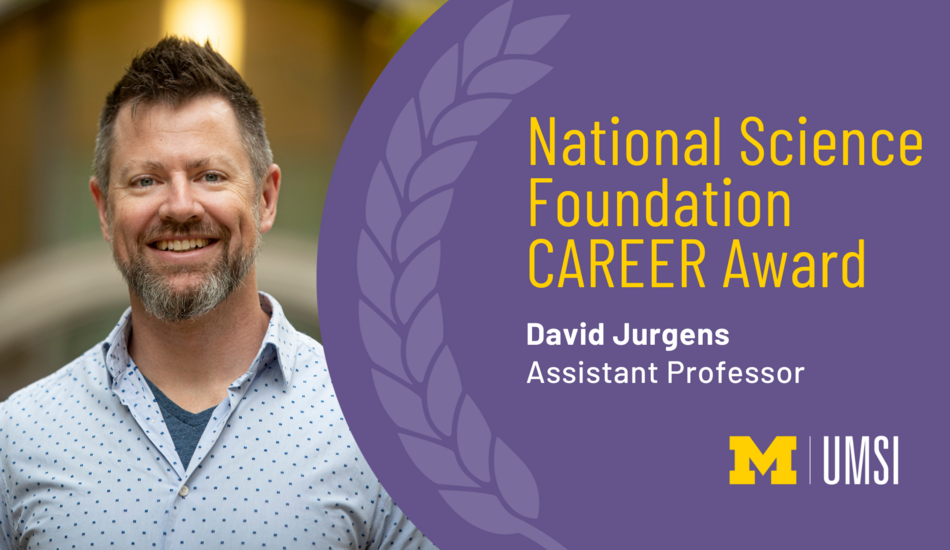 Monday, 05/09/2022
University of Michigan School of Information assistant professor David Jurgens was awarded a five-year, $581,433 grant from the National Science Foundation. The NSF CAREER award will fund Jurgens' research on "Fostering Prosocial Behavior and Well-Being in Online Communities," which focuses on identifying and measuring how social media can have a positive impact on people's lives. 
Although many studies have focused on how social media platforms can negatively impact people, understanding the positive effects is still unclear. Jurgens plans on studying the effects of prosocial behavior in social media and how it can boost the psychological well-being of users.
"In general, I'm an optimist, but an optimist who likes to measure things," says Jurgens.  "I've been curious whether social media has actual benefit in our lives for all its downsides." 
He says he and his students have previously looked at several kinds of specific behaviors, like providing social support and being empathetic, and found that people online can be incredibly genuine and thoughtful. "I want to understand what kind of conditions online can lead to and support that kind of behavior in general."
As part of the project, Jurgens plans on releasing tools for everyday users to help people track the good and bad interactions and content on their social media feeds. He says the tools will "hopefully help folks make informed decisions about when it's time to take a break from social media."
Jurgens says the CAREER award will fund new experiments aimed at helping people be more prosocial by fostering strategic encouragement. "I'm hoping to give folks a hand, and a helpful nudge, to show more care and compassion towards others."
Through the CAREER award, Jurgens says he is particularly excited to partner with the University of Michigan Natural History Museum in a variety of activities to bring this research on social media and well-being to the general public and schools.
The National Science Foundation CAREER awards are given in support of early-career faculty who have the potential to serve as academic role models in research and education and to lead advances in the mission of their department or organization. 
— Sarah Derouin, UMSI public relations specialist
RELATED:
Learn more about assistant professor David Jurgens.
Read about Jurgen's work on the Convergence Accelerator in UMSI's Center for Social Media Responsibility (CSMR). 
Read about Jurgens' research into how science and uncertainty is translated between scientists and media. 
People featured in this story
Associate Professor of Information, School of Information and Associate Professor of Electrical Engineering and Computer Science, College of Engineering