University of Michigan School of Information
Center for Social Media Responsibility awarded NSF Convergence Accelerator grant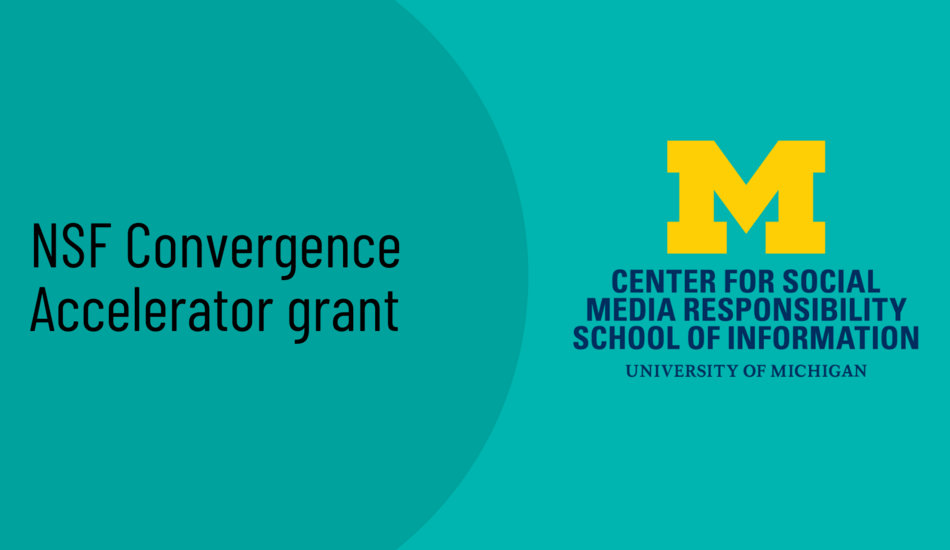 Thursday, 11/04/2021
Modern life depends on access to communication platforms that offer trustworthy and accurate information. Yet, as platforms face increasingly frequent calls to take action to reduce the impact of misinformation, there is little agreement on what process should be used to determine which articles and posts should receive enforcement.  
The Convergence Accelerator, a new National Science Foundation (NSF) program designed to address national-scale societal challenges, has awarded $750,000 to a multidisciplinary team of researchers at the School of Information Center for Social Media Responsibility (CSMR) to develop jury-led services to identify and rectify misinformation on communication platforms.  
The project, "Misinformation Judgments with Public Legitimacy," aims to make partially subjective judgments on content moderation in a way that the public accepts as legitimate, regardless of their political leaning. 
"Almost everyone agrees that search and social media platforms should limit the spread of misinformation. They don't always agree, however, about exactly which content is misinforming," says Paul Resnick, director of CSMR and Michael D. Cohen Collegiate Professor of Information. "The core idea is to provide juries with fact-checks and other information related to a post and have the jurors deliberate before rendering judgments. By deferring to publicly legitimate judgments, platforms will act on misinformation more transparently, consistently and effectively."
Joining Resnick on this initiative are: 
They make up one of 28 multidisciplinary teams NSF has selected for phase one of the Convergence Accelerator program 2021 cohort. Over the next nine months, each team will develop an initial idea into a proof of concept and identify new team members and partners. They will also participate in curriculum focused on human-centered design; user discovery; team science; early-stage prototyping; storytelling; and pitch preparation, says Douglas Maughan, head of the NSF Convergence Accelerator program. 
As part of the NSF Convergence Accelerator's Trust & Authenticity in Communications Systems research track, the CSMR team's project addresses the urgent need for tools and techniques to help the nation effectively prevent, mitigate and adapt to critical threats to communication systems. 
"The Convergence Accelerator is a relatively new NSF program, but our unique program model is focused on delivering tangible solutions that have a positive nationwide societal impact," Maughan says. 
Funding for this work began in October 2021 and runs through September 2022.

Learn more about the NSF Convergence Accelerator 2021 cohort: https://www.nsf.gov/news/special_reports/announcements/092221.jsp
People featured in this story
Michael D Cohen Collegiate Professor of Information, Associate Dean for Research and Innovation and Professor of Information, School of Information
Associate Professor of Information, School of Information and Associate Professor of Electrical Engineering and Computer Science, College of Engineering