University of Michigan School of Information
How can I pay for that? Researchers seek technology solutions to provide real-time health care costs and affordability resources for US patients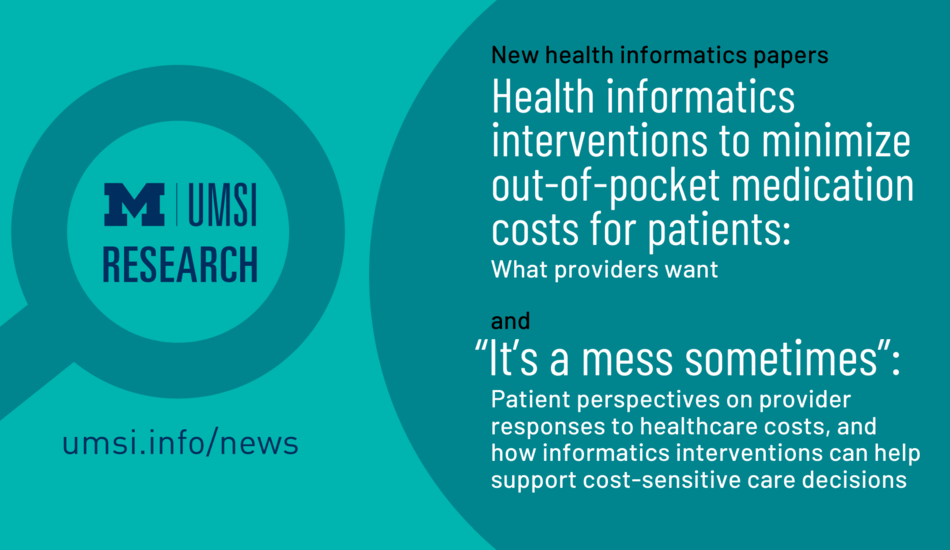 Tuesday, 04/12/2022
A pair of papers by University of Michigan researchers uncovers the barriers that both patients and healthcare providers face in understanding the costs for prescription medications and medical tests. Their work shows that new developments in technology may provide tools to help patients and providers make cost-informed decisions around medical treatments, and to connect patients to supplementary resources they need if they cannot afford their prescribed medications.
Healthcare costs in the United States are continuing to creep upwards, with out-of-pocket spending for patients increasing 4.9 percent in 2019 alone. Around a quarter of patients have trouble paying for their medications and other medical bills.
Additionally, costs are a major barrier to people taking their medications as prescribed, and high out-of-pocket costs are associated with prescription abandonment at the pharmacy. This contributes to the estimated 20-30 percent of medication prescriptions that are never filled. These issues are more pronounced in people with chronic illnesses such as diabetes and high blood pressure. 
This struggle is familiar to many families, including U-M School of Information associate dean and professor Tiffany Veinot. "When I was young, I had a family member who couldn't get medications for months for a progressive health condition because of financial difficulties" says Veinot. "He suffered greatly." 
Veinot has spent her career working in health informatics and health equity. But this personal connection spurred her new research into how healthcare practitioners can address affordability issues for patients — and how patients can have more information about costs and have more input into cost-related decisions.
The research team, which also included UMSI PhD student Olivia Richards and U-M School of Public Health PhD student Karalyn Kiessling, UMSI PhD graduate Bradley Iott, and Parkview staff Tammy Toscos, Jessica Pater and Shauna Wagner, looked at how out-of-pocket costs were communicated, both from the healthcare provider and patient side. Their papers were published in the Journal of American Medical Informatics Association and JAMIA Open.
The U-M researchers teamed up with Health Services and Informatics Lab researchers at the Parkview Mirro Center for Research and Innovation. The Mirro Center is part of Parkview Health, a healthcare system serving northeast Indiana and northwest Ohio, which also funded U-M students to work on the project. "Parkview was really interested in trying to improve their responses to social needs that affect patient well-being," says Veinot. Social needs include issues such as financial challenges, issues with food security or transportation, or social support networks. 
"A number of healthcare organizations across the United States have started various interventions to try and address social needs through partnerships with nonprofits," Veinot explains. 
In interviews with patients and health care providers, the research team asked questions about what sorts of conversations were happening between providers and patients around the costs of medications and tests. Specifically, they wanted to understand the barriers to having these open discussions.
"Cost conversations don't necessarily happen and we were trying to understand why," says Richards, who worked with patient interview data. The interviewers asked patients if they were willing to share personal information with their providers regarding issues like income troubles or medical debt, which can affect their ability to pay for care. 
These in-depth conversations about costs and options for treatments do take place in some settings, but currently they tend to be reserved for serious illnesses like cancer, says Kiessling, who worked on the topic from the providers perspective.
"You might have that conversation more about a chronic illness like diabetes as well because treatment is expensive," she says, adding that there is a desire from both patients and providers to have these conversations more often. This would allow prescription decisions to better match what patients can afford with their particular insurance (or lack thereof), or get needed assistance such as through medication samples or financial aid. 
In their surveys with patients and providers, the researchers asked participants if they ever had conversations about how much a prescription or test would cost a patient while they were still in the medical office. The teams then asked questions probing the reasons why these discussions do or don't happen, and what happened after they were prescribed a medication or medical test that they could not afford. 
They uncovered that patients were willing to share information on their social needs, but often felt like cost conversations weren't always happening at the right time. "Patients would look up at the clock, and think 'I don't think there's time for me to explain that I had a death in my family, I had to take four buses to get here, I don't know if I can come back in two weeks,' or whatever the situation might be," says Richards.
In addition to a lack of conversation, patients often faced a "cascade of work" on their part to address financial hardships once they got a prescription. Richards describes a litany of tasks ranging from traveling on multiple buses to the pharmacy, to having circular conversations between pharmacies, insurers, and physicians. 
"There's harm being caused by the way the system works right now. It's not really designed in a patient-centered way," says Veinot, adding that there is an intense social cost for some patients. 
"It can be very embarrassing for people to get to the pharmacy, and then suddenly they have to refuse a prescription because they can't afford it."
One the other side, practitioners were struggling with a lack of information and communication about potential hardships. Even when social needs information was collected, it wasn't always available for practitioners to access. Kiessling explains that there are issues with the information being buried in the health records, permission problems with software, and lack of information sharing within a health system (for instance, between billing and clinical areas, or between different prescribers). There was also a general lack of information on medical costs for providers that was accurate, and tailored to a specific patients' insurance plan and other financial considerations. 
Providing clear costs for medicine and testing could be tackled from a policy angle or an information point of view, or both, says Veinot. New laws could make healthcare costs more transparent, but changing policy requires political will and can take years. She says focusing on improving information tools that help bridge the information gap may help to address this problem in the present, even as policy change is sought. 
"Technology can act as a bridge to assist in this process," says Kiessling. The research group used their research on medical interactions and came up with recommendations for informatics tools that could help improve things immediately. 
"Our plan is to use study results to develop interventions that will leverage both human effort and technology support," explains Veinot. They are looking at information-based tools that would identify patients facing affordability challenges, provide cost comparisons for providers and patients, streamline medication assistance referral systems, and provide decision aids to facilitate cost conversations. 
On the human side of things, the teams are talking with their Parkview Health partners about including financial navigators or social workers embedded in the healthcare system to help with conversations. "Whatever the solution is going to be, it's going to be some combination of people and technology," says Veinot.
—Sarah Derouin, UMSI public relations specialist
RELATED
Read the papers from the patient and provider perspectives. 
Learn more about Associate Dean Tiffany Veinot. 
Funding for the project was also provided by the Institute for Health Policy and Innovation at the University of Michigan
Topics
People featured in this story
Joan C Durrance Collegiate Professor of Information, Professor of Information, School of Information, Professor of Learning Health Science, Medical School and Professor of Health Behavior and Health Education, School of Public Health