University of Michigan School of Information
Mark Newman reappointed as academic program director of UMSI's Master of Science in Information program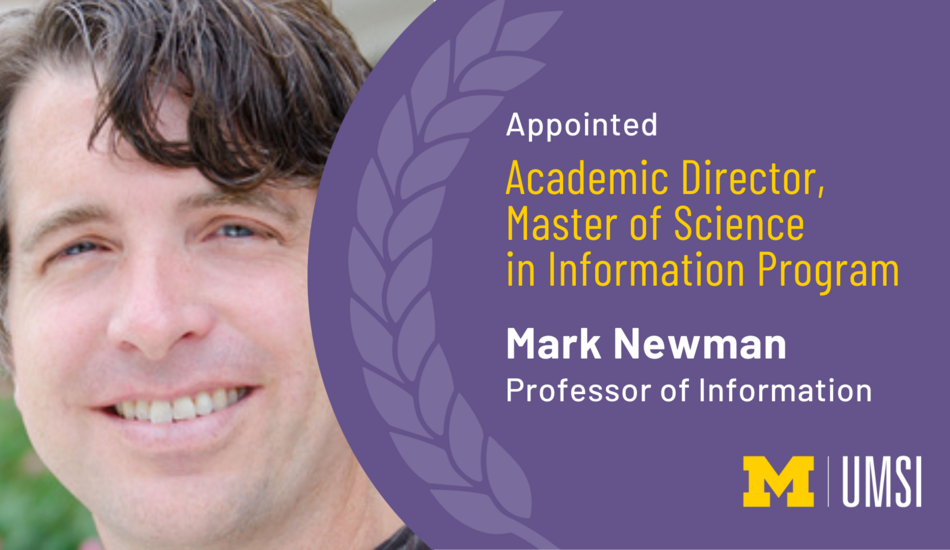 Thursday, 06/22/2023
University of Michigan School of Information professor Mark Newman has been reappointed as academic program director of the Master of Science in Information program. Interim Dean Elizabeth Yakel made the announcement Wednesday, June 21. 
Newman, an expert in human-computer interaction, joined the UMSI faculty in 2007. His research seeks to understand the relationship between people and complex technologies, with a focus on support for interaction design and end-user configuration. Before joining the University of Michigan, Newman was a research scientist in the Computer Science Laboratory at the Palo Alto Research Center (PARC) from 2000-2007.
"Professor Newman's dedication to academic excellence, experience in the role and invaluable contributions to teaching and learning in the MSI program make him the perfect choice to continue serving as MSI director," says Yakel. "I was very pleased when he agreed to continue to lead the MSI program."
This is Newman's first reappointment. He began his role as academic program director in 2020. 
"I am delighted to be able to continue as director of the MSI program," Newman says. "It is exciting to help the program grow and adapt to the ever-changing challenges and opportunities at the intersection of people, information and technology." 
UMSI's Master of Science in Information degree is a two year program that prepares students in careers of data science, digital archiving and user experience research and design. Students can choose one of three areas of interest, tailoring their educational experience based on their goals and passions. 
RELATED
Read more about Mark Newman's research interests and involvement at UMSI by visiting his UMSI faculty profile. 
Apply to UMSI's Master of Science in Information program.
People featured in this story
Professor of Information, School of Information and Professor of Electrical Engineering and Computer Science, College of Engineering
C. Olivia Frost Collegiate Professor of Information, Interim Dean, School of Information and Faculty Associate, Inter-University Consortium for Political and Social Research, Institute for Social Research