University of Michigan School of Information
Robin Brewer earns Anita Borg Early Career Award from the Computer Researching Association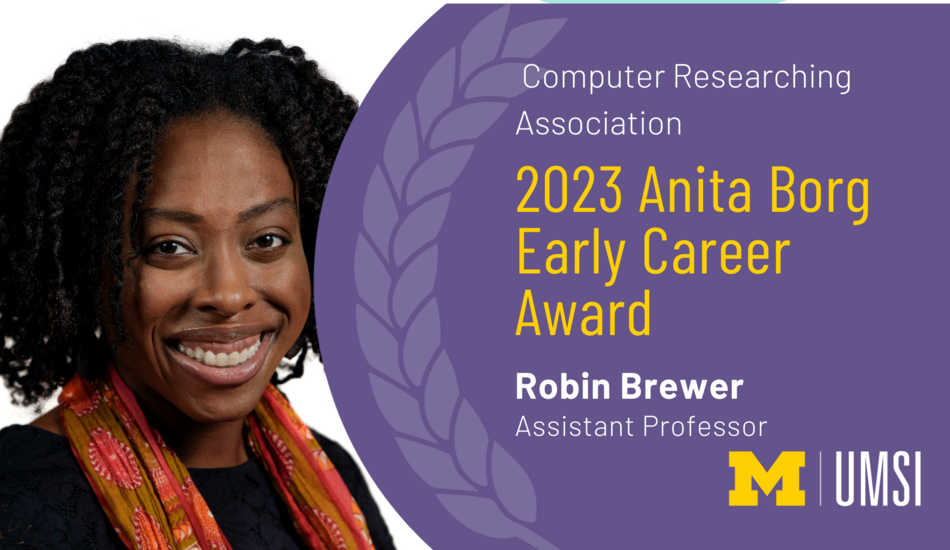 Monday, 06/19/2023
University of Michigan School of Information assistant professor Robin Brewer has earned a 2023 Anita Borg Early Career Award from the Computer Researching Association. 
The award celebrates women in computer science and engineering who have "contributed to the profession, especially in outreach to women." 
Brewer has long participated in the association's workshops and programming. 
"This is an amazing honor that I am truly humbled by," Brewer says. "I have participated in Computing Research Association programs since I was an undergraduate student in their DREU program which helped motivate me to get my doctoral degree. Since then I have participated in the Grad Cohort program, accessibility workshops and graduate education recruitment panels.
"Throughout the process, I have been able to use what I learned from these programs to directly mentor and impact girls and women of color." 
The award is inspired by Anita Borg, a computer scientist who was committed to increasing the participation of women in computing research. 
Brewer's research focuses on areas of accessibility for older adults and people with vision impairments, social computing and voice technologies. She joined UMSI in 2017 as a presidential doctoral fellow. 
RELATED
Learn more about Robin Brewer's research, publications and projects by visiting her UMSI faculty profile. 
People featured in this story
Assistant Professor of Information, School of Information