University of Michigan School of Information
UMSI scholars honored with Blaurock Student Research Awards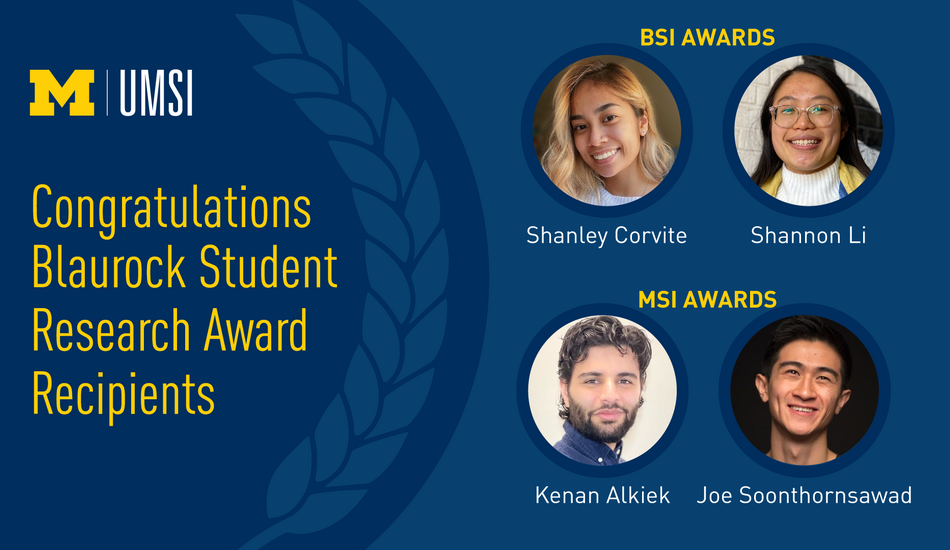 Thursday, 06/17/2021
The University of Michigan School of Information recently awarded the Teresa Noel Urban Blaurock Student Research Award to UMSI students Shanley Corvite, Shannon Li, Kenan Alkiek and Joe Soonthornsawad.
The award, which is available to both undergraduate and master's-level graduate students in the School of Information, recognizes excellence in student research projects conducted in partnership with UMSI researchers. 
UMSI offers a selection of opportunities for students to get involved in research. Learn more.
Read further about the 2021 awardees, their far-reaching research and future plans for their projects. 
Bachelor of Science in Information awards 
Shanley Corvite
Working on the project Life Transitions and Social Technologies with UMSI assistant professor Oliver Haimson, Shanley focuses on the many different major life events people experience and how they impact individuals. The project incorporates her driving interest in user experience and design, as well as an understanding of how social media can facilitate experiences of major change. The project team plans to take the research to the 2021 ACM Conference on Computer-Supported Cooperative Work and Social Computing (CSCW). 
---
Shannon Li 
Shannon brings their user experience and design expertise to the project Community Health Access Initiative (CHAI) - Research and Design for LGBTQ+ Healthcare, which they work on with UMSI assistant professor Oliver Haimson. CHAI, an effort through the University of Michigan School of Public Health, consists of community partners that provide free training and assistance to increase affirmative healthcare for LGBTQ+ youth across areas from physical to mental health.
For the project, Shannon conducts UX research. Their findings inform decisions for the redesign of the CHAI website to best meet the needs of CHAI's users, LGBTQ+ youth. 
"My iterative research process for the project consists of community-based participatory research and participatory design research," Shannon said. "From the resulting data gathered from focus groups and interviews … I analyze the findings through card-sorting, coding analysis and thematic coding to understand LGBTQ+ youth's most important needs and determine the information architecture of the site for the developer/designer."
With those findings, the project team is currently working on a research paper they plan to submit to the 2021 ACM Conference on Computer-Supported Cooperative Work and Social Computing (CSCW).
---
Master of Science in Information awards 
Kenan Alkiek 
Falling under the domain of computational social science, the research project Kenan Alkiek collaborates on with UMSI assistant professor David Jurgens is titled Challenges of Political Inference on Reddit and its Implications on Behavioral Analysis.
The research team aims to answer important and relevant questions: Who are the political users on Reddit? Are they easy to distinguish? Can a user's political affiliation be predicted based on their behavior? Can malicious political actors be identified and their objectives understood? Do people change their views over time? 
"The project utilizes an interdisciplinary approach between machine learning and linguistics," Kenan said. "Our dataset is every Reddit comment and post over the course of 15 years. We are uncovering interesting and significant results that will help us better understand political behavior on social media." 
---
Joe Soonthornsawad 
Joe seeks to empower Facebook users with more information about how behavioral advertisers collect and use personal data with the project Upside Down Facebook: Raising Awareness of Behavioral Advertising Through Artistic Provocation. In collaboration with UMSI assistant professor Florian Schaub, Joe has developed and tested a working prototype for Upside Down Facebook, a website that uses human computer interaction concepts and conceptual art to confront Facebook users with "creepy" posts about their Facebook data made by a personified version of Facebook. 
"The majority of Americans are concerned about corporations' collection and use of personal data, and many feel powerless," Joe said. "Upside Down Facebook provokes people to learn more and take action." 
In a preliminary evaluation study (n=7), a majority of Upside Down Facebook users wanted to learn more about the use of their personal data and changed their Facebook settings after encountering the website. 
The research team's work has been accepted to a poster session at the 2021 Symposium on Usable Privacy and Security (SOUPS). They plan to submit the work to the ACM Conference on Human Factors in Computing Systems (CHI) video showcase.