University of Michigan School of Information
UMSI Achievement Fellowship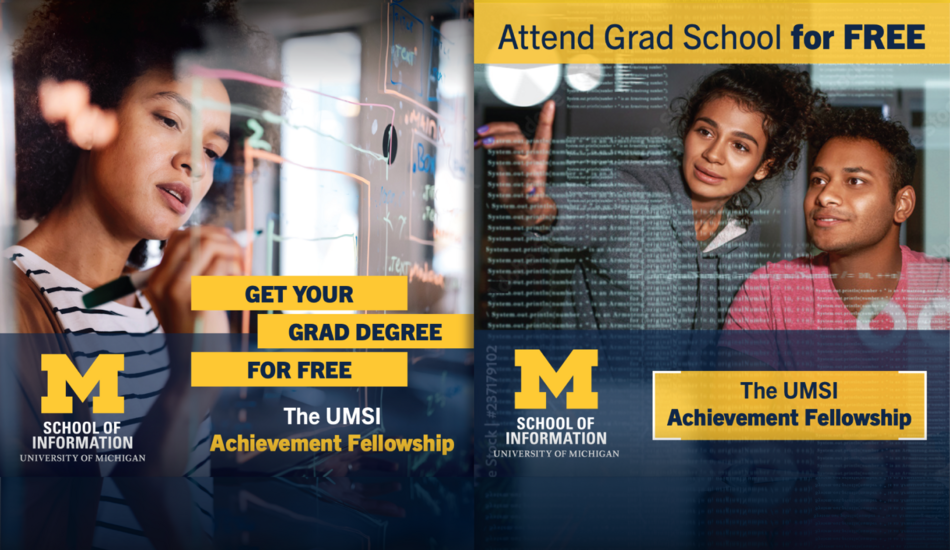 UMSI Achievement Fellowships are structured to assist eligible students in the Master of Science and Information and Master of Health Informatics programs with four semesters of support consisting of tuition, required fees, health and dental insurance, and a stipend of $11,598 (adjusted annually each September) per semester.
The University of Michigan School of Information Achievement Fellowship is open to newly admitted students who:
Have a record of superior academic achievement (e.g., grade point average, honors or other designation)
Are U.S. citizens or permanent residents
and meet one or more of the following criteria:
Come from an educational, cultural or geographic background that is underrepresented in graduate study in their discipline in the United States or at the University of Michigan. 

Underrepresented educational background includes attendance at:

s

ingle-gender college 

community or two-year college

Minority Serving Institution including

Asian American Native American Pacific Islander Serving Institutions (AANAPISI)

Alaskan Native-Native Hawaiian Serving Institutions (ANNHSI)

Hispanic Serving Institutions (HSI)

Historically Black Colleges and Universities (HBCU)

Native American Serving Non Tribal Institutions (NASNTI)

Predominantly Black Institutions (PBI)

Tribal College and Universities (TCU)

Have demonstrated sustained commitment to diversity in the academic, professional or civic realm through their work experience, volunteer engagement, or leadership of student or community organizations to reduce social, educational or economic disparities. By diversity we mean the broad definition of the underrepresented groups based on race, ethnicity, gender, LGBTQA status, non-traditional students, first generation college students, first generation U.S. citizens, veterans or persons with disabilities
Have experienced financial hardship as a result of family economic circumstances
Are first-generation U.S. citizens or are the first generation in their families to graduate from a four-year college
No separate application required
As with UMSI merit scholarships, decisions for this fellowship are based on application materials; there is no separate application required.
Current Rackham Master's Award recipients and Rackham Merit Fellows that elect to pursue a dual degree with either the School of Information's Masters of Science in Information (MSI) or Masters of Health Informatics (MHI) programs are eligible to receive matching funding through our MSI Achievement Fellowship.
Sign up for our interest list and receive:
Invitations to exclusive information sessions and events 
The opportunity to chat with current students 
More in-depth information about the MSI or MHI program 
Tips and advice for creating a successful application 
Reminders for important deadlines