University of Michigan School of Information
UMSI faculty promotions receive Board of Regents approval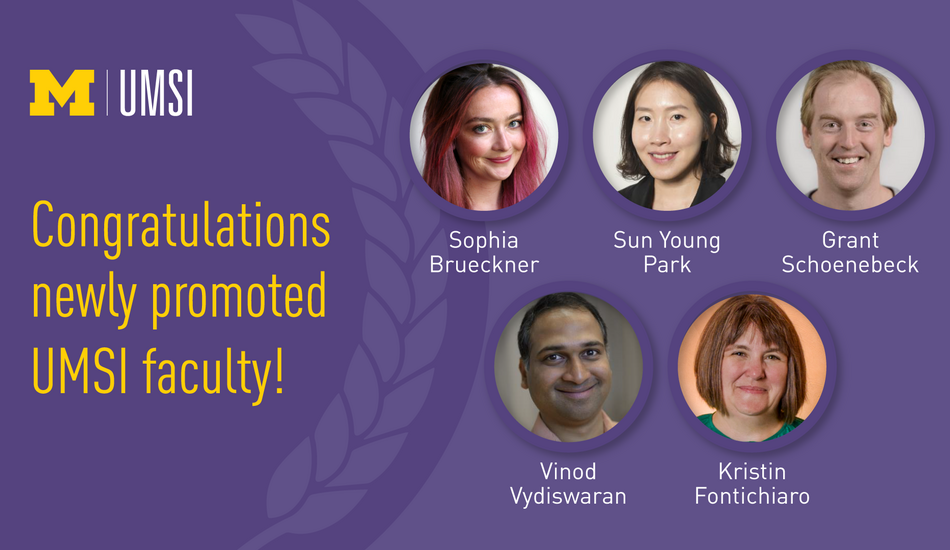 Friday, 05/21/2021
Five University of Michigan School of Information faculty promotions were approved at the May 20, 2021 meeting of the University of Michigan Board of Regents and will go into effect on September 1. 
Sophia Brueckner, Sun Young Park, Grant Schoenebeck and Vinod Vydiswaran will be promoted from assistant professor to associate professor. In addition, Kristin Fontichiaro was promoted to clinical professor.
Sophia Brueckner joined the U-M faculty in 2015. She holds a joint appointment with UMSI and the Penny W Stamps School of Art and Design where she teaches sci-fi prototyping, digital fabrication, creative programming, design, and art + technology. Her ongoing objective is to meaningfully combine her background in design and engineering with the perspective of an artist to inspire a more positive future. She earned her MFA from Rhode Island School of Design in 2012 and MS from Massachusetts Institute of Technology in 2014. 
Sun Young Park began her U-M career in 2015 and holds a joint appointment with the Stamps School of Art and Design and the School of Information. Her work focuses on designing and evaluating interactive information technology use in highly reliable, dynamic environments, such as healthcare settings. Park completed her PhD in the Department of Informatics at the University of California, Irvine in 2014.
Prior to joining UMSI as assistant professor in 2019, Grant Schoenebeck was on the faculty in computer science at Michigan. His work is at the intersection of computer science and economics, with a particular focus on social networks and mechanisms for information elicitation and aggregation. Schoenbeck earned a PhD in computer science from the University of California, Berkeley.
Vinod Vydiswaran has held a joint appointment with UMSI and the U-M Medical School since 2015. His current research focus is on medical and health informatics, specifically on medical information shared between doctors and patients via clinical notes and online portals. Vydiswaran earned his PhD in Computer Science at the University of Illinois at Urbana-Champaign.
Kristin Fontichiaro joined the U-M faculty as an adjunct lecturer in 2008. She teaches courses in contextual inquiry and user needs assessment, makerspace culture and tools, information literacy, and library and information science. She earned her master's degree in library science from Wayne State University in 2003.
People featured in this story