University of Michigan School of Information
UMSI researchers present nearly 60 papers, workshops and panels at 2022 CHI conference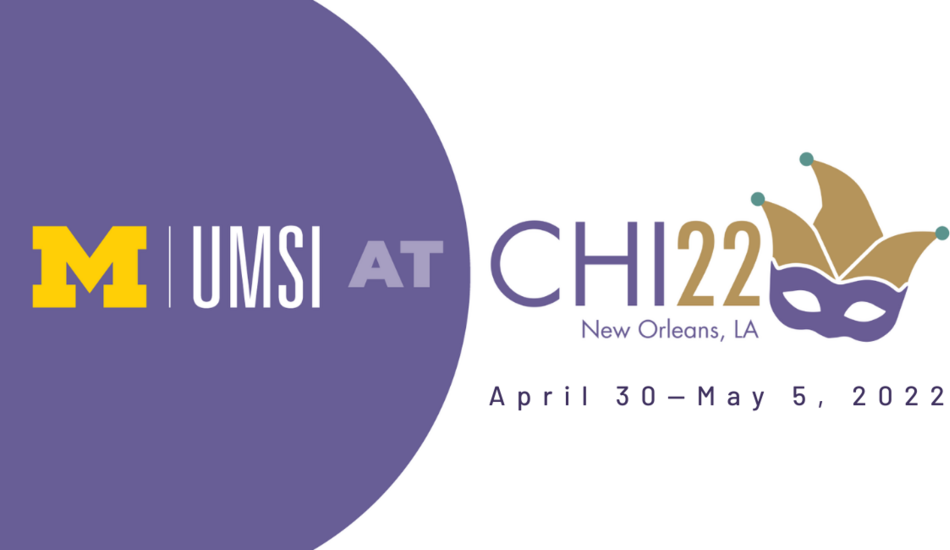 Monday, 04/11/2022
With nearly 60 papers, workshops, late-breaking research and panel discussions, University of Michigan School of Information faculty and students continue to make their mark at the annual ACM CHI Conference on Human Factors in Computing Systems.
In addition, two papers were selected for Honorable Mention Awards. These awards are presented to the top five percent of accepted papers at ACM CHI, the premiere international conference on Human-Computer Interaction (HCI).
This year's conference will take place in-person and virtually from April 30-May 5 in New Orleans, LA. 
Honorable Mention Awards
"CollabAlly: Accessible Collaboration Awareness in Document Editing," by assistant professor Anhong Guo, and U-M graduate student Jaylin Hershkovitz, and their co-authors Cheuk Yin Phipson Lee, Zhuohao Zhang, and JooYoung Seo.
"The Village: Infrastructuring Community-based Mentoring to Support Adults Experiencing Poverty," by associate professor Tawanna R. Dillahunt, PhD students Alex Jiahong Lu and Aarti Israni, U-M alumni Ruchita Lodha and Earnest Wheeler, and co-authors Savana Brewer, Tiera S. Robinson, Angela Brown Wilson.
See the complete list of all UMSI and U-M participation in CHI 2022. 
In addition to presenting research and leading training and workshops, UMSI faculty took leadership roles in organizing the conference. 
Professor Cliff Lampe was the general co-chair for CHI 2022. 
Assistant professor Oliver Haimson was co-chair of the panels committee. 
Three faculty members acted as session chairs at the conference. Professor and associate dean Paul Resnick chaired the "Agents in the Loop" session, and assistant professor Anhong Guo chaired the "Technologies to Support Accessibility" session. Professor Kentaro Toyama chaired two sessions: "Rural Computing" and "Technology for Developing Regions and Underserved Populations." 
Toyama will also be serving as a faculty mentor and panelist for the Doctoral Consortium. 
PhD candidate Ihudiya Finda Williams was an assistant to the general chair..
On the publications team, assistant professor Anhong Guo was the e-rights chair.
—Sarah Derouin, UMSI public relations specialist
Learn more about CHI 2022.