University of Michigan School of Information
Haimson: Trans people face disproportionate harassment on Twitter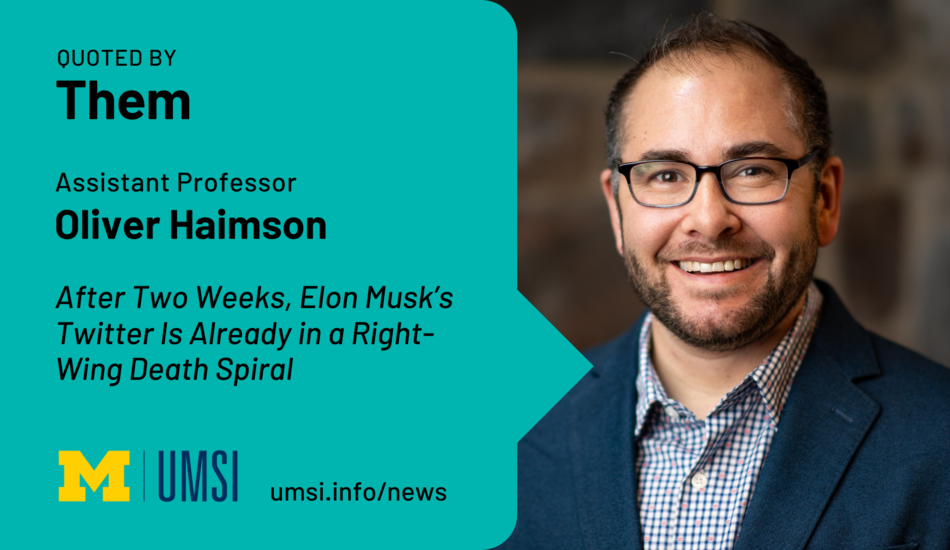 Monday, 11/14/2022
Since acquiring Twitter, Elon Musk has fired teams that deal with misinformation and peeled back content moderation tools, creating a storm of fake accounts and a string of high-profile resignations. 
An article by Them, a magazine on LGBTQ+ issues, discusses the consequences of these changes for queer and trans communities. 
The piece features University of Michigan School of Information assistant professor Oliver Haimson, an expert on the role of social media and digital platforms for marginalized communities. 
"Trans and queer people face substantial levels of online harassment," Haimson says. "In the absence of well-enforced moderation policies that consider the unique challenges that trans people encounter online, harassment is likely to increase and make the site uninhabitable for many trans users."
Haimson is a lead author in a 2021 study on the disproportionate consequences transgender and Black social media users face when it comes to content moderation. 
"Trans people rely on online spaces for community, finding resources, and expressing changing identities," the study says. "However, their online participation is often hindered by aggressive content moderation policies." 
RELATED 
Read "After Two Weeks, Elon Musk's Twitter Is Already in a Right-Wing Death Spiral" on Them. 
Read Haimson's paper on how content moderation impacts conservative, transgender and Black social media users. 
Learn more about Haimson's research and interests by visiting his faculty profile.
People featured in this story
Assistant Professor of Information, School of Information and Assistant Professor of Digital Studies Institute, College of Literature, Science, and the Arts