University of Michigan School of Information
Tawanna Dillahunt named 2021 ACM Distinguished Member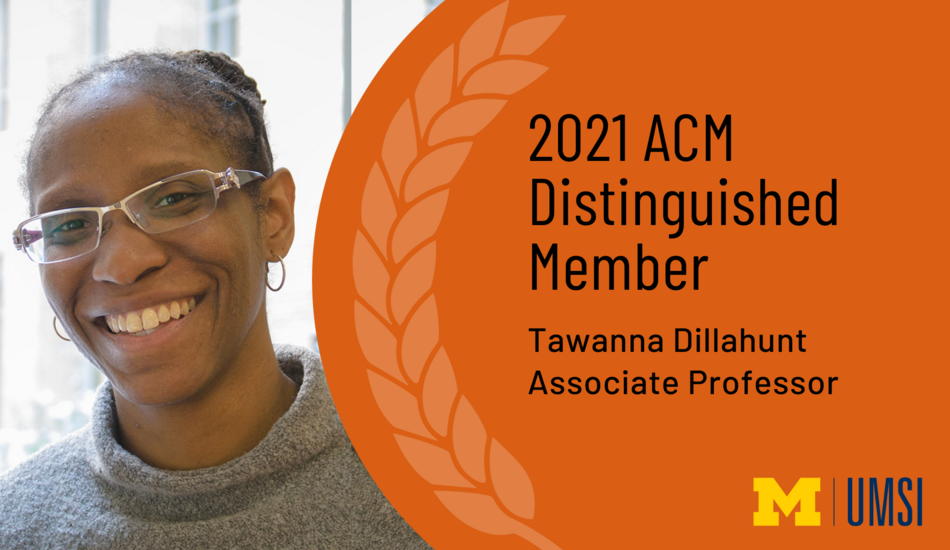 Tuesday, 12/21/2021
ACM, the Association for Computing Machinery, has named University of Michigan School of Information Associate Professor Tawanna Dillahunt a 2021 ACM Distinguished Member, recognizing her outstanding contributions to the field.
Each year, ACM recognizes a new class of distinguished members who have achieved a significant level of accomplishment or impact in the field of computing, computer science or information technology. Dillahunt joins an international cohort of honored scholars who work at leading universities, corporations and research institutions. 
"The Distinguished Members program is a way both to celebrate the trailblazing work of our members, and to underscore how participation with a professional society enhances one's career growth. This award category also emphasizes how ACM's worldwide membership is the foundation of our organization," says ACM President Gabriele Kotsis.
Dillahunt's research focuses on human-computer interaction, ubiquitous computing and social computing. Her work seeks to support the needs of people from historically-excluded groups.
"It feels great to be recognized for my contributions," says Dillahunt. "I am incredibly grateful to have been nominated and supported by my colleagues and peers."
Over the course of her career, Dillahunt has made significant contributions to engineering and the information field. Prior to graduate school, she worked almost a decade as a software engineer. Early in her career, she verified translation testing to ensure the IBM Personal Communications software was accessible to more than 10 countries. At Intel, she helped to develop several applications including the Intel Integrator Toolkit to ensure customization of their desktop boards. 
Recently, she was awarded an NSF grant to study the digital knowledge-use gap in communities, a community engaged grant from the Ewing Marion Kauffman Foundation to understand how to best provide one-on-one technology support to Detroit entrepreneurs.
Dillahunt was also honored with the inaugural Skip Ellis Early Career award, a National Academy of Sciences Kavli Fellowship, a best paper and several honorable mentions from esteemed ACM venues, and was awarded the prestigious 2021-2022 Elizabeth Caroline Crosby Research Award to support her diversity, equity, and inclusion (DEI) and leadership work.
"Tawanna Dillahunt is an exceptional researcher and very deserving of recognition as a Distinguished Member of the ACM," says Thomas Finholt, Dean of UMSI. "This honor celebrates Professor Dillahunt's many scientific and engineering contributions, including award-winning work on systems to mitigate employment challenges by members of marginalized communities and the application of this work to potential redesign of widely used employment tools, like LinkedIn."
—Sarah Derouin, UMSI public relations specialist
People featured in this story
Associate Professor of Information, School of Information and Associate Professor of Electrical Engineering and Computer Science, College of Engineering