University of Michigan School of Information
How Can Communities Best Bridge the Digital Divide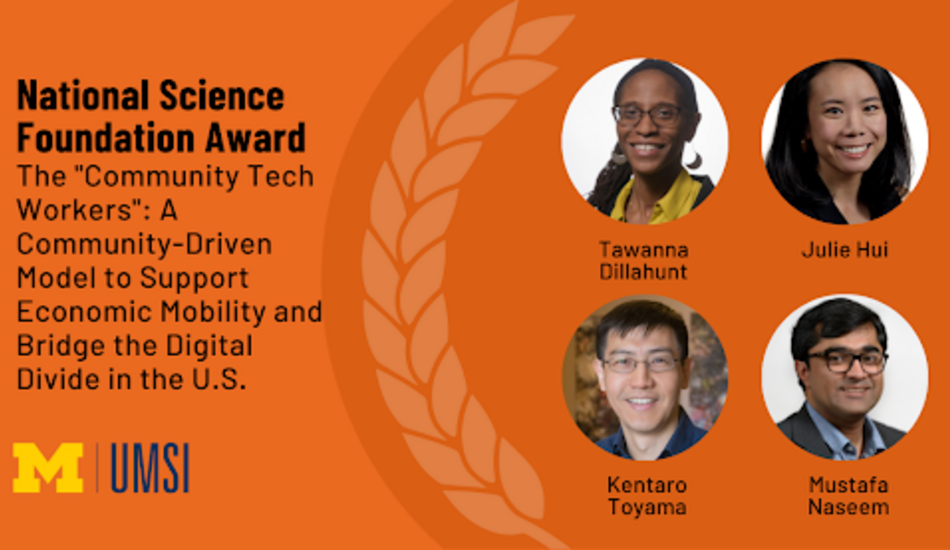 Thursday, 11/18/2021
If you want to find housing, health care or look for a new job, your first stop might be to fire up your computer or pull out a smartphone. But for some folks, available and understandable technology is out of reach.
There are significant barriers for people who don't have access to technology. "Without technology access, know-how, or connections to people who can help fill in these gaps, you might not be able to apply for jobs, let alone work online, take classes to build job skills, or even obtain a degree," says Tawanna Dillahunt, associate professor of information at the University of Michigan School of Information (UMSI).
"People need technology access to search for and apply to housing, apply for benefits, or access telehealth appointments. Then there's increased social isolation if we're unable to connect," she says.
Dillahunt and her U-M co-investigators Julie Hui, Kentaro Toyama and Mustafa Naseem have been awarded a National Science Foundation grant to help bridge the digital divide and reduce digital exclusion. Hui, Dillahunt and MSI master's student Soyoung Lee have already started a pilot program of Community Tech Workers, coordinating with Friends of Parkside in Detroit, Michigan.
While other community technology efforts have focused on providing the first level of support—expanding WiFi or providing computers and lab space—this project moves beyond that step, providing experts and digital support systems for tech users in the community. The work builds on previous efforts by Dillahunt and Hui to provide one-on-one technology support to Detroit entrepreneurs.
Their goal is to develop a sustainable model for providing digital training among the community members. Dillahunt says that these local experts can then serve as intermediaries who can provide digital support for the rest of their community.
"We hope to uncover insights about the type of training that works best, the kind of digital support provided to community members, whether community members feel they have someone to turn to for technical support, whether the Community Tech Worker program improves employment prospects for participants," Dillahunt says.
Over the next three years, the team will focus their research on resource-constrained communities in Detroit's Eastside neighborhood and a refugee resettlement agency that serves a public housing community in Ypsilanti, Michigan. They will also be working closely with an advisory board consisting of local workforce development agencies and industry representation, and a steering committee of individuals who are involved in outreach, education, and interventions related to increasing digital proficiency and public health.
"The plan is to develop a sustainable model that will scale across the U.S.," Dillahunt says.
- Sarah Derouin, UMSI Public Relations Specialist
This material is based upon work supported by the National Science Foundation under Grant No. 2125012. Any opinions, findings, and conclusions or recommendations expressed in this material are those of the author(s) and do not necessarily reflect the views of the National Science Foundation.
People featured in this story