University of Michigan School of Information
Faces of UMSI: Abpreet Kaur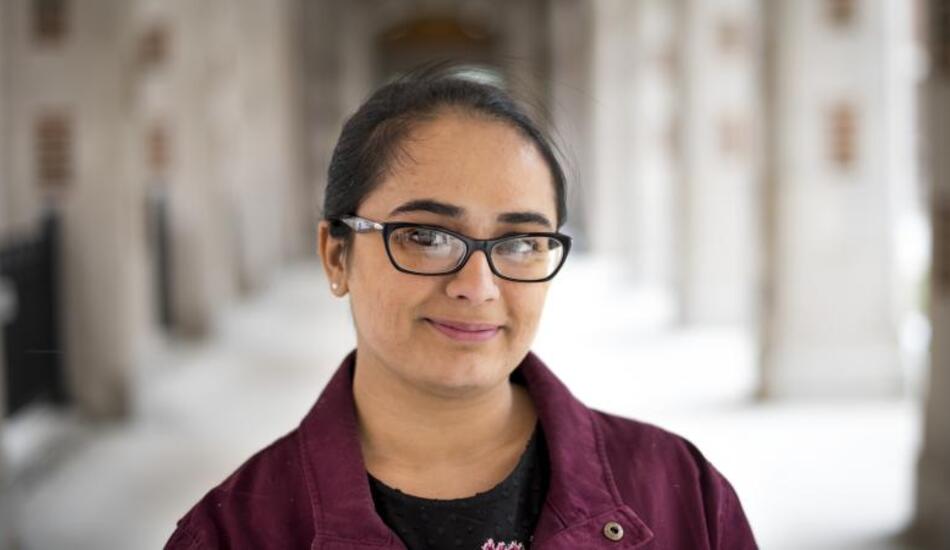 Abpreet Kaur is inspiring women and girls as a leader in learning and education tech.
Abpreet Kaur began her undergraduate career as a business major at University of Michigan-Dearborn. She discovered that her passions lie in making a difference in tech, beginning with her own community and home. In pursuit of a degree that combined her technology and business passions, she found UMSI and the BSI program. 
In 2015, during her annual return to her hometown of Ambala, India, Abpreet assembled a group of five or six girls to talk about technology and careers on her grandparent's veranda. Since, she named the group "Our Girls In Tech" and it has grown to thirty five members. "Every time I go back, we have a blast, catch up on life, discuss career paths, strategies, and ways to enhance our technical acumen," Abpreet said. "Some of these girls have gone on now to pursue college, some of them are working as administrative assistants and moved on to focus on their careers, which maybe they weren't doing before." 
When Abpreet cannot meet with Our Girls In Tech in-person, she meets them online in their Facebook group to share technology stories, career advice, and life updates.
After high school, Abpreet decided to pursue her BBA in Information Technology Management at the University of Michigan-Dearborn where she was offered a full scholarship. "I immediately gravitated toward the technology management side of the BBA program and discovered a passion programming and database architecture," Abpreet said. 
During her sophomore year, Abpreet did an internship called D-SIP (Development Summer Internship Program) through the University of Michigan-Ann Arbor. The internship taught Abpreet about philanthropy and giving on campus. "I fell in love with the campus," she said. "I fell in love with the pride that everyone had in the university." 
Inspired by her experience with D-SIP, Abpreet transferred to U-M Ann Arbor as a computer science major. SI110, an introductory information science course, happened to fit Abpreet's tight schedule, leading her to apply to UMSI and pursue the BSI program.
Abpreet is now on the User Experience Design path of the BSI program. "I developed  my leadership management and people skills through my business degree when I spent time taking program management, marketing, and finance classes for two years, I then explored the programming and the technology side in my computer sciences program, but no degree was blending both my passions until I discovered the BSI program," Abpreet said.
In order to immerse herself in the ed-tech world, Abpreet became the president of LETSI (Learning and Education Technology at the School of Information) in the Spring 2019 semester. LETSI aims to build a community around learning and education technologies for all students at the University of Michigan. 
Throughout Abpreet's entire undergraduate career, she's always supplemented her education with an internship. "I really enjoy the dynamic role I can play as an intern and as a student, while meeting amazing and trailblazing women who are changing IT for young women," she said. 
Since the summer of 2018, Abpreet has been a product manager intern for Bosch working in their autonomous vehicles and driverless technologies division. Abpreet and her team develop and pitch information softwares for autonomous vehicles, such as microphones and sensors, for clients like GM and Audi.
The role that Facebook plays in making Our Girls In Tech possible was one of the factors that compelled Abpreet to pursue an internship at Facebook. During the interview process she spoke with other women on how they can render technology accessible to young women in the future. Abpreet will begin at Facebook in the summer of 2019 as a technical program manager. 
Abpreet's aims to "stay grounded, help spread a passion for women in tech, and encourage others to dream big just like [she] was encouraged to do so by the inspirational people in her life." 
Next year, your profile could be here! Sign up for our interest list to receive:
Invitations to exclusive information sessions and events 
The opportunity to chat with current students 
More in-depth information about our degree programs
Tips and advice for creating a successful application 
Reminders for important deadlines