University of Michigan School of Information
Faces of UMSI: Brendan Palkowski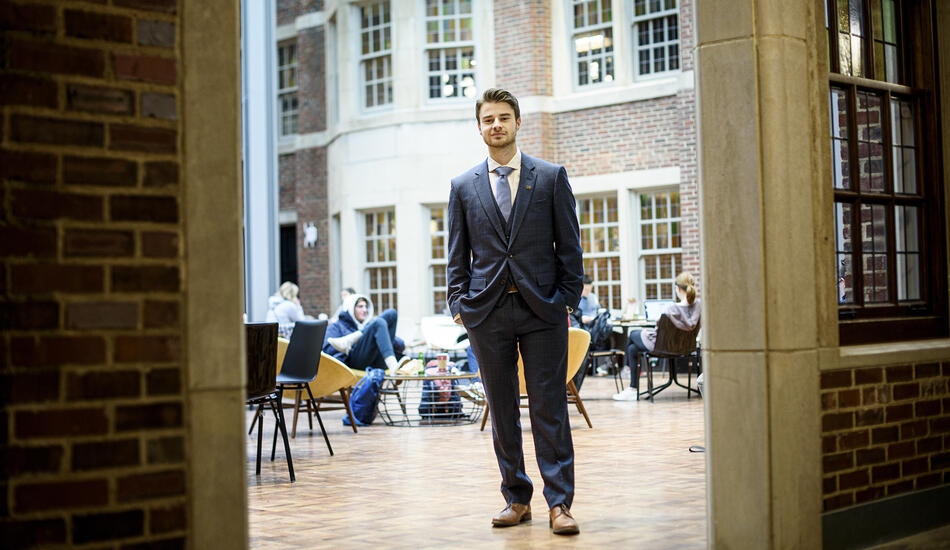 Brendan Palkowski is a transfer student whose computer science background started him on the path to his current, narrower and more passionate focus: data analysis. 
The key to success as a transfer student is taking advantage of every opportunity that comes your way during your abbreviated time at Michigan. Just ask senior BSI student Brendan Palkowski, who stepped onto campus in the fall of 2018 and has been busy making the most of his time here ever since.
Originally from Pinckney, MI, Brendan was a computer science major at Washtenaw Community College, on track to transfer and finish his degree at Grand Valley State University when he was approached by Devon Keen, UMSI's assistant director of outreach and transfer student initiatives. 
"She drew me to the CCSI program, which is the community college summer institute. During that time I spent three days on campus over the weekend in North Quad, pretty much learning everything about UMSI, and at that point Devon pretty much convinced me that I had all the prereqs to transfer to the School of Information," says Brendan. 
Working with Devon convinced a somewhat ambivalent Brendan that he was capable of taking on a large school like Michigan. Brendan's visit also helped him realize how UMSI's curriculum was more in line with the kind of work he saw himself doing after graduation. 
The coursework at UMSI is "definitely more suited for what I wanted to do compared to computer science," he says. "I knew I had an interest in business, and, more or less, people. Compsci was going to be very coding-heavy." According to Brendan, UMSI has allowed him to narrow his focus into a more direct path for future work with a focus in information analytics. His ultimate goal is to apply the data analysis skills he's gained to solve problems that businesses face. Being able to visualize data in effective dashboards, he says, can go a long way in helping businesses make smart decisions about investments and acquisitions.
This past summer, Brendan interned at J.D. Power and Associates as part of the human machine interface team. He did survey analysis for different company studies, mostly dealing with new vehicles like electric and autonomous cars, as well as advanced driver-assistance systems like blind spot monitoring, for example. 
"I knew I could apply what I was learning in the classroom and have an effective role learning survey analysis in a different area," he says.
While working in the automotive industry was a valuable internship experience, Brendan is serious about getting his feet wet in the financial industry. "I want to move towards that area alongside an MBA, and at some point within the next, maybe, five to ten years I'd like to see myself in venture capital or private equity."
His interest in the financial sector was first sparked by a fascination with stock trading. 
A mutually reinforcing interest in coding and stock trading has allowed him to merge his personal extracurricular interests with what he's learning in the classroom. He's even used trading projects he's worked on outside of class as examples to demonstrate skills he's learning in classes like SI 206 and SI 330.
"It's fun!" Brendan says of his ability to merge academic and personal interests. "It's a great way to interconnect what I'm interested in and also what I'm learning in the classroom and that's been the biggest benefit."
As for post-graduate life, he's eyeing organizations like Michigan Medicine, Quicken Loans, and TD Ameritrade as potential landing spots. While finance and technology are typically fields that cluster along the coasts, Brendan's in no rush to leave Michigan, and has found quality options close to home.
With the finish line in sight at the end of next semester, Brendan's certainly made the most of his two years as a wolverine. In addition to being part of a social fraternity, Psi Upsilon, he works as a peer advisor helping students with resume advice and mock interviews, topics he's well-versed in. "Anything related to the internship process, I'm here as a student who's gone through it, and I'm here to support them with whatever questions they have."
Transferring schools is a daunting task, and success in a new environment is far from guaranteed. Brendan's success has been defined by involvement and an open mind, the two factors he says are crucial to getting the most out of the college experience.
"It'll take a little bit to get used to but it's absolutely doable, and if you do take advantage of every email that's sent your way from faculty, [there are] kind of endless opportunities," he says. "Within the two years as a transfer student, I think you can certainly get your time's worth."