University of Michigan School of Information
Faces of UMSI: Abril Vela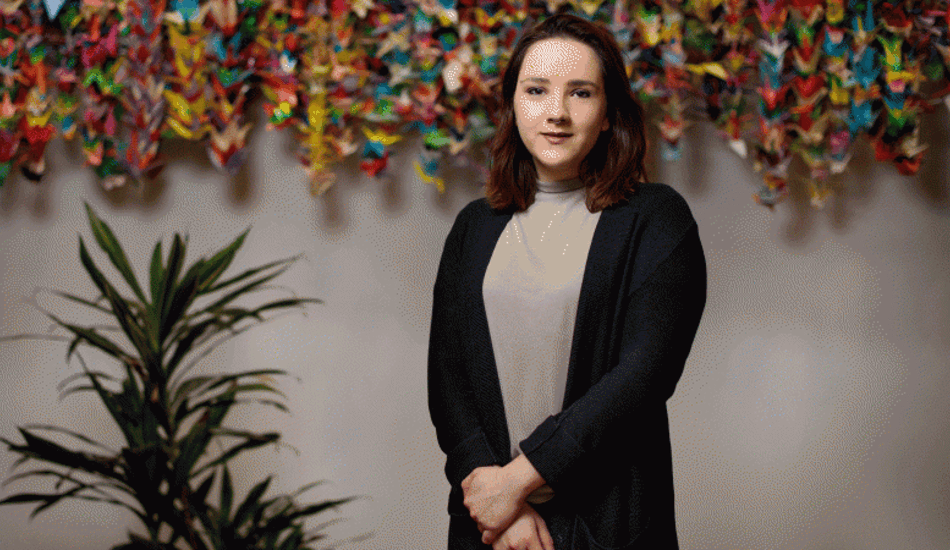 Abril Vela runs the University of Michigan campus studio of Design for America in cooperation with Avalon Housing, which provides homes for previously homeless individuals. Over 1000 origami cranes outside the housing offices represent each individual helped by the program. 
BSI senior Abril Vela started programming when she was fourteen. "GWC, Black Girls Code, Latina Girls Code weren't around or were just getting started," she recalls.
While studying computer science in high school, Abril was "going to events with 30 year olds" to supplement her learning outside the classroom. Beyond feeling isolated at tech events, she had a small cohort at school. "I had five girls in my class, and my teacher, but that was it." Abril raised money and founded an organization to support high school girls coding in Chicago public schools. Her organization offered opportunities to visit businesses and startups, talk to women in the profession, take classes, and participate in coding nights or forums online. 
After high school, Abril pursued computer science in the University of Michigan College of Engineering, then transferred to the School of Information. She believes that "studying information science has allowed me to understand how to become a better creator. Computer science was my starting point, but information science was my next step." The School of Information aligns with her goals of community organizing and outreach. "I need to understand how the technology I have affects people. [UMSI] was the best place for me." SI 429 eCommunities: Analysis and Design of Online Interaction inspired Abril to pursue the social media track and convinced her that social media is the future of community organizing.
When she's not in class, Abril volunteers with Design for America, FATE, interns at the U-M Center for Educational Outreach and works as the program leader for Girls are IT! 
Supported by UMSI and the Ginsberg Center for Community Service and Learning, Abril runs the University of Michigan campus studio of Design for America, a national network focused on design and social innovation. Abril's studio works with Avalon housing, a permanent housing organization providing homes to previously homeless individuals. She's happy the studio is linked with UMSI because "students who are learning these things about design have a way to apply them, most importantly, a way that's human-centered."
For years, Abril has promoted computer science education and helped young people recognize their potential to create. At FATE, a mentorship program empowering Detroit high school students to attend college, Abril collaborates with teens on professional projects. Supported by her program partner at the University of Detroit Mercy with Girls are IT!, she develops lessons for summer camps on the basics of programming. In the past, Abril interned for Computer Science for All with Chicago Public Schools, was a mentor at the First Robotics Competition in Ann Arbor, and worked on an independent study project with Professor Barry Fishman. 
Abril's work with Dr. Fishman aimed "to break down college and career pathways in computing, and begin to change the vocabulary of how we talk about computer science and information science," she says. Her goal was to discover why students drop out or become dissatisfied with their chosen major in college. She wishes she would have found information science sooner and wants students to know their options. 
Ultimately, Abril believes high school students should have access to the kind of problem-solving she learned at UMSI.
For students in less affluent districts, securing these opportunities can be tricky. In some instances, Abril partnered with organizations that built makerspaces in public libraries, provided 3D printers and supplied design kits. 
Aside from being an entrepreneur, community organizer and advocate for change, Abril is a self-proclaimed "coffee freak," with monthly bean subscriptions. With her schedule, it's no wonder she craves caffeine. After graduating with her BSI in Spring 2018, Abril wants to travel, start another nonprofit organization and create more opportunities in education. 
Picture yourself at UMSI! Sign up for our interest list to receive:
Invitations to exclusive information sessions and events 
The opportunity to chat with current students 
More in-depth information about our degree programs
Tips and advice for creating a successful application 
Reminders for important deadlines