University of Michigan School of Information
Faces of UMSI: Bobby Henderson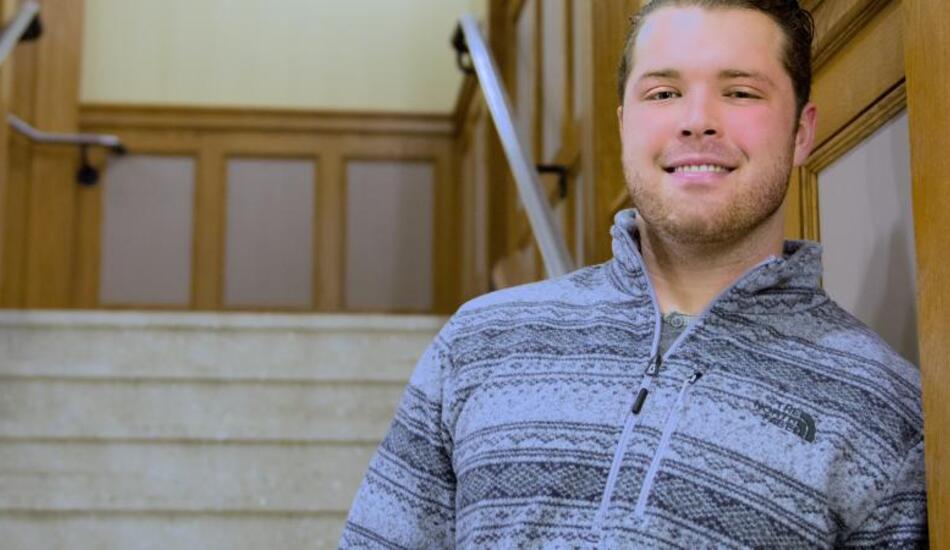 Bobby Henderson, a senior in the BSI program and fullback for the University of Michigan's football team, was awarded Academic All-Big Ten honors this fall, which recognizes student-athletes in the Big Ten conference for outstanding athletic and academic achievement. 
Bobby was one of 19 players on the football team to earn this distinction, which requires student-athletes to be at least a second-year letterwinner with a cumulative GPA of at least 3.0.   
Growing up in Hopewell Junction, NY, Bobby had been playing football since second grade. As a running back and linebacker for his high school football team, Bobby was later recruited by the University of Michigan and offered a spot by Former Coach Brady Hoke to join the Wolverines as a preferred walk-on. 
"I had always been a huge Michigan fan," Bobby said. "My dad completed his MBA at U-M, my uncle played baseball at U-M and both my grandparents went here as well. So when Michigan called, I said right away that I'd love to attend.'"
At U-M, Bobby started out as a redshirt freshman, which provided him the opportunity to practice, observe and develop as a player during that first year. It was not until sophomore year, that Bobby made his collegiate debut – during one of the biggest rivalries of the season.
"The first game I ever played was against Michigan State, and that was huge," Bobby recalls. "It was very exciting and definitely a big stage to step on for my first game ever."
When asked about his experience during that first game, Bobby explains, "It's a big moment when you walk out on the field and look around. I was a bit nervous the night before, but when you go through warm-ups and get on the field, it all just goes away. When you go out there, you forget about the crowd and just focus on what you have to do on the field."
During sophomore year, Bobby competed in two additional home games against Nebraska and Ohio State. Though he came to U-M as a fullback, Bobby transitioned easily to linebacker when the team needed it. "I just said, 'wherever you need me to play, that's where I can play.'"
After taking junior year off to address a couple injuries, Bobby returned to play seven games for U-M during his senior year. Under Coach Jim Harbaugh, Bobby played at fullback as well as on special teams, including the kickoff and punt return team. The team won ten out of 13 games that season, as well as going on to win the Citrus Bowl.
When asked about how football has influenced his approach to academics, Bobby explains, "In football, there's a big emphasis on work ethic. There's always so much work to do, but it never feels like there's enough time to get it in before the big game. There's a lot of hard work that goes into both academics and football, but it's all worth it in the end when you get a good grade or when you win. It's a very gratifying feeling."
Before joining the BSI program during his junior year, Bobby took SI 110 (Introduction to Information Studies) and SI 106 (Programs, Information and People), which sparked an interest in informatics. 
"I'm interested in the information analytics side of it," Bobby explains, adding that he is pursuing the information analytics track, one of two tracks offered within the BSI program. "I'm really interested in going into business but coming out with a tech background. Companies have so much data coming in these days – I am interested in being on a team that analyzes this data, processes it and then uses it to recommend business decisions for whomever needs to make them."
Bobby was able to gain business experience during his previous summer internships. Following his junior year, Bobby worked in business development for Victory Automotive, testing his foot in sales roles within the car dealership company. The summer after his sophomore year, Bobby worked for The Hayman Company, helping the real estate investment company establish a social media presence for their properties.
Bobby is also part of the Michigan Sales Club, which is hosted in the Ross School of Business.
When winding down from a long day of school and training, Bobby and his five housemates – who are also on the football team – get together to watch reality TV shows, such as MTV's The (Real World) Challenge and Bravo's Vanderpump Rules. "A lot of people probably wouldn't think that a bunch of big football players would be watching this, but there's a lot of drama and it keeps us very entertained."
Following graduation senior year, Bobby will stay for one more semester to compete in his final season for the Michigan Wolverines.