University of Michigan School of Information
Faces of UMSI: Kaitlyn Docherty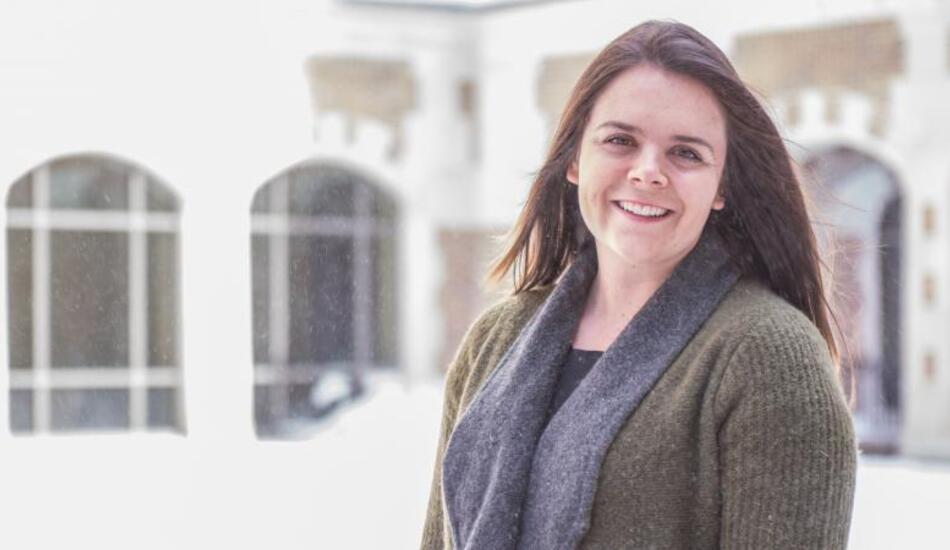 Kaitlyn chose a bachelor's degree in information as a way to combine the analytical and creative halves of her personality. She felt it was a seamless way to blend the dichotomy between her aptitude for math and her passion for graphic design.
"I started at U-M in 2013 on a computer science path," Kaitlyn said. "I liked the problem solving inherent in math. Computer science involved this rigorous thinking process that sprouted out of my math background.  But I always felt if I pursued that degree that I'd be missing my artistic side. The first informatics class I took was that 'aha' moment for me where I saw a way to merge my interests."
Kaitlyn continues to make the most of her time here until she graduates in April 2017. One way she stays busy is with her participation in SIBA. As an officer, she enjoys giving back to and improving the school and focusing on the needs of the students. She's also SIBA's career development office liaison. As part of that role, she helped organize UMSI Service Week. This involved planning, logistics, scheduling, promoting, and more. 
"It was a lot of work but it was so worth it," Kaitlyn recalls. "There was a survey after the event and we received great feedback. It was very exciting to be part of that, especially because the work we do leaves a lasting impact."
That ability to leave an impact is important to Kaitlyn. It stemmed from her Alternative Spring Break experience through the College of LSA. 
"I was assigned to the South Side of Chicago. I worked with kids in an underserved area. I thought I might be able to build relationships with them, but it was frustrating to realize you can't change much in a week's time," Kaitlyn remembers. "That's one more reason that the BSI appealed to me. I realize there are larger forces at play, and if I want to make a difference, I have to fix the system."
Like most students in the School of Information, Kaitlyn appreciates what the professors have to offer. 
"They make me feel engaged and excited for class. It seems they all go above and beyond, they're willing to talk, and they have interesting diverse backgrounds. I like that there's a mix with some professors having a workforce perspective and others who've been on the academic track."
Because her degree prepares her for life after college, Kaitlyn already has a job lined up. She will work at Ford Motor Company as part of the Ford College Graduate IT Program. She found this opportunity through UMSI. Her resume was on iTrack and she went through an interview process at the Engagement Center.
"I'm hoping the rotational nature of the Ford program will expose me to varying fields. Then maybe after the three-year-program is up, I'll know more about what I'd like to focus on."
As if Kaitlyn's not busy enough, she devotes time to the community through Alpha Phi Omega, a community service-oriented fraternity. "I love spending time with kids. Being part of this group affords me opportunities to do that." 
She also plays on U-M's women's club lacrosse team. "I love that I can be competitive and that I've met great friends on the lacrosse team. My experience at the University of Michigan has been wonderful."
Next year, your profile could be here! Sign up for our interest list to receive:
Invitations to exclusive information sessions and events 
The opportunity to chat with current students 
More in-depth information about our degree programs
Tips and advice for creating a successful application 
Reminders for important deadlines