University of Michigan School of Information
Faces of UMSI: Logan Meyer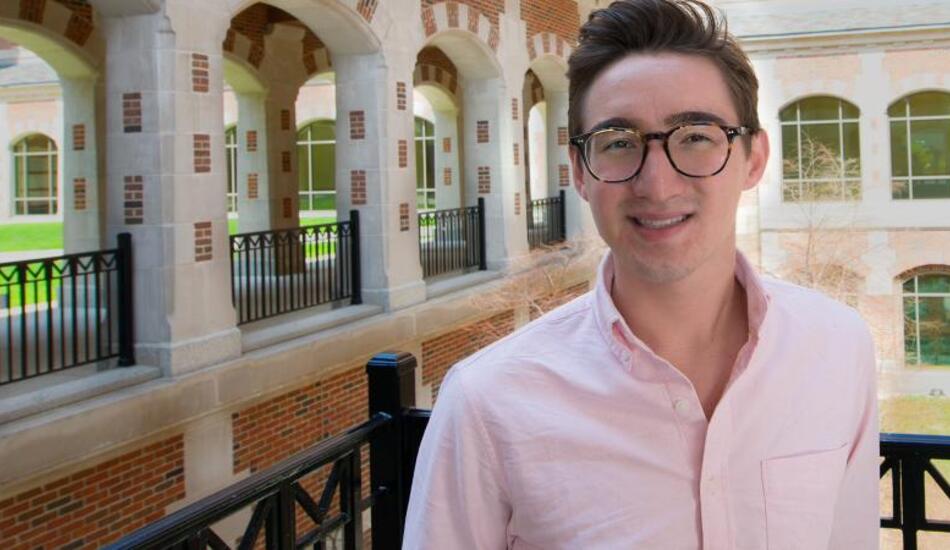 BSI junior Logan Meyer is not your typical first generation college student. Growing up in a rural town 1.5 hours southwest of Chicago, Logan spent most of his life on a farm that was originally owned by his great grandparents. 
"Living on a farm allowed me to do all kinds of things like having horses growing up and riding four-wheelers all the time," Logan said. "Growing up, I really didn't like living on a farm. I didn't like the process of farming, and agriculture didn't really interest me. In retrospect, it gave me perspective, but I really didn't like it at the time."
As Logan explains, the town he lived in had a population of 15,000. He grew up near other members of his extended family, many of whom lived along the road that stretches across their farm.
"Everyone always knew what you were doing," Logan said of the small town. "Everyone in town knew my parents, so you couldn't really get away with anything."
Logan's father, who is a maintenance electrician for a chemical plant near their home, runs the farm with Logan's uncle, producing commercial crops such as soybeans, corn and wheat. His mother, who is an Executive Director for the Mental Health Board of LaSalle County, never attended college, but has worked within the organization 
When it came to selecting colleges, Logan had to forge his own path. "When I started applying, my parents really didn't know what was going on. We had to learn everything as we went," he said
Logan explains that within his high school, 60% of students pursue post-graduate education but only about 30% of the graduating class goes on to a four-year college. "Continuing on wasn't necessarily a big thing," Logan said.
One of his classmates had siblings who attended U-M, and eventually it became a clear choice for Logan, who found the combination of prestigious academics, sports, and town atmosphere ideal for attending school. 
Here, however, is where Logan deviates from the traditional narrative of first gens because, as he explains, his parents were able to help fund his education.
"I realized that I have a different background of being a first gen, which mainly comes down to income level and family life," Logan said. "I have two parents who have a stable marriage and who are best friends. While we didn't necessarily have a ton of money growing up, things changed and we are comfortable now, but that's not the case for a lot of first gens."
This made certain college decisions crucial, as he describes the importance of choosing a program that offers good job prospects.
"With the BSI program, there are endless options, and I could see a career coming out of it where it made it worth it to pay out-of-state tuition," Logan explains.
During freshman year, Logan reveals that he found himself really struggling. "I really didn't find my place freshman year – I did poorly academically, and I wasn't happy," he said.
It was during this year that Logan joined the First Generation College Students at Michigan (First-Gens). "At this point I was just trying to find anything that I didn't dislike, so I went to a meeting and that was the first place that I felt okay," he remembers.
"I went to every meeting and just continued to grow as the club grew," Logan continues, adding that despite having a different background than many students in the organization, he still felt welcomed. "Finding somewhere knowing that other people had struggled, knowing you're not alone, helps you stand back-up and try again."
"During sophomore year, I just decided I had to bounce back and be better than before," Logan said. "I decided that I just needed to get involved. I needed to do something.  I realized that maybe I don't have the highest GPA, but I can show that I overcame a setback, that I made extracurricular connections, and that I made a difference."
As a result, Logan began to focus more of his attention on academics, and he also started to volunteer through First Gens and the Huron Valley Humane Society, through which he is now a certified dog walker.
During that year, Logan also enrolled in SI 110 (Introduction to Information Studies) and SI 106 (Programs, Information and People).
"I loved 110, but 106 [an introductory Python course] was what convinced me because I could see where this all went and what you could do with the information around you," Logan said. "With one class, you have the theory part of information and how it all connects together, and with the other you have the analytical part, so after that everything just clicked into place."
Following his acceptance into the BSI program, Logan joined Kappa Theta Pi, a technology fraternity sponsored by UMSI. He is now on Kappa Theta Pi's consulting team, working with student organizations to build websites and platforms that they could use within their groups. 
Now a junior, Logan just finished up his term as Vice President for First-Gens, and next year he will continue on to lead the group as President. He will also serve as the President of the School of Information Bachelor's Association next year.
"Since my freshman year here, my college experience has really done a 180," Logan says. "My grades have really bounced back, I'm heavily involved with organizations that I really care about and that help me grow as a person, and I have some pretty great friends who remind me to have some fun every once in a while. The experience has been the total opposite of what my freshman year was. It has transformed into a time that I will look back on with a lot of joy rather than something that I will try to avoid. In my senior year I just really look forward to striving to be the best person that I can be and to have a little fun in the process."
You can do what they're doing! Sign up for our interest list to receive:
Invitations to exclusive information sessions and events 
The opportunity to chat with current students 
More in-depth information about our degree programs
Tips and advice for creating a successful application 
Reminders for important deadlines