University of Michigan School of Information
Faces of UMSI: Madison Garver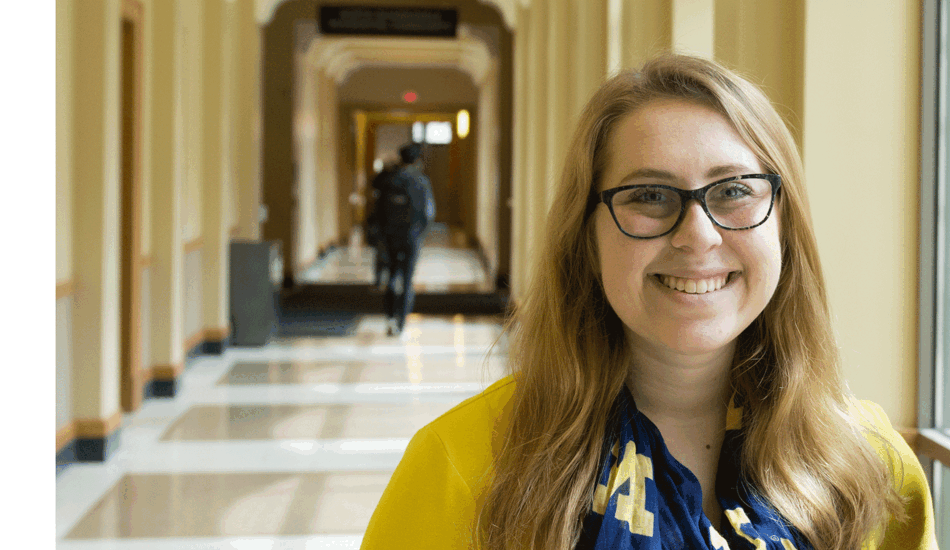 Senior Madison Garver spends most of her time with the Michigan Marching Band (MMB). But it's a vast world, where she is a clarinetist, lead social media strategist and head of Tau Beta Sigma, a 30-member co-ed sorority within the MMB. 
Madison, who was a drum major for her high school band in Maryland, did not originally plan to join the MMB. "I decided last minute to audition freshman year, and I'm so glad I did," she said. "It's some of the hardest work I've ever done but also one of the best decisions I've made in college."
Madison explains that during the fall season, MMB members must coordinate and prepare for a different halftime show every week.
"You're taking exams for the first time, you're on your own for the first time, and you're a college student for the first time – it's just a lot to deal with," she says. "On the other hand, you're with a big family of 400 people all working towards a common goal of putting this product together in a very short period of time – it's very rewarding."
Part of the MMB's success involves a crucial support structure, which – Madison explains – has given her many opportunities to apply her skills. She has helped design halftime shows, advised directors on recruitment for the band, and most recently spearheaded the band's social media strategy.
As the Media and Information Manager for the MMB, Madison has been in charge of the group's Facebook, Twitter and Instagram accounts for the past two years. "Our directors were running it before that, but they just didn't have time to keep up with it, so they turned it over to me," she says. "It's been a really cool experience interacting with people all over the world who are just big fans of the MMB."
When she initially took on this role, Madison was focused on building a social media strategy which includes creating a calendar, best practices and style guides for each platform. Now she manages a small staff of students who specialize in creating content for each platform.
When Madison first entered college, she joined the communication studies program to pursue a career in advertising, PR or journalism. Soon however, she began seeking other programs that better fit her interests.
It was following a BSI advising appointment at the end of her freshman year that she transferred into UMSI. "It was a really nice moment of, 'Ok, I'm finally where I want to be on campus,'" she said.
"I'm really happy with my experiences so far, and I've made some really good friends here," Madison says. "We all get along really well, and they're people that I wouldn't necessarily meet outside the program."
She adds, "It's been a really nice experience and a good taste of what the real world is like. There's a lot of uncertainty and a lot of 'What happens next?' and 'Is it worth it?'" 
During SI 429 (eCommunities: Analysis and Design of Online Interaction – in person) with Cliff Lampe, Madison was tasked with analyzing a social media phenomenon and distinctly remembers her professor saying that it would be too "boring" for her.
"I talked to my professor about it, and he said, 'you have more potential, you can do better than that," she recalls. "It's nice to have someone that sees something in you and challenges you to go further."
"I also loved Kentaro Toyama's SI 430 (Information Technology and Global Society) class," Madison said. "It was a lot of work, but you can tell that he really cared about us as students and was really invested in what we were learning, making sure we had the best possible experience. That's across the board with all the professors here at SI. They're genuinely interested in you, and they genuinely care about you. They get to know your name, your story, and what you want to do, and they're willing to work with you to help you get there."
Outside of school, Madison works as a Campus Tour Guide, showing visitors around the U-M campus 1-2 times per week. She also spent her summers working at an academic camp for high school students with the Johns Hopkins Center for Talented Youth.
"I've done this for three summer now," Madison says, of organizing weekly programming for the camp attendees. "It's probably one of my favorite things in the world, it's just a lot of fun."
Following graduation, Madison will be joining Google Ann Arbor as an Account Strategist, working within their AdWords division to provide strategy and customer service for small and medium-sized businesses.