University of Michigan School of Information
Faces of UMSI: George Lu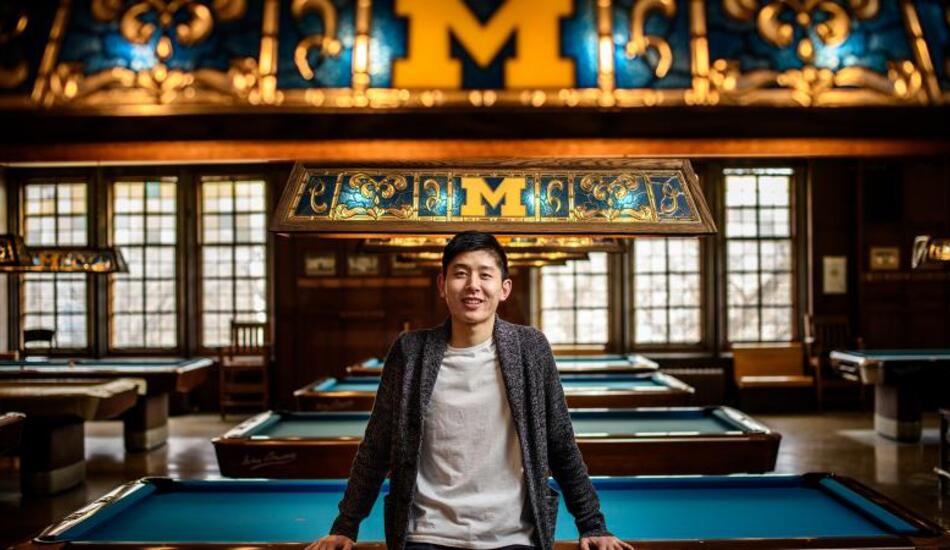 "Whether you think you can, or you think you can't--you're right." ― Henry Ford
This is one of George Lu's favorite quotes, and it embodies his ambition. George is a BSI senior from San Jose, California, studying information science and analysis at UMSI. He says information science requires "empathy, creativity, a knack for understanding technology, and the ability to communicate ideas."
Last year, he participated in UMSI's New York Innovation Trek, where, with a team of his peers, he worked "to create a product concept, brainstorm who the ideal customers were, and pitch to startups and venture capitalists in New York City." 
This year, he's serving as President of the School of Information Bachelor's Association (SIBA) and finishing his third semester as an Instructional Aide for SI 106 Programs, Information and People.
When he's not mentoring students or working on SIBA initiatives, George plays basketball, piano and pool. He also reads, and is planning to challenge himself by reading a book a week in 2018. George's latest read, Angela Duckworth's Grit: The Power of Passion and Perseverance changed his life. 
Grit helped George think differently about success. This, paired with SI 360 Succeeding at Failing, motivated him to create a life motto. In class, students read The Art of the Start 2.0 which urges entrepreneurs to create a company mantra.
George's motto is "give thanks in all circumstances, do my best, and keep moving forward." The first aspect of this motto is a verse from the Bible, the second is a lesson from his dad, and the third is a favorite saying of his mother's. "Gratitude, hard work, and perseverance are three attributes I want to develop."
Positivity isn't always easy. Before George joined UMSI, he was doubtful of his abilities and anxious about his future. "Those moments push you. You either try or you don't. I'm glad I tried. I know I will inevitably fail sometimes, but to try means I gave it a shot. There's the quote 'You miss 100% of the shots you don't take' by Wayne Gretzky, and I wholeheartedly believe that."
George recently accepted a full-time offer with Indeed, the job search company. He says working with Indeed is "a great way to positively impact people by giving them more opportunities to do what they want to do in life." Come July, he'll be part of Indeed's Associate Product Management rotational program in Austin, Texas. This position "brings together a lot of what we learn from the School of Information. It requires data analysis skills, user experience design knowledge, and the ability to communicate with multiple stakeholders. My education prepared me for this goal."
George believes "School of Information students have the unique ability to impact the information world in a variety of ways. We have people doing cool things with information analysis, product design, and user experience, as well as people who are revolutionizing social media and tech strategies. It's great to see how the School of Information prepares us to impact the tech world… and I think employers are finding out we have a lot to offer."
From courses and team projects to the Innovation Trek and SIBA, "They've all been diverse experiences that helped shape who I am today."
After graduating with his Bachelor of Science in Information, George plans to visit U.S. national parks and travel to Southeast Asia with friends. In the meantime, you might find him at a pool table in the Michigan Union. If you do, be sure to ask for advice or an inspirational quote.
Next year, your profile could be here! Sign up for our interest list to receive:
Invitations to exclusive information sessions and events 
The opportunity to chat with current students 
More in-depth information about our degree programs
Tips and advice for creating a successful application 
Reminders for important deadlines