University of Michigan School of Information
Faces of UMSI: Terrence Green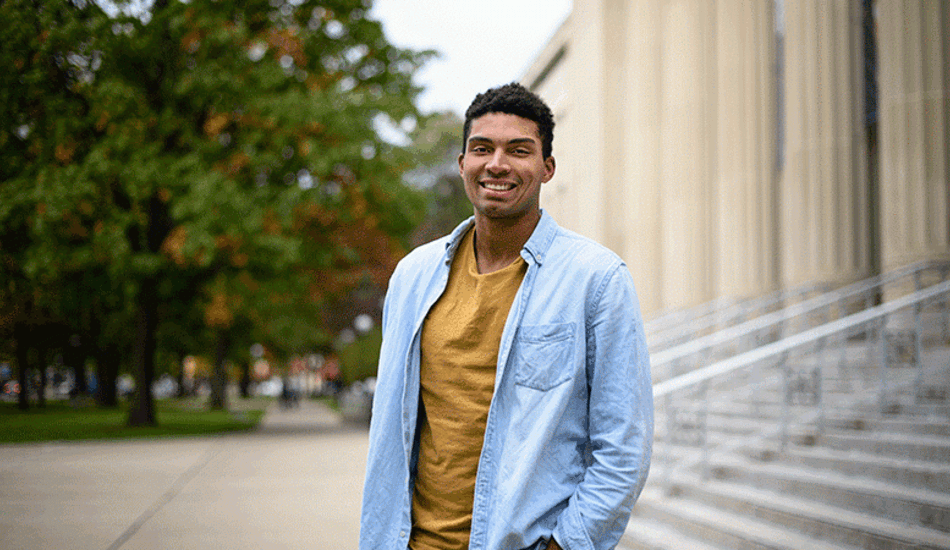 Terrence Green got his first desktop when he was thirteen. "The ability to have a computer and all the sudden be connected to 2 billion people… is a profound feeling, and it really inspired me and influenced me. That's one of the reasons I love tech so much, because it opens so many doors."  Then he joined Facebook and his worldview changed. "At thirteen I was connected to people in Cambodia and in South Africa."
Technology and social media motivated his travels. With the help of The Barger Leadership Institute Global Scholarship and Mary Sue & Kenneth Coleman Global Experience Scholarship, Terrence led a trip to Peru to work with Incan archeologists and firefighters, then studied at Charles University in Prague. 
In Peru, Terrence witnessed extreme poverty and reframed his thinking. "Being poor in the United States is a lot different than being poor in a country without as many resources or advantages. It made me appreciate everything I've been given." 
His childhood experiences and the trip to Peru inspired Terrence to give back to his community. "I'm a very big advocate of paying it forward. Even though what I'm trying to change might not help me now, if it can help people coming after me, I'm all for it." At the University of Michigan, Terrence was a data analyst for the National Center for Institutional Diversity, a peer facilitator for Project Outreach volunteering with special needs children, as well as consulting team lead and member of Kappa Theta Pi. 
Terrence enjoys history, business, math, and technology, and found the BSI degree combined his interests. Not to mention, some of his closest friends are in the School of Information. "It's honestly mind-blowing, this community, this culture. On the professional level, as in finding jobs, recruiting, doing interviews, it's a really positive community. But then on a personal level, people genuinely care about how I'm doing, I care about how they're doing."
Currently, he's a member of the Barger Leadership Institute (BLI), class liaison at the UMSI Bachelor's Association, collaborating on the BSI Mentorship Program, and working as a student researcher for DSCoVAR with Associate Professor Kevyn Collins-Thompson. DSCoVAR is developing an advanced tutoring system that helps kids learn to read from context rather than direct meaning. Terrence says it was "an incredible opportunity" to work with Collins-Thompson, "A phenomenal person as well as renowned data scientist in the technology community."
Terrence aspires to use data to make a difference. He appreciates Facebook's mission to foster connections worldwide with technology, and says his dream job would be product manager for Facebook. Though, he's open to other options. "My dream job doesn't need to be a certain company, but it needs to be an organization that wants to make people's lives better through tech." 
Eventually, Terrence would like to work in politics. "I'd really love to use technology or social media to make an impact, but a lot of these issues really won't change unless there's really change coming from the top down, and where better to start than the government?" 
When he's not listening to leadership talks by Tony Robbins, Eric Thomas or Les Brown, Terrence writes blogs and reads. His latest read, All the Light We Cannot See by Anthony Doerr, moved him. A recurring phrase in the novel, 'What you could be' is written on the wall in his room. "Whenever I get really frustrated, or really stressed, or seem overwhelmed I just think 'What you could be' and I could be a lot of things." After graduating with a BSI in Spring 2018, he plans to travel Southeast Asia, then work in data science or product management.
You can do what they're doing! Sign up for our interest list to receive:
Invitations to exclusive information sessions and events 
The opportunity to chat with current students 
More in-depth information about our degree programs
Tips and advice for creating a successful application 
Reminders for important deadlines