University of Michigan School of Information
Faces of UMSI: Yianni Kontorousis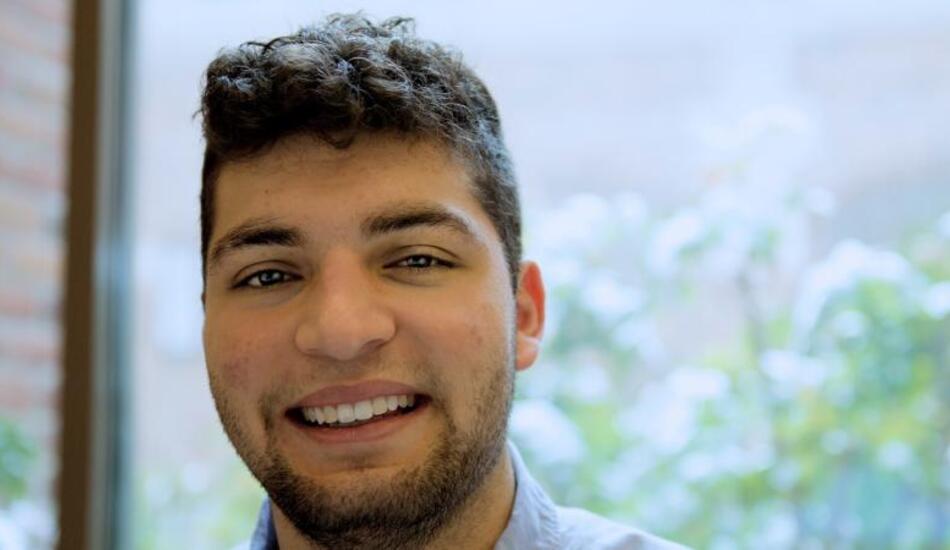 Standing atop a cliff peering into Oregon's Crater Lake, the deepest lake in the U.S., Yianni Kontorousis found himself 30 feet above the water and surrounded by rock. Not entirely comfortable with his diving ability, yet knowing that the only way into the lake was to jump from above, Yianni took a big leap and dove in.
BSI junior Yianni Kontorousis is no stranger to uncomfortable situations like this one - situations which are new and challenging, and which ultimately inspire personal growth. His journey through entrepreneurship reflects this philosophy, as Yianni seeks challenges for himself and provides encouragement and support for others to do the same.
Yianni was introduced to entrepreneurship during his freshman year at Michigan, when he joined MPowered Entrepreneurship's project, MTank, as a Talent Member. Inspired by the hit TV show Shark Tank, MTank allows students to submit their entrepreneurial ideas, granting ten finalists an opportunity to present their ideas to a panel of venture capitalists. During their first year, MTank was able to send the winner to present her idea in to Google.
"It was exciting to be part of something brand new, something that had never happened before," Yianni said. "Building MTank from the ground up, I was able to help shape the mission and vision of that project. Now we're on to our third year, and it's been one of our most successful projects yet."
During his sophomore year, Yianni became a director for 1000 Pitches, an annual entrepreneurial competition hosted by MPowered. He explains that 1000 Pitches – where students submit their video pitches for a chance to win $1,000 – helps students take their first steps into entrepreneurship by providing a platform for their ideas to be heard.
"The whole point of 1,000 Pitches is to promote entrepreneurship," Yianni explains. "We want to prove to someone who has never really thought of himself or herself as an entrepreneur that, 'Hey, you are innovative, and you are creative, and those things alone make you an entrepreneur. So don't be intimidated by what an entrepreneur is – you are one in your own right.'"
During the second semester of his sophomore year, Yianni was also involved with Sandbox, an MPowered program that helps students shape their ideas into future MPowered projects. Yianni served as a mentor for one of the project groups, helping students develop and test their ideas through mechanisms such as customer discovery.
Last March, Yianni was elected to the executive board of MPowered as their VP of Internal Relations. Yianni explains that the executive board oversees all ten MPowered projects, and it maintains relationships with student organizations on campus, colleges throughout the University, and businesses around the community. Within MPowered, Yianni's job is to make sure each student has the best experience possible.
"My job is to make sure that when a student leaves college and looks back, they say that MPowered was one of their best experiences," Yianni said. "Whether they were on MPowered for one semester or for three years, I want people to say, 'Yes, that was hard and yes, I was forced out of my comfort zone at first, but I learned a lot from the experience, and I had a blast doing it.'"
It's clear that Yianni places value on helping students discover entrepreneurship.
"We get freshmen and sophomores who are new to entrepreneurship," Yianni explains. "They have never done anything like this before, and we tell them to just go for it – you may fail the first time, but you'll learn from it. It can be intimidating, but they just roll up their sleeves and dive in. They try it, and they learn from it. That internal growth is what we really try to push for in our student organization."
Yianni recalls his own experience during freshman year, when the MTank director asked him to recruit a prominent tech figure to join their venture capitalist panel. Yianni boldly chose to contact the CEO of Twitter, Dick Costolo.
"I did some research and found that he did stand-up comedy after graduating from U-M," Yianni explains. "And I used that in my subject line. He couldn't come, but he ended up replying! I just never thought that I would be put in a situation where I could do that."
Having recently declared his BSI concentration, Yianni plans to specialize in User Experience. He is interested in combining user experience with marketing, an area with which he's already familiar through internships with Quicken Loans and Concur.
Yianni is also an Evans Scholar, which recognizes golf caddies for outstanding academic and caddie records. Through his most recent internship with Concur, he was able to meet Jason Day, one of the top golfers in the world. They met during last year's U.S. Golf Open held in Chambers Bay in Washington, while Yianni was working on marketing efforts for Concur, one of Day's largest corporate sponsors. 
Listening to Yianni talk about what inspires him, it's clear that he places a high value on experiences. 
"I just love talking to people, listening to their experiences, and gaining different perspectives," Yianni says. "I realize that MPowered and entrepreneurship are both opportunities to take risks and to be willing to fail. But the most important thing is to just learn from every experience."
You can do what they're doing! Sign up for our interest list to receive:
Invitations to exclusive information sessions and events 
The opportunity to chat with current students 
More in-depth information about our degree programs
Tips and advice for creating a successful application 
Reminders for important deadlines