University of Michigan School of Information
Faces of UMSI: Nick Chin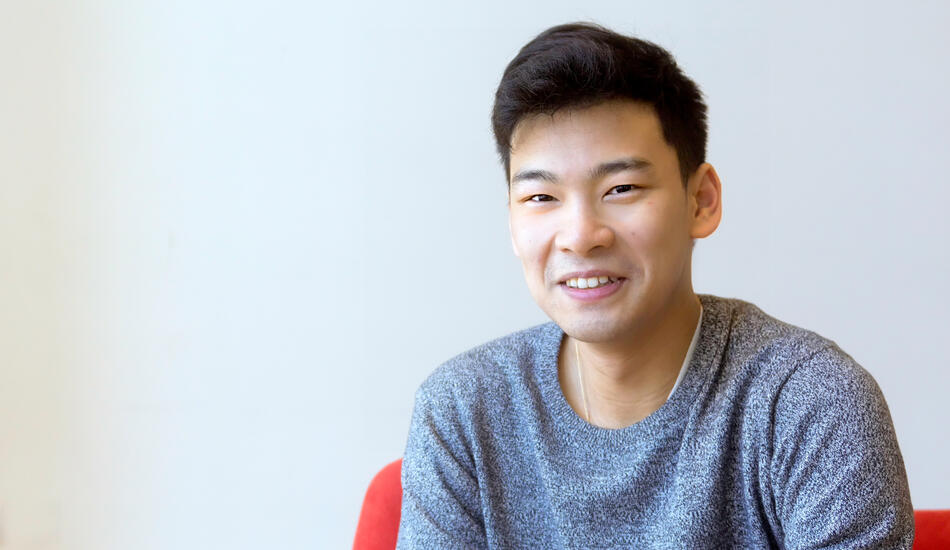 For Nick Chin, his interest in UX design was influenced by observing the way his grandparents adopted technology into their lives. He recalls the summer after his freshman year, when he was trying to help his grandparents sell their house in New Jersey.
"Most people nowadays put an online listing up for their house, which helps it sell better and provides an online profile that people can quickly reference," Nick explains. 
"I was teaching my grandparents how to use a desktop computer with a keyboard and a mouse, and they just had so much trouble using the mouse. My grandma would be pushing on it really hard, and so that metaphor of the cursor being a proxy for your hand – it didn't translate for them at all. Plus, all the icons were really small for them." 
Nick's father finally proposed buying his grandparents an iPad, and Nick recalls the dramatic difference it had for his grandparents. 
"Right at the start, they were able to open up a web browser and use Google," Nick explains. "After just a few weeks they were doing really complex things like checking their email, taking photos of their house and posting the photos online. I realized at that point – there are always better ways to do things."
He encountered a similar experience during the summer after his freshman year, interning with a small upholstery business. He describes helping the owner consolidate all her business processes into two mobile devices, whereas before it was a complicated system involving a desktop computer, two laptops, an iPad, an Android phone, and an iPhone.
Again, Nick would see technology users having similar issues during his internship with Empire State Development, a state government agency, where he worked at the IT Helpdesk.
"I kept seeing the same things happening over and over again," Nick explains. "I would get called down to help an employee who had trouble saving a document on Microsoft Work – these were just very simple things that had simple solutions."
He adds, "People remark on how computers and the Internet have opened up so many opportunities to individuals, but really there's still a big demographic of people who are excluded from that, people who don't really understand how to use the software. And really, what good is a tool if you can't use it? Or if you can't learn how to use it easily?"
These recurring experiences helped Nick recognize his passion for studying information. "When I realized that this is a field where you can enable people to use the tools they have, I decided that's what I wanted to get into."
He describes a class he is taking this semester, SI 430 (Information Technology and Global Society), which focuses on how people access technology around the world. 
"It's a global IT class to inform students about different access to computers all around the world," Nick explains. "From people in Ethiopia to children in Mumbai – their primary access to computers and the internet is through a public terminal that people take turns using. It's really eye-opening because a lot of the time it's very different from what we have here."
Nick also describes a team project he completed in SI 422 (Needs Assessment and Usability Evaluation), where his team evaluated an app that provides remote assistance to help visually impaired users navigate their environment.
"The great thing is the app can also be used by sighted people," Nick says. "It's this field of universal design that I really enjoy."
Last year, Nick participated in Design Clinic, serving as an apprentice to help students develop their entrepreneurial ideas within TechArb and local Ann Arbor startups. He also participated in Alternative Spring Break where he work with Allied Media Projects, a non-profit organization in Detroit, which hosts an annual conference for media entrepreneurs to teach week-long sessions for local students and community members. 
During the conference, Nick contributed to a hash-mapping project, where he gathered survey data to explore the network of influence among conference attendees. Partnering with a UMSI master's student, Nick helped design the survey to better accommodate the data collection process. 
Last summer, Nick interned with General Electric on their corporate division's IT staff. He worked alongside GE's information architects to help create and streamline processes for the company.
"It really opened my eyes to another field of IT, which is how IT functions in enterprise," Nick said. "It is the driving force behind a lot of how businesses work nowadays – it's all computer- and software-driven. We try to get these processes automated so you don't have people spending hours on the phone trying to resolve these issues, and it's actually a really complicated process that involves a lot of different strung together methods and applications."
Following a successful internship, Nick plans to join GE full-time after graduation, where he will be part of their Information Technology Leadership Program.