University of Michigan School of Information
Faces of UMSI: Meera Desai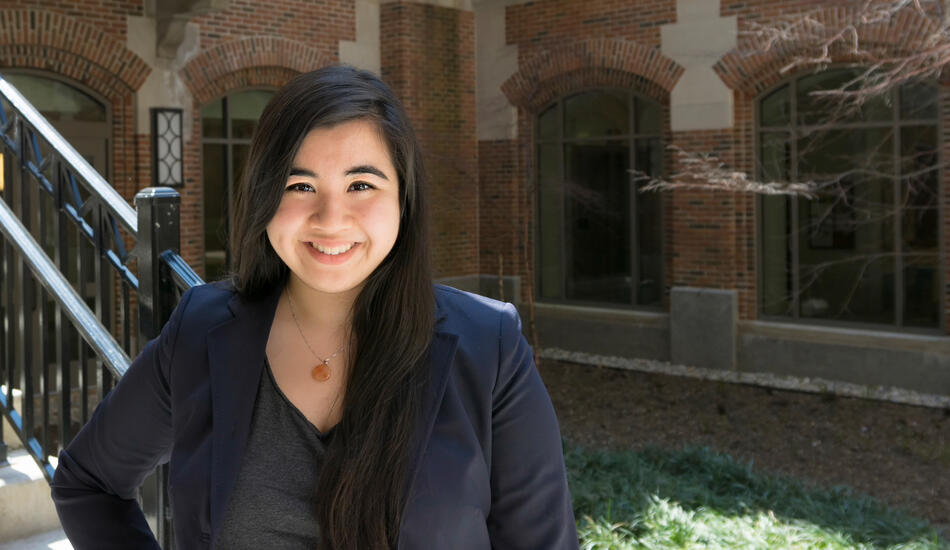 For the past three years, Meera Desai has been advocating for a new Multicultural Center at the University of Michigan. 
The William Monroe Trotter Multicultural Center, which is located just southeast of campus, provides a supportive environment for students to meet, while honoring the University's rich history of multicultural activism and social justice. 
"There was a lot of student activism and involvement in understanding whether the current Trotter Center was meeting the needs of the community," Meera said. "We came to the conclusion that the current space just isn't able to fulfill all those needs that students hoped to have in terms of location, safety, and functionality."
The new Multicultural Center, Meera shares, will be located at the heart of central campus across from Angell Hall on State Street. 
"We worked with administrators, staff, designers, and architects to push for a new center on central campus, and now we are planning the new multicultural space, which is really exciting," Meera said. 
She adds that the project is currently in the schematic design phase, with 10-15 team members involved in designing the layout of the space. The next step is working with the University's Regents to obtain approval for the schematic design.
Meera first became involved with Trotter House during her sophomore year after being recruited by one of the original organizers of the New Trotter movement. 
"At first it was more of a student-organized project," Meera explains. "We were getting a lot of student input and trying to understand the accessibility needs of the space. For example, we would hold town halls to get a lot of student engagement, and we took a bus trip to Penn State to look at their multicultural center. Since then, the project has taken a lot of different forms."
As the project evolved, Meera began to take on a student consultant role, ensuring that student voices were represented in every step of the process. "It's important to be the student voices in these conversations to make sure that they are making the space as usable as possible for as many students as possible."
Meera, who is an Ann Arbor native, attributes much of her interest in promoting multicultural diversity to the exposure she had growing up in a diverse town. However, it wasn't until freshman year that she discovered a passion for activism and social engagement through APA 101, a mentorship program that supports first-year Asian & Pacific Islander American (A/PIA) students at U-M.
"APA 101 supports students who are transitioning into college by providing them with mentors who can help them navigate school and learn about A/PIA issues, how to address these issues as individuals, and how to have the support of community," Meera said. "This was really important to me – it provided the mentorship I needed to learn how to channel my interests and energy in that direction."
Now a senior, Meera is also involved in a Multi-Ethnic Student Affairs (MESA) Affiliate Program, helping to build spaces of communication and opportunity for multicultural leadership to grow across campus. She also leads an archiving project, helping to preserve A/PIA records for future members of the campus community by donating archives to the Bentley Historical Library.
"We want to remember and honor the legacy of those that came before us," Meera said. "Part of that is contributing to future sustainability efforts by understanding what work is being done in the A/PIA space and making that accessible for future students to understand."
Meera joined the BSI program during her senior year and hopes to combine her interest in social justice with a specialization in information analysis. 
"I'm really interested in the intersection of analytics and policy change and how we can use data for social good," Meera explains. "I want to explore how we can make data accessible for marginalized communities that don't necessarily have that information and what stories we can tell with the data to help those communities." 
For now, Meera has been able to apply the skills she learned in 422 (Needs Assessment and Usability Evaluation) to her work with the Trotter House.
"A lot of the values and theory I learned in class has contributed to my understanding of how to build a new space," Meera said. "Even though our class was focused on the digital, I could apply that type of thinking to ask, 'How are we going to make this space accessible for ethnic and cultural communities who might have difference functions in a space? For people who need a wheelchair, making sure they're able to enter the same way as a person who is able-bodied?' It really allowed me to ask those questions and understand how to frame them in a way that is tangible and effective for our designers and architects."