University of Michigan School of Information
Faces of UMSI: Vinh Luong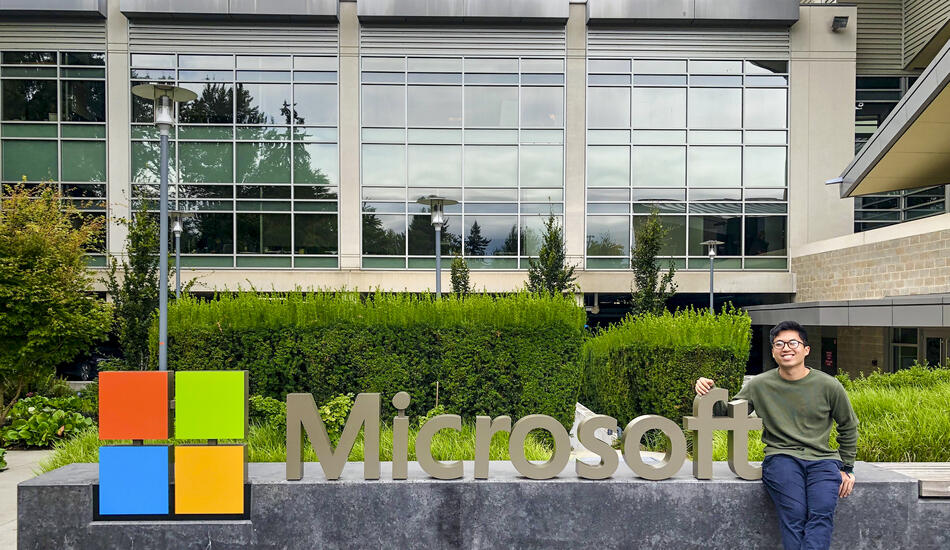 Vinh Luong is a maker. His creations can be as abstract as an algorithm or as physical as a twenty-foot shipping container full of fish and basil. "All the things I enjoy involve the simple act of making things," Vinh said. 
As a freshman at the University of Pittsburgh, Vinh founded a startup called The Aquaponics Project. Since then, he has assembled a multidisciplinary team, raised over $55,000 of seed funding, and deployed the country's first portable aquaponics farm in three communities in Pittsburgh. "We wanted to tackle the issue of food insecurity by creating something that could produce fresh food anywhere," Vinh said. 
Aquaponics is an agricultural system in which fish and plants work together; fish excrete waste which provides plants with the nutrients they need to grow, while plants' roots filter and clean the water. The process is more sustainable than traditional farming because it is less resource-intensive and produces fish in addition to vegetation. 
Vinh majored in computer science and business, but struggled to find a community of like-minded entrepreneurs at the University of Pittsburgh. Additionally, it was difficult for him to engage with his schoolwork while launching The Aquaponics Project. "I felt like I always had to be the one to fight the fires that came up," Vinh said. 
Though Vinh had been successful with Aquaponics in Pittsburgh, providing food to local nonprofits and even earning recognition from the mayor's office, he made the difficult decision to transfer universities. He was attracted to UMSI because he enjoyed the culture of Ann Arbor, the balance between software and humanities the program offers, and the established maker culture and entrepreneurship resources at the University of Michigan. 
When Vinh initially sought out universities as a high school senior, his top choice was ranked number one in entrepreneurship by the Princeton Review. In 2015, that school waitlisted and rejected him. "Those rankings came out again this year and Michigan is number one," Vinh said. "It all came full circle for me." 
Vinh came to Ann Arbor with a lot of start-up experience, but little experience working as a part of a big organization. In order to challenge himself with something unfamiliar and develop new skills, Vinh worked at GE as a UX designer. "The UX team at GE was phenomenal," Vinh said. "They created a great environment for me to apply the concepts I learned in my UX courses."
Vinh initially planned to focus on UX at UMSI, but after his UX role at GE, he wanted to balance his skillset by switching to the Data Analytics track. 
While in Ann Arbor, Vinh continues to work on The Aquaponics Project, though he's stepped back some since transferring. The Project is undertaking a new initiative to create the "Seahorse Biodigester," a machine that will turn food waste into renewable energy and fertilizer. The idea came to Vinh when he visited a wastewater treatment plant and saw that the process used at the plant could be used to break down food waste into high-value byproducts.
Vinh presented his work on the Aquaponics Project, the Seahorse Biodigester, and his senior capstone project with the Fort Myers Fire Department at the Spring Student Exposition. He worked with Amelia Cacchione, Julia Pezzullo, and William Waters to provide the Fort Myers Fire Department with an informed approach to fire inspections. Which is to say, Vinh is no longer fighting fires alone. 
The team aggregated building data from the city of Fort Myers and used machine learning to help the Department prioritize locations that were high risk. They were able to come up with a 78.6% accurate risk classifier that identifies buildings as high, low, or medium risk. "SI does a great job at promoting collaboration within its courses and I've had a really fun time with the various group projects in the program," Vinh said. 
Vinh hopes to launch the Seahorse Biodigester by May, as he is stepping down from his company to focus on his position as Program Manager at Microsoft after graduation. "After running my own company for three years, I realized how much more I need to learn," Vinh said. "I think Microsoft will have some important lessons to teach me that will be invaluable if I ever decide to start another company."
You can do what they're doing! Sign up for our interest list to receive:
Invitations to exclusive information sessions and events 
The opportunity to chat with current students 
More in-depth information about our degree programs
Tips and advice for creating a successful application 
Reminders for important deadlines