University of Michigan School of Information
Faces of UMSI: Verity Sturm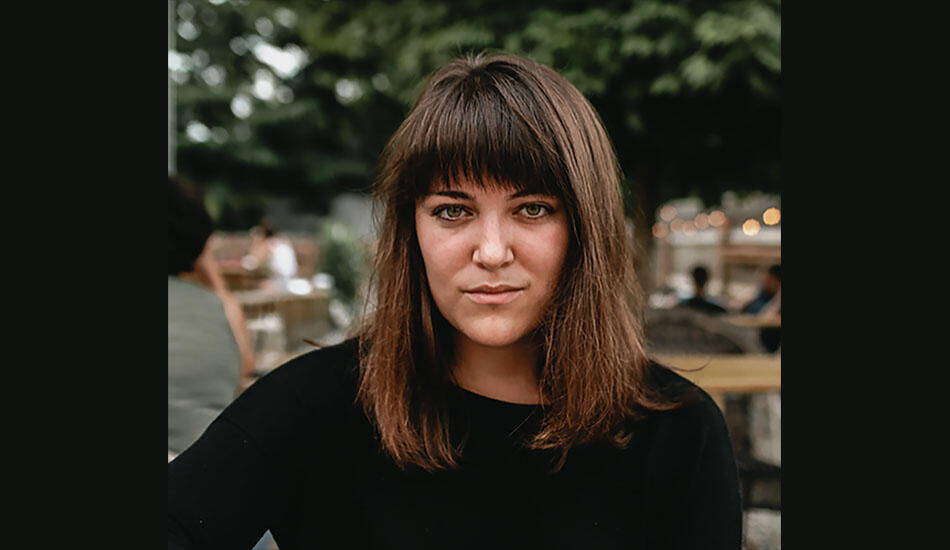 Although senior BSI student Verity Sturm first arrived at U-M undeclared, she successfully blazed her singular educational path to find ways to support her interests at the intersection of technology and the humanities. A double major in information and English by her junior year, Verity's pattern of proactive experimentation has developed a perspective that blends left- and right-brained values, which she's applied to her recent role as managing arts editor of The Michigan Daily. 
Even though it's a far cry from her quiet hometown of Brookfield, Connecticut, Verity said U-M's bustling Ann Arbor campus "felt right" after just one visit. Enrolling undeclared, she was looking to explore more programs and classes than the other schools she was considering had to offer. "I was scared about denying myself an opportunity," she said. "You can do anything here and you can do it really well." 
Out of the gate, Verity was motivated to begin building her research experience. A stats class in her first semester set her on a fascinating route to UMSI. "I was more interested in stats than I thought I would be," she said. "I had a knack for not just messing with the numbers but contextualizing them." Seeking to handle more data outside of the classroom, Verity said she cold-emailed various on-campus labs asking about openings. "I walked into all these lab interviews like, 'I really love statistics!'" she said. Following this newfound interest, Verity landed a position in the Aggression Lab at U-M's Institute for Social Research as a freshman. 
There, she made her first foray into information science working with gun violence data. The lab boss took notice of her work ethic and adroitness and recommended Verity apply to UMSI. "She said, 'If you like this sort of thing it might be a good place to look' … She was really encouraging and offered to write my rec letters," she said. After executing a bigger data analysis project at the lab over the summer before her sophomore year, Verity applied to UMSI and was accepted for her junior year. 
Alongside her early STEM hustle, Verity devoted exploratory energy to another field of curiosity: the humanities. She said that participating as a freshman in the New England Literature Program — a tech-free retreat to New Hampshire worth nine English credits — was a pivotal moment in her education that helped her decide to major in something she'd always valued. "I was writing early in high school, late middle school, and I was like, 'I love this,'" she said. "Then slowly I was pulled into more career-tracked sorts of things, and then I started floating back. I've always been doing this. I've always been interested in reading, writing, language, how to communicate … but I still have this concern for numbers. Less a passion but more a deep concern that probably began with stats." 
With such a background, the choice to major in both information and English was a pragmatic one, Verity said. "Part of being undeclared is that I don't want to put all my eggs in one basket," she said. "It's always better when you have two things talking to each other. SI was attractive to me because it seemed like it was ready to pair with something else. The program markets itself as interdisciplinary, which was perfect." 
Verity has been able to blend her passion for literature and her concern for data as managing arts editor of The Michigan Daily, U-M's student-run newspaper. She joined the paper as a junior writing book reviews but quickly rose through the ranks, managing the arts section mere months later.
As she grew into a leadership position, Verity said she began to see how the paper struggled with trying to create a digital strategy. "The conversation around moving to digital has been ongoing throughout the last two years, and it's in line with a lot of stuff I'm learning in SI," she said. "And English as well. Digital humanities is this amorphous thing going on in the background." 
Not only is SI relevant to the publication format of the paper, but the kind of content readers may see in its recently conceived new media section as well. "I'm really interested in people who are using digital languages and programs to make new sorts of literature," Verity said. "There are algorithms that basically write poetry … and they're bad. But the experiment is fun." She lists authors like Allison Parrish and Franny Choi among her favorites working in this genre-bending area. 
All in all, Verity's ability to delve into both STEM and humanities as an undeclared underclassman has developed an individual perspective that overlaps and blends left- and right-brained values to afford her a sought-after set of hard and soft skills as she approaches graduation. "Being a humanities major alongside working with numbers allows you to see more places where those numbers could impact people and diversifies your education in general," she said. "Working in SI has made my writing better because I understand that everybody reading them isn't going to be an English major … That's where some of the empathy comes in, from English, sure, but also from SI."
 
Picture yourself at UMSI! Sign up for our interest list to receive:
Invitations to exclusive information sessions and events 
The opportunity to chat with current students 
More in-depth information about our degree programs
Tips and advice for creating a successful application 
Reminders for important deadlines