University of Michigan School of Information
Faces of UMSI: Drew Dyer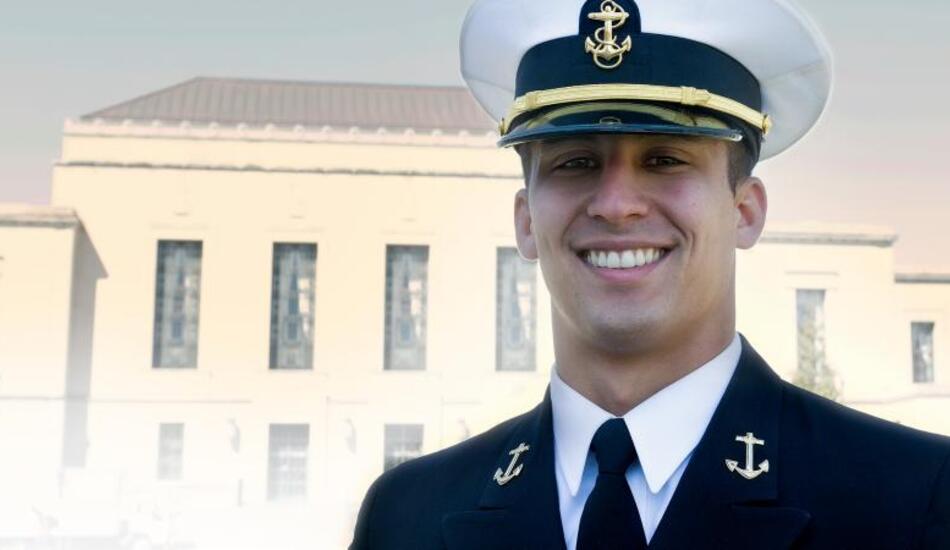 As senior Drew Dyer prepares for graduation this spring, he is also preparing to graduate from the Navy Reserve Officer Training Corps (NROTC) as a newly commissioned officer. 
Born and raised in Holt, MI, Drew joined the U-M's NROTC program in which his battalion, or cohort of midshipmen, comprises 60 undergraduates training for the Navy and Marine Corps. 
"The Navy is broken into an enlisted side and officer side," Drew explains. "You have to have a college degree to become an officer, so the NOTRC is where that comes through – for the past four years they've been more or less training me to become an officer when I graduate."
Following graduation, Drew will begin specialized training within the Navy's Submarine Warfare community, starting with six months of nuclear power school where he will learn about nuclear reactors and propulsion systems.
"It's a five-year commitment starting from the day of commission," Drew explains. "The first part is learning how a nuclear reactor works – it's very engineer heavy and it really helps to have a more technical background."
Drew explains that upon entering freshman year, he originally planned to obtain a technical background in computer science. However, during junior year he transferred to join the University's first official BSI cohort. "I have diversified interests, and I thought that informatics fit that bill," Drew said.
One of the his memorable BSI projects, Drew recalls, involved partnering with a classmate in SI 363 (Busting Myths and Pursuing Information Innovations with Mobile App) to create an app called Glimpse. 
"Throughout the semester, we built this high-fidelity prototype of an app that connects your to-do list with your calendar in a really seamless and natural implementation," Drew explains. "We ended up presenting what we had to a panel of judges and venture capitalists, and we won the overall best pitch in the class."
Beyond academics, Drew spent the summer after sophomore year interning with TechWeek, an organization that hosts technology conferences across the country. For the first part of the summer, he managed a team of volunteers for TechWeek conferences in Detroit and Chicago. 
"When I first got on, I ran volunteers for the conference in Detroit," Drew says. "We had about 1,600 people come through and about 60 volunteers over the course of 2-3 days. In Chicago, we had about 15,000 attendees and about 160 volunteers to run. I was consistently the youngest member on the conference team, so just organizing the volunteers and keeping pace with everything was challenging but fun."
During the second half of the summer, Drew collaborated with TechWeek's Creative Director to rebuild the organization's website.
"We rebuilt the entire website from scratch," Drew explains. "I redesigned a lot of the pages, and a lot of those things went through. It was a decent-sized company that had good cash flow and good promise, so to have more or less complete autonomy in how I wanted to rebuild this company's website, and for me to incorporate some of the things I learned in class, was a really cool experience." 
Following junior year, Drew spent a summer interning with Boeing in Seattle, WA. He helped his team rebuild their site infrastructure, which streamlined processes and cut down on online hosting costs for the company.
"The company was spending at least $70,000 a year to host these really simple sites on external services," Drew explains. "But they had all this storage on their own servers, so I helped rebuild a lot of the infrastructure page by page, which ended up saving them a lot of money."
Now a senior, Drew is specializing in User Experience design within the BSI program. When asked how he would explain user experience to someone, he said:
"Whenever I describe it, I always use examples. For example, an app on their phone – I would ask them if there are times that you're using an app and it's just frustrating. It doesn't work or it doesn't do what it should do. That's poor user experience design."
"What the BSI tries to focus on in those UX classes is what elements of design are necessary to enhance the user experience and to make that a seamless process. There are a lot of factors that differentiate companies – the good from the great – but consistently you see that especially with apps, the companies that do really well are the ones that really understand how the users use their products."
"The awesome thing that the BSI does is it tries to focus on that niche," Drew adds.
For now, Drew leads the design team at Kappa Theta Pi, a professional technical fraternity at U-M. He also spends part of his summers exploring other branches of the Navy before he officially joins the submarine community. 
Drew explains that the Navy offers "Summer Cruises" for trainees to experience different aspects of what the Navy has to offer.
"This past summer, since I knew I wanted to go into submarines, I wanted to diversify my experience a bit," Drew said. "I spent three weeks in Lemoor, CA with a fighter jet squadron, watching them repair the jets and things like that, but a couple times I got to actually go up in the jets which was amazing."
"You have a g-suit on and you have to control your breathing so you don't pass out," Drew says about flying through a training route called Star Wars Canyon at 600-650 mph, or 6-7 g's, and only 150ft off the ground. "It was surreal."