University of Michigan School of Information
Faces of UMSI: Michael Barsky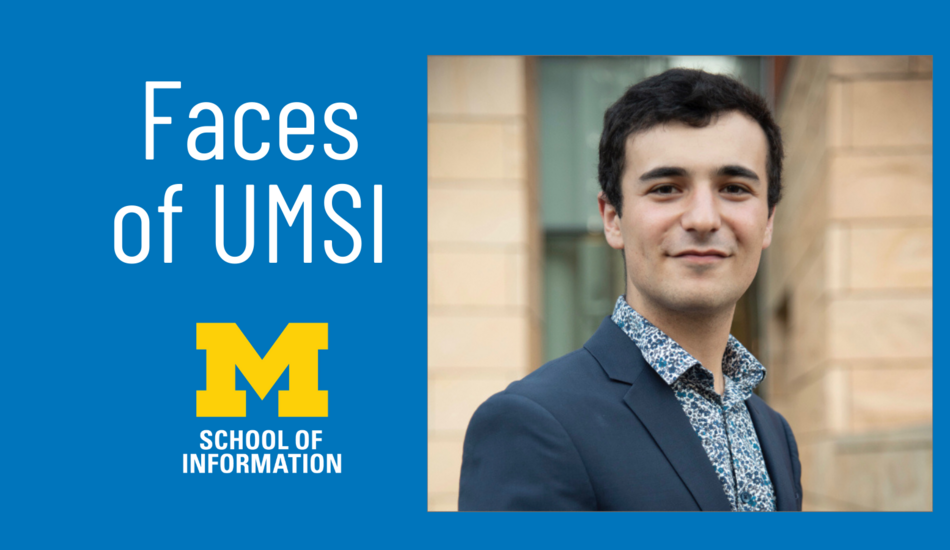 From working with Apple and Warner Music, to sitting on two UMSI committee seats, to minoring in Art & Design, Michael Barsky had made the most out of his time as a BSI student. 
Michael grew up in the Washington DC area, where he developed a passion for "photography, videography and anything creative." 
As a freshman at the University of Michigan, he originally dual-enrolled in the school's College of Literature, Science and the Arts and the Penny W. Stamps School Of Art & Design. 
"I struggled to figure out, okay, I have this passion for art and creativity and I have this passion for analytical thinking. How am I going to combine these two different fields that are just running in parallel right now?" he said.
One of his classes at Stamps was a Research Methods course with Assistant Professor Sun Young Park, a faculty member at both Stamps and UMSI. 
"I ended up loving the class, loving her as a professor and was like, this is definitely the direction I want to go in," said Michael. "I found that UMSI and the SI program was the perfect blend of creative expression and analytical problem solving and thinking. Being able to methodically go through a design process, using HCI theory and analytics and that data-driven side of me ultimately led me to a creative craft of using design tools and thinking about visual elements and hierarchy."
He kept in touch with Park, and in his sophomore year he assisted her with research on strategies to improve remote oral health behaviors for low–socioeconomic status communities. Their paper, Perceived Receptivity to Engagement Strategies in mHealth, was presented at the 2019 CSCW Conference.
Two years later, Michael is currently serving as the School of Information Bachelor's Association President and as a member of the school's Diversity, Equity and Inclusion Committee. 
"I love being able to work across the BSI committee, helping to develop a curriculum and thinking about things like DEI initiatives," he said. "As well on the DEI committee -- working on how to build an anti-racist curriculum and thinking about admissions and working with OSA as well to make sure the overall curriculum for BSI students is effective and serving its purpose."
Coming into UMSI, Michael knew right away that he wanted to focus on user experience design, product design and creating interactive and innovative products.
These interests led to a User Experience Design internship with Apple's Marketing and Communications interactive group over the summer, which he says is responsible for "everything creative marketing."
"Everything I worked on was shadowing real designers, real reviews, real things that would have ended up being launched. So I was able to sit on probably around several different projects across all different silos of marketing and communications," said Michael. "That includes launching products at Apple, online retail experiences, physical retail experiences and re-Imagining what a store is like amidst COVID, among many other things."
Starting his sophomore year, he also began working as a content creator for Warner Music Group, putting his UX and design skills to work by working with emerging artists to help them build digital brands and communities online in college-aged markets. 
He was able to connect one of those artists, viral rap sensation Saweetie, with UMSI professor Cliff Lampe's Introduction to Information class, where she spoke about the process of building up her digital brand and engaging with college students. 
"She was super excited about the opportunity," said Michael. "And knowing Cliff from the BSI Committee, I thought it would be an amazing opportunity because she actually studied digital marketing and media and was able to speak on behalf of a lot of the course content."
After graduation, Michael plans to continue doing consumer-facing UX design. 
"I want to design consumer-facing products that really get to touch as many people as possible," he said.  "Building off of that, anything within the innovation or speculative sphere... forward-thinking designs, not necessarily existing design systems, but what's next, whether that be AR/VR design, voice UI, or a special emphasis on inclusive design. Because I'm very passionate about that and making sure that products are accessible as well."
His advice for students who are just beginning their journey? 
"Follow your own path and journey and figure out what you love and you're passionate about. Don't recycle what other people are passionate about or interested in, because that's not being true to yourself."