University of Michigan School of Information
Faces of UMSI: Andrew Engel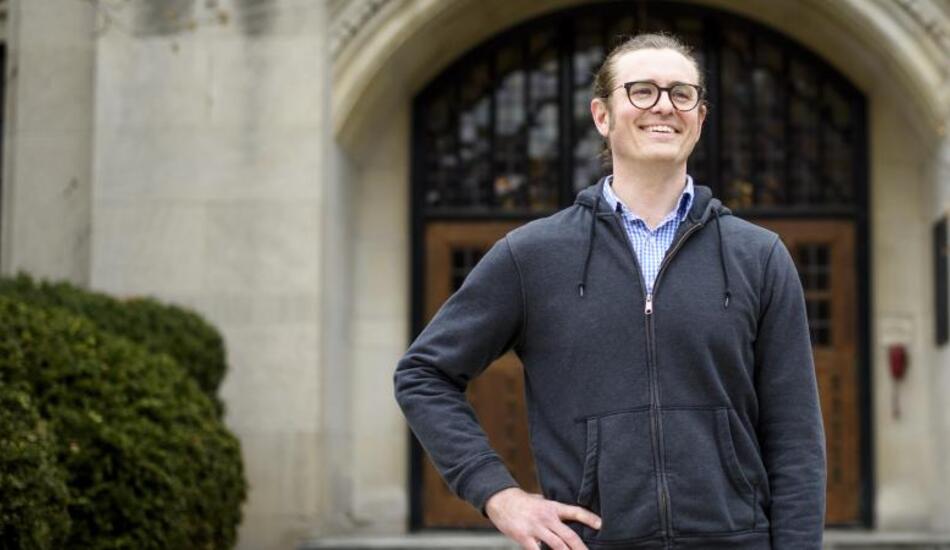 With a past in the Peace Corps, teaching English and working on a farm, MSI student Andrew Engel's next step is reshaping education with technology. 
"I'm interested in seeing what 21st century education could look like, with a focus on smaller scales… Making tools or spaces available to whoever wants them." 
Andrew grew up in Wisconsin and earned a bachelor's degree in Architecture from Washington University in St. Louis. Then he joined the Peace Corps and boarded a plane to Jamaica. In Jamaica, Andrew met his wife, Brea. 
He returned home and earned a master's degree in English from the University of Wisconsin-Milwaukee. Next, Andrew and Brea moved to Detroit, attending Wayne State University, where she studied Law and he received a PhD in English (Rhetoric and Composition). 
Wiley College lured the couple to Texas, where Andrew worked as an assistant professor of English. While teaching, he wondered, "Am I supporting a system that isn't serving students well?" 
In Thoreau fashion, Andrew and Brea moved to Montana to "hit the reset button." For seven months, Andrew worked on a permaculture farm. 
After years of travel, living in many places and studying a variety of subjects, Andrew realized a connection between architecture, English and information science.
"I was interested in architecture because I think the physical space we're in does a lot to inform how we see ourselves and interact with others." But architecture wasn't centered on the human experience.  
"The English Department at Wayne State was open to exploring issues of visual and spatial rhetoric, how spaces persuade us." Yet, Andrew believed English "wasn't actionable" for the kind of impact he wanted to make. 
He decided, "returning to grad school, and SI specifically, was a way to bridge these interests." He liked the interdisciplinary and social justice components of the Master of Science in Information program. 
Ultimately, "I don't think I would've returned to school if it was only classroom learning. I've done that before and know what it's like to go through classes, invest the time, and come out and not have the real world line up …To have the real world connected with what I'm doing in class is what sold me on the program. That's been invaluable." 
When Andrew and Brea moved to Ann Arbor, it was a homecoming of sorts. Though he was raised in Wisconsin, Andrew's mother is from Ann Arbor. "They're the Geddes' the road is named after," he explained. Andrew and Brea live on the Geddes family farm, in a house built by Andrew's grandfather in the 1950s. They share the farm with their three dogs and four chickens. In the summer, Andrew and his wife enjoy the outdoors and canoeing. 
Andrew is a fellow in the Professional Practice Fellows Program (PPFP) at UMSI, which he considers "a great honor." As part of PPFP, he does UX discovery for ProQuest, specializing in databases, ebooks and technology for research. 
So far, "[UMSI] has been a great experience… I feel a lot more capable because of these classes, in a tangible way." Specifically, Andrew appreciates "the interrelationship between the classes… In the past, I've struggled to see the holistic picture of the program I was in. With this one, there's a trajectory, all the pieces fit together."
So far, his favorite project was for SI 582: Introduction to Interaction Design, which required developing a tool for a vulnerable population. Andrew focused his project on undergraduate researchers. 
At the end of the day, his goal is to design inclusive spaces in education to foster learning. Andrew's experiences taught him "how to understand and critique these spaces, how to address them. Now there's an option to start building them and be more proactive, in the context of physical and digital spaces and work dealing with identity."
Next year, your profile could be here! Sign up for our interest list to receive:
Invitations to exclusive information sessions and events 
The opportunity to chat with current students 
More in-depth information about our degree programs
Tips and advice for creating a successful application 
Reminders for important deadlines